If you're like me, you like tattoos and you want to get more. The problem is; you haven't been able to find something meaningful that you love. Well, here are some ideas I have come across.
Now this first idea hits close to home with me. Someone very close to me has been looking for a tattoo to cover up some very painful scars. This tattoo idea doesn't exactly cover up the scars, but it gives a positive outlook on the pain associated with the scars.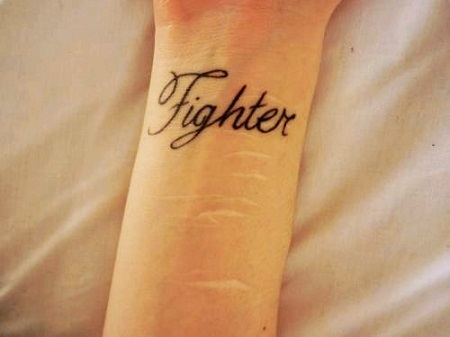 (The tattoo is on the wrist. It says "fighter" covering the cuts on her wrist.)
As I was looking at tattoos online, one really caught my eye. Showing a zipper opening and on the inside of the zipper is a very deep scar. I thought this was a very creative idea to make an unattractive scar, beautiful. See pic here.
The next tattoo is of a ribbon or bow. I have seen this tattoo in person on two occasions. The first time I saw this tattoo was on each ankle of a young girl. She was wearing heels at the time and it made her legs look more appealing, to say the least. The next time was on a wrist. I think this tattoo gives a jewel factor. For girls who don't like to wear jewelry, they will always have something to dangle around their wrist or ankle(s).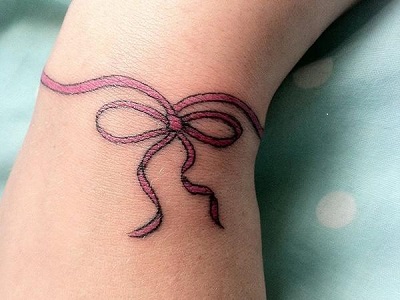 Photo Credit: Slodive
If you look back at another article I have written, "Trend Spot: Sailor Anchor Trend", found here. You will find that anchor prints in fashion are in style. Not only are they in for fashion, but they are in for tattoos as well. I myself have already seen this tattoo on two occasions. These anchors can be for looks or they might have meaning behind them. The meaning I have come across is that "I refuse to sink."
(The tattoo is of an anchor and it says "never sink." Photo credit: Hative)
Now, this is my favorite! I saw this tattoo before and it only said "Hakuna-Matata", but after seeing this image…I might be getting my new tattoo. Being a huge fan of Disney movies, the image above "Hakuna-Matata" is of Simba. It's the drawing done by the monkey Rafiki. The meaning behind the saying "Hakuna-Matata" is: "It means no worries."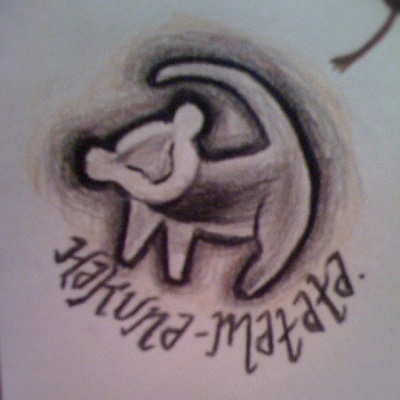 (The tattoo is of Simba and the saying "Hakuna-Matata. Photo Credit: Found on Pinterest")
Last, but certainly not least we have the trendiest tattoos for 2014. 3D tattoo are in style for 2014! Whether it is a butterfly with its shadow in the background or a dandy lion with its petals flying in the wind, 3D tattoos are the way to go with any tattoo.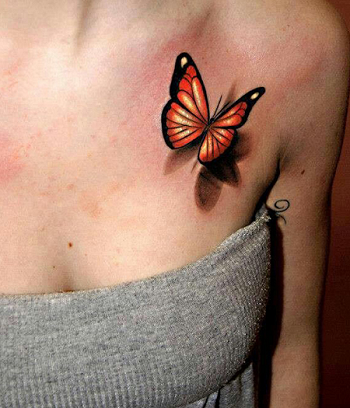 (The tattoo is of a 3D butterfly on a woman's chest. Photo Credit: Tattooed)
We at FCF love to hear from our readers!!!! If I have helped you discover your next tattoo or if you have any great ideas for our readers, PLEASE comment below!!! Disclaimer: We do not own the photos in this post, which are being used for sharing purposes only. They were found via Google images on "tattoo idea" sites.