It's almost time for … drumroll please… Pre-Fall! I know, it's like 90 degrees outside. But we're all about forward thinking here at First Class Fashionista, and I know all of our readers love to get the jump on what's next. So, as a member of the retail community and a subscriber to fashion forecasting, let me tell you what looms on our Autumn 2014 horizon.
Moto Style.
It's going to be huge, I promise. Although leather is a big hit for any fall/winter season. Look for new colors as well as a lot of moto embellishments to spice it up a bit this year.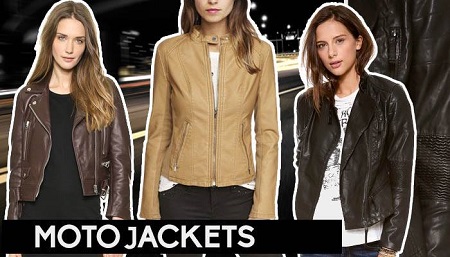 Shop the look, from left to right:
Acne Studios Mock Moto Jacket at Shopbop.
(Minus The) Leather Double Peplum Moto Jacket at Express.
Blank Vegan Moto Jacket at Shopbop.
Masculine Influence.
We're going to be seeing style-lines as well as fabrics take a page out of menswear's book for women this year. Due it part, in my humble opinion, to the resurgence of the 90's trend. Wearing your boyfriend's flannels is going to be back in once more, along with over-sized tailored shirts in more feminine fabrics. I think it's going to make for a fantastic chic mix. Don't forget that the right heel can make any masculine look sexy. Or a good red (or red family) lipstick.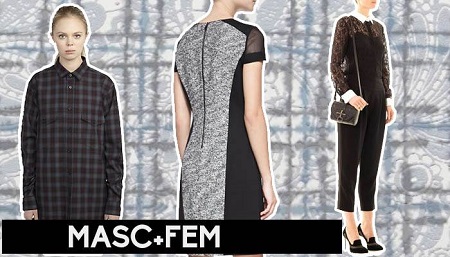 Shop the look, from left to right:
Checked Wool Flannel Shirt by Saint Laurent at Saks Fifth Avenue.
Jaylene Ponte-Panel Tweed Sheath Dress by Elie Tahari at Neiman Marcus.
Contrast collar and cuff lace blouse by DKNY at MathchesFashion.com.
Layered Shirting 
I know this is sort of covered in the masculine trend, but this is something I think we will see more specifically throughout the season. Collared shirting under sweaters will give for a cute layered look. Vests or shirting accents can also be paired together for that studious but sultry trend. If I had to choose a phrase, it might be 'eclectic sexy librarian'. Don't worry, though, anyone can ease into the style by putting a collared top under a classic sweater. It can be worn with skirts, trousers, or even just a good jean. Easy-peasy.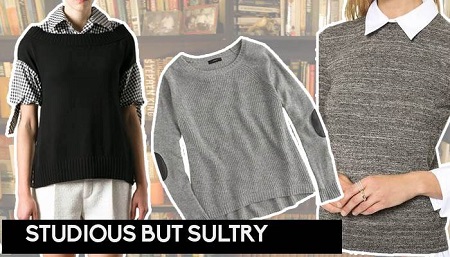 Shop the look, from left to right:
Checked Sweater and Shirt by Moschino at FarFetch.com.
Elbow-patch Sweater at J.Crew.
Fitted Collar Sweater by Alice + Olivia at Shopbop.
Colors
Look for teals, oranges, and warm tones. Browns and reds I think will really make this a richly colored Pre-Fall/Fall season, which will carry on over into Winter if used appropriately. Don't forget the ever-present fall neutrals.
Well, what do you think you will be rocking this Fall? Do you agree with my predictions, or do you think I left something out? I'll be happy to hear any and all opinions.