Colorado Fashion Week Preview Market and Fundraiser Showcase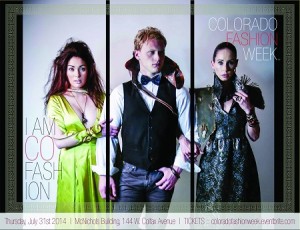 It's almost that time again! Almost. Colorado Fashion Week 2014 is giving us a taste of cool fashion to combat the heat of the summer. Wow, did I just type that cheesiness? Moving along.
Last year, despite the hours it took to get to the actual show, Colorado Fashion Week really impressed me. But! I feel like this event has a solution for my impatience. Before the actual runway presentation, there is a Fashion Market and Sales Event! Attendees actually have time to scope out some of the designs being shown or other pieces by the designers featured and to get their little hands on it if they so choose. Why not? In this blogger's humble opinion, one of the best things about the Denver Fashion Scene right now is that all of the designers are so accessible! Take advantage, my fellow fashionistas! There will come a day when this is no longer the case, and it will be much harder to take a piece of the runway home with you- especially day of.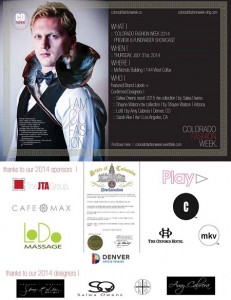 The event, happening July 31st, is officially 5 hours long. (Yikes!) But the break-down makes it a much more manageable affair. The doors open at 6pm, and from there the Fashion market and Sales Event begin until 8pm. The runway event itself is set for 8:30pm, and I am optimistic that with all this time to prep behind-the-scenes, we may start promptly around that time! Afterward, from 9pm-11pm the Market will resume, where I assume one can snatch up any can't-live-without-it pieces they just witnessed some lovely model flaunt down the runway. I'll likely have to come without my credit card, for my own safety.
This event will be featuring the debut collections of Salwa Owens, Jason Burruss, Amy Cabrera, and Shayne Watson. Currently, not anyone I've heard too much about, other than Salwa Owens, but if they blow me away, it's likely you'll hear about them again. CFW is known for presenting knew talent. Also enjoy preview presentations by Sarah Ake and Rustic Thread Boutique.
What is the Fundraiser for, you ask? Apparently, it's all for you and I, dear fashionistas. In addition to supporting local designers, we are working to establish a credible fashion scene here in D-town. Personally, I think Denver has a much more established fashion scene than many other locations, but it's definitely nice to see us continuously pushing to get on the map. And it takes money to put on a fashion week, so let's raise some funds.
Tickets for this event can be purchased at: www.coloradofashionweek.eventbrite.com. Happy note! Tickets for the "real deal" show, Colorado Fashion Week in October, will officially go on sale at this event! So if you want some great seats for the full runway shows of Colorado Fashion Week 2014, it might not be a bad idea to at least attend the Market and Sales Events!
Colorado Fashion Week Preview Market and Fundraiser Showcase:
DATE: Thursday, July 31, 2014
TIME: 6pm – 11pm
LOCATION: McNichols Building | 144 W. Colfax, Denver, CO
Other questions specific to the event can be answered by The JTA Group at www.coloradofashionweek.ning.com.