First Class Fashionista loves to know it first, try it first and share it with you, our valued readers, first. When FCF was asked to try the Infiniti Pro blow dryer by Conair and True Glow Sonic Skincare Solution, First Class Fashionista blogger and hairstylist Marissa L said she would show us how we can achieve glowing skin and perfectly styled hair at home! Ready, set, glow – No stylist or salon required…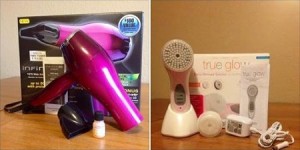 When I was asked to review two of the latest beauty products from Conair for FCF I WAS THRILLED! The first was a blow dryer, the new Infiniti Pro Conair 1875 Watt Salon Performance. As a hairstylist, I have worked with many different types of blow dryers and I know which ones are of good quality or not. Being in the beauty industry, I was also the prefect candidate to try the True Glow Sonic Skincare Solution by Conair. I have had facials before and I must express how amazing they feel…until you get the bill. With these new products I will show you how simple beauty can be attained without the outrageous cost.
The True Glow Sonic Skincare Solution by Conair includes:
One facial brush
Two snap in attachments: the white one is for normal skin and the grey one is for sensitive skin.
And one charging base
After reading the instructions, I found out that the True Glow needed to charge for 16 straight hours before its first use. I also found that this device was WATER PROOF! I think that is awesome, which means you can use it in the shower. After letting the True Glow charge, I was more than ready and excited to try it out.
I wet my face and put a quarter size amount of facial cleaner on the brush. Having the brush set on low, I moved the device in circular motions around my entire face and neck, excluding the area around my eyes. I did this for one full minute. You have to keep in mind that this product has 10 times the exfoliation you can get by washing your face with your hands. With that in mind, you don't want to over-do the product because doing so can cause irritation and redness.
This little brush was so powerful and the vibrations were so strong, it's no wonder it doesn't spin.The vibrations definitely got the job done. Once I was finished rinsing my face it was so smooth and soft. It's amazing how many dead skin cells stay on the surface of your face when you "think" your face is clean. With True Glow I could feel the difference by the look and feel of my skin.
After obtaining a mini facial at home with True Glow, I was onto my next mission…my hair. I have stick straight hair, so when using a blow dryer I usually only use it for volume on my roots. When I opened the Infiniti PRO by Conair, I fell in love with the awesome black and pink ombre tones. This blow dryer was also a good weight which is something that is hard to find in a blow dryer. As a professional hairstylist, you don't want something too light because it will break easily, but you also don't want something that will break your arm while using it.
The Infiniti PRO by Conair included:
The blow dryer: Has an AC motor which gives it a longer life, ceramic technology giving healthier hair, ionic technology for less frizz, a cold shot button, 3 heat and 2 speed rocker switches, and a removable filter to prevent build-up.
Argan Oil: To protect your hair from the heat
One concentrator attachment, which is used to direct the air-flow
And a four year warranty
To begin my blow-out, I applied a nickel size amount of argan oil into my palm. I rubbed the oil onto my hands and fingers. Then distributed the oil onto my mid-shaft and end. I didn't apply any oil to my roots because that can make your hair look greasy and oily. Once my hair was prepared for the heat, I snapped on the attachment concentrator and was ready to dry!
The Infiniti PRO had great heat and speed. Everything is to par- even the cool shot held its name. To begin my blow-dry I normally start at my roots, that's where I need the most volume and lift. I feel my hair dries a lot faster once the roots are dry.
After obtaining dry roots in a matter of seconds, I was onto drying the rest of my hair and smoothing my mid-shaft and ends with the brush to reduce frizz. If you hold the blow dryer at the nozzle you can gain more control for longer hair and help direct the airflow in the way the hair grows, which is down. So you can angle the attachment down the hair to create a smooth shiny finish.
Once my hair was dry and my skin was smooth, I threw on some make-up and my favorite dress and I was off to save the world!!!
I want to thank Conair for allowing your very own FCF to try out these two amazing products. I would highly recommend each product to all my friends and family who love to get BEAUTIFIED!!!
The Conair true glow™ Sonic Skincare solution can be purchased at the majority of mass retail and drug chain stores for an average retail price $99.99; see where-to-buy here http://conair.com/where-to-buy-cn-15.html
Visit:
www.trueglowbyconair.com
www.conair.com
www.facebook.com/conairbeauty
This is a product-provided, sponsored conversation that contains affiliate links. I received the Conair true glow™ Sonic Skincare Solution and the Infiniti Pro by Conair® 1875 Watt Salon Performance Motor Styling Tool for my own personal use. All opinions, text and experiences are my own.