Hunger Games actress Jennifer Lawrence and Coldplay frontman Chris Martin are dating!!!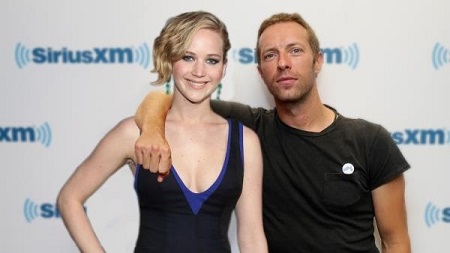 Beginning in late June, the two have been reportedly spending quality time together. According to a source Jennifer was seen flirting with Chris at his concert in London. This unlikely pair may have met during the making of "The Hunger Games: Mockingjay Part 2" when Coldplay recorded the song "Atlas" for the "Catching Fire" soundtrack.
After Jennifer split with "X-Men" actor Nicholas Hoult, in early August, due to both of their very successful careers, it seems it made it difficult to find time for their relationship. However, it seems, she has wasted no time with her new relationship with Chris Martin. While Chris' divorce finalized in March with Gwyneth Paltrow, what's apparent is that he has similar taste when it comes to these two it-girl blondes, and they both hold an Oscar.
It looks like everyone in this love string is moving on. Chris Martin's ex-wife of 10 years, Gwyneth Paltrow, is rumored to be dating the "Glee" actor Brad Falchuk. But, while this love triangle couldn't get more filled with hot celebrities, Jennifer's ex, Nicholas Hoult, may be dating the "Twilight" star…Kristen Stewart.
According to a source, Chris Martin and Gwyneth Paltrow are still living together for their kids. They still spend a lot of time together as a family; but no wedding bands, of course. Personally, I think Jennifer and Chris make a very nice couple.
FCF what do you think of these new relationships?