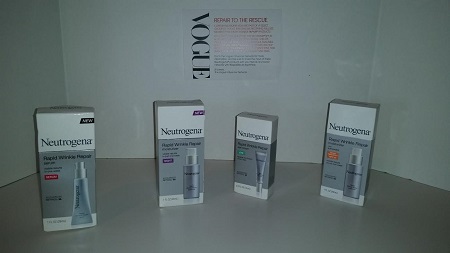 I've had my laugh lines as far back as I can remember, like almost forever. Looking at old photographs, I think they were there when I was six years old. I smile from ear to ear, especially when I'm laughing, and I've had the wonderful privilege in life to laugh at least one hardy laugh a day. So, the first question I had when I started using the Neutrogena Rapid Wrinkle Repair kit, courtesy of Vogue, was: At what age should you start using anti-aging moisturizers or serums? This was an important question because my teenage daughter even wanted to try it! "I've been using your anti-aging lotions since I was 8," she said. Well, I do love learning about the products I use, and I found the answer to this question and others on the Neutrogena website. The site is actually very informative. Here's the answer: "Dermatologist recommend that you start your anti-aging regimen in your early 30s or at the first signs of aging. Early use of Retinol products can help combat the look of fine lines." The next few questions I wanted answers to included: What is Retinol, exactly?, How fast should I see results?, How do I use it?, and How does it work?
I learned that Retinol is the purest form of Vitamin A, which naturally renews and repairs the skin on a cellar level. How fast should you see results: The box and company website says you will see results in just one week…but, honestly, I began to see a noticeable difference in just 3 days! Thus far, I've had the opportunity to use Neutrogena's Rapid Wrinkle Repair line for more than 3 weeks now. How I use it: In the morning I apply the Rapid Wrinkle Repair eye cream, the serum next, then the Rapid Wrinkle Repair moisturizer with SPF 30. At bedtime I repeat these steps, switching out the daytime moisturizer for the Neutrogena Rapid Wrinkle Repair Night Moisturizer. It does not contain sunscreen.
1.
2.
3.
4.
For me, the effects of the repair system is most notable after I put on my makeup. My skin's moisture has more of a harmonious balance with a youthful, non-oily radiant glow that helps me achieve a more favorable fresh face makeup look. The skin around my eyes is tighter and, with makeup, my eyes even appear brighter and more wide-eyed. My laugh lines are still there, of course, but I also noticed a difference in the elasticity and firmness of the skin on my neck. FCF Tip: Do to your decolletage and hands what you do to your face! That's what I did, and I love the results.
Would I recommend the Neutrogena Wrinkle Repair System to my family, friends and First Class Fashionista readers? The answer is YES! Did I see real results? The answer is YES. HOW IT WORKS: "Neutrogena Accelerated Retinol has the highest concentration Retinol, Glucose Complex and Hyaluronic Acid," a viscous fluid carbohydrate present in the connective tissue, synovial fluid, and the humors of the eye.
If you try it, please comeback and let us know what you think. Thank you so much for reading!