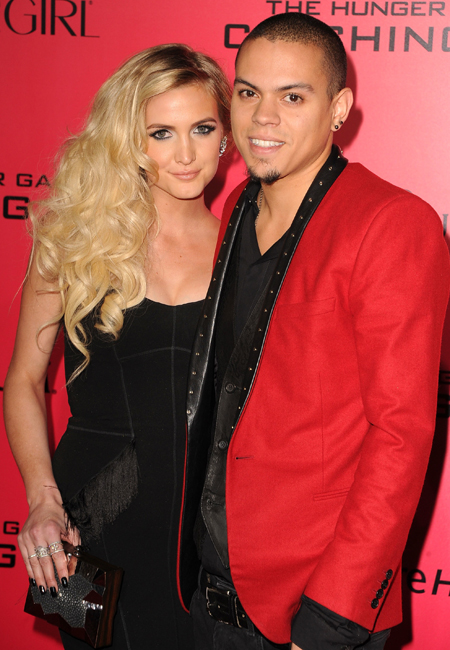 What do Ashlee Simpson and Diana Ross have in common? Let's see, maybe Evan Ross…According to a source, Ashlee Simpson and Evan Ross (Diana Ross' son) got married on Sunday, August 31, 2014. This is the first marriage for Ross, and the second for Ashlee; who was previously married to Fall Out Boy, Pete Wentz. It looks like Ashlee filed for her divorce in February 2011.
In Greenwich, Connecticut Evan Ross' mom owns an estate where the two were married. The wedding was planned by a Supremes Singer, who also performed during the reception. It was unlike any other. There were unique dream catchers, eclectic touches, and a definite Bohemian theme.
Ashlee wore a pearl-embellished long sleeved wedding gown. And to complement her engagement ring, she wore $750,000 of Neil Lane rubies, diamonds and a tiara. According to a source, her hair was worn down in loose waves. Evan Ross wore a black velvet tux with white silk trim and the bridesmaids wore heels from Jessica's own fashion line.
As the wedding began, Ashlee's 5-year-old son Bronx led her down the aisle. While her niece and nephew Maxwell, 2, and Ace, 14-months, served as flower girl and ring bearer. All while her sister Jessica Simpson was the matron of honor.
We at FCF want to wish Ashlee and Evan a long lasting marriage!