How to Pack and Travel Like a Pro
As a fellow Glam Author and lifestyle blogger, I am super excited to feature Lara's "How to Pack Like a Pro" video at First Class Fashionista. I've been a fan of Pretty Connected for years now and I think she did an awesome job. She's so right. Vacations are supposed to be about getting away from stress, so we definitely shouldn't let packing (OR traveling) cause any unneeded stress. And, thanks to Carefree Liners, an everyday item to conveniently put in your purse, gym or cosmetic bag–we're here to help. I was also asked to share my packing and traveling tips with you, my wonderful FCF readers. Lara has most of the packing tips covered, but I also like to have a handy-dandy umbrella, a sun visor or hat and some good reading material stowed away in my luggage or carry-on. Now, the travel tips!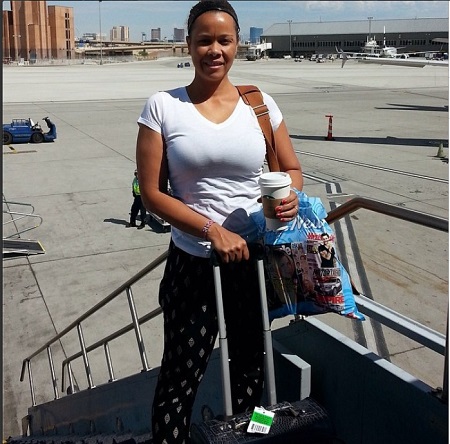 Over the summer I vacationed in New York, California and I even went to Vegas again for my nephew's 21st birthday, hence the photograph.
Travel Like a Pro Tip #1 – Sign-up for your frequent flyer miles with each airline that you fly. You'll get lots of perks like pre-boarding and, if you're in the right airport, you can even skip the long lines in security for elite passenger priority. Also applying for TSA PreCheck is a good travel like a pro idea.
Travel Like a Pro Tip #2 – Wear comfortable clothing like what I have on in my picture. One time I wore jeans on a 4 hour plane ride and my legs felt so constricted. I'm most comfortable in draw-string pants/leggings or a maxi dress.
Travel Like a Pro Tip #3 – Avoid checking your bag. If you're like me, you want to get out of the airport as fast as you can. You never know how long it's going to take for your luggage to come up from the belly of the plane and finally make it to carousel #7 (seven is my favorite number). I just like to keep it moving. The exception to my rule is traveling abroad, of course. This usually means an extended stay and more stuff.
Travel Like a Pro Tip #4 – Consolidate! Most airlines allow only one carry-on and one personal bag. Check with your airline because some airlines are even cutting back on this allowance. For example, I always bring my computer with me, but according to the rules of the airline I fly I can't carry on my luggage, a laptop bag and a purse. Well, so what do I do? I empty my purse, put it in my luggage, and all of its contents (my wallet, makeup, cell phone, keys, etc) go happily into my laptop bag with my other must-have essentials. I love Lara's consolidating tips for packing, especially when it comes to shoes. When I first started traveling, I wanted to bring a different pair of shoes for every outfit I packed. True story. My bag was obnoxiously large, heavy and it cost me big-time. 3 pairs of shoes is all you need to travel like a pro.
Travel Like a Pro Tip #5 – Keep your must-have essentials with you. On my way back from New York, I was forced to check my bag. After all the shopping, I couldn't make it fit in the luggage sizer. Luckily I had my makeup, liquids, toothpaste, deodorant, brush and comb, and other essential personals like my Carefree Liners in my laptop bag because, oh the horror, my connection was cancelled and I ended up staying the night in Texas. A lot of people were stranded that night. A lady I met said she slept on her back to avoid ruining her makeup. She had nothing. I felt sad for her. Conversely, I even had my own soap to shower with at the not so luxurious hotel the airport put us up at. I have something to admit though, I was an outfit repeater.
Travel Like a Pro Tip #6 – Always, always carry-on a change of clothes.
Travel Like a Pro Tip #7 – A bonus travel like a pro tip just for YOU. See the bag I'm holding in my picture? I accumulated extra stuff in Vegas, over-stuffed my bag and still had things I couldn't get into my suitcase. What did I do? I went to the gift shop and asked for a bag. Hint: If they think you were shopping in the airport, you can actually bring on another bag. It's bending the rules a bit, so try this at your own risk.

Brand Statement:
So soft, so thin, so absorbent. Carefree® Acti-Fresh® daily liners leave you feeling nothing but fresh. Get $0.50 off any Carefree product at http://www.carefreeliners.com/carefree-coupons-offers.
Disclosure: Compensation was provided by Energizer Personal Care via Glam Media. The opinions expressed herein are those of the author and are not indicative of the opinions or positions of Energizer Personal Care.