I recently had the opportunity to speak to a local entrepreneur, Lindsay Bloom, at the headquarters of Bloom Jewelry. Being able to get into the heart of the operation was a rare treat and the whole team was very welcoming; it's always a delight when someone in the industry is willing to open up their personal space and share with you. Lindsay, as well as Stacy McElhany-Rodgers and Christina Argo all share a close-kit workspace, and work together to keep the brand running smoothly.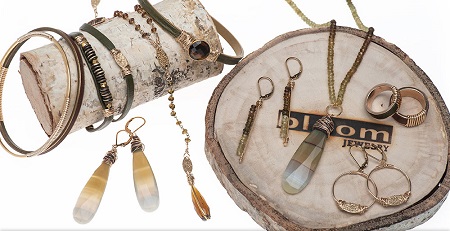 If you haven't had the pleasure of seeing [or owning!] a piece of Bloom Jewelry, let me give you a little background. Bloom Jewelry is based here in Denver and has recently received Fashion Group International's "Rising Star" award. The work has been featured in several major publications, including a Redbook feature that will soon appear with their new Fall/Winter 2014 collection. In addition to being a local company, all of the Bloom Jewelry is made locally as well! And who can't get behind something that good? Each piece is handcrafted, hand wrapped, and hand selected for quality. When I was there they were even discussing the stone qualities for their orders to make sure they were up to par! I find it comforting to know that people actually still sit down and inspect their wares before sending them out, especially when it comes to jewelry.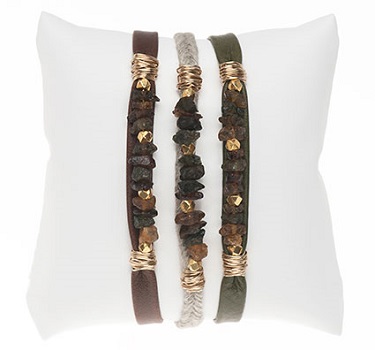 Her work is a testament to the day-to-night lifestyle. Lindsay Bloom herself was telling us a story about when she had a non-stop day of running the kids around, errands, getting on a plane, and having to change for her New York appearance – she did it all while wearing the same set of jewelry. The combination of pieces she chose were able to go seamlessly from task to task while she assumed different roles. And wouldn't you know it?- they were all Bloom Jewelry pieces.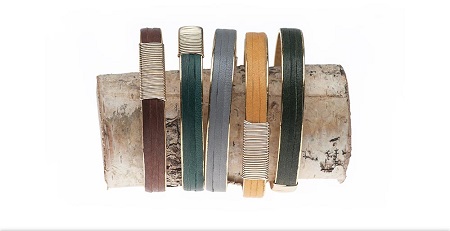 I am now the proud owner of a Bloom Jewelry piece; a beautiful Moonstone necklace with stones in muted greys & oranges as well as a cloudy white. The ability to have this necklace transition is almost as impressive as Lindsay's story. I wore my necklace to work, running errands in jeans, and out to an event and never felt the need to change it. It dressed up or down so easily! The only issue is that I had to be careful not to snag it. However, the team actually warned me of this before I chose it! One of their other necklaces is also notorious for getting helplessly tangled, and at their trunk show they were kind enough to try to point out this flaw and dissuade their customers from choosing it. Working in the oh-so-lovely land of retail, I can't remember the last time someone actually, up-front, told me about a product defect for my own benefit over the chance at a sale. The integrity and pride with which the Bloom Jewelry team works with really, really impressed me. I think the overall human element the brand brings to its products is wonderful.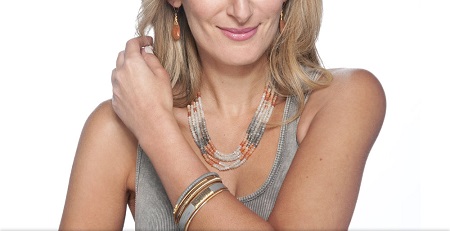 The overall aesthetic of Bloom Jewelry is what I like to call "classy boho chic" which, in addition to being a jumble of fashionista terms, is nearly dead-on with the products. The work is intended to reflect balance which can be found in the contrast of petite metal links and large, purposeful stones, as well as the blending of materials such as leather and gold.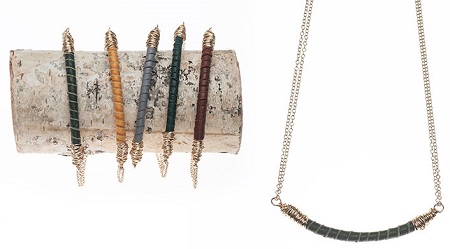 Additionally, I would also recommend the Bloom Black Ties to everyone, ever. They're basically elastics with jewelry components to disguise the fact that you are wearing a hair tie on your wrist! I know this is a near inescapable girl-quality, and this way you can mix them with your bracelets and nobody is the wiser. They also look fantastic when used, and can take a regular ponytail to the next level of chic. Seriously, if my hair was long, I would probably have a fistful of the Diamondback Black Ties, as shown below.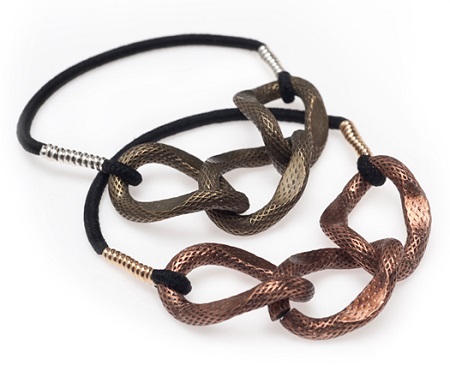 Bloom Jewelry's website has been updated with their new Fall/Winter 2014 pieces, with on-trend colors and stones, for those of you interested in snagging a piece! Check them out at JewelrybyBloom.com (http://jewelrybybloom.com/index.php) and BloomBlackTies.com.
Photos are from the official Bloom Jewelry website. Thank you to everyone on the team for sharing your wonderful work with us!
Disclosure: This post is a product sponsored post. Regardless, our team at First Class Fashionista only recommends products or services we use, will use or have used personally and believe will be good for our readers. We are disclosing this in accordance with the Federal Trade Commissions 16 CFR, Part 255 Guides Concerning the Use of Endorsements and Testimonials in Advertising. In cases where we can not support a product, that product will not be featured at FCF.