I have just recently celebrated my 2nd year with First Class Fashionista. I must say this has been a crazy ride being on this First Class team. You should join the FCF Team.
In the beginning…I was friends with FCF on Facebook. At the time I was attending The Art Institute of Colorado for Fashion Design. My Facebook friend's list was full of fashion people and brands- one of them being FCF. I never really knew what FCF was when adding as a friend. When I began looking for an internship in school, I was scanning over my Facebook feed and saw a post by FCF. I then messaged the owner and asked if there was anything I could do to help out the company/brand. I soon met a great friend of mine, whom is not only a friend, but I consider her family.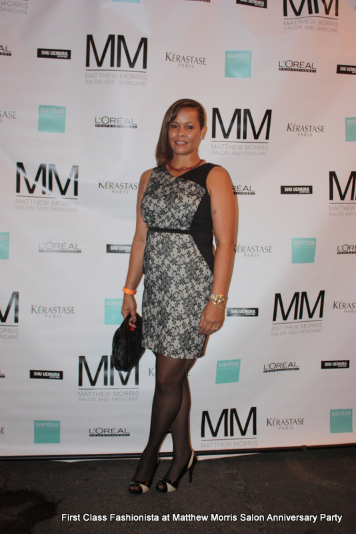 Lonza Dennis replied to my message and said, "Yes!!! Of course there is something you can do for the company. You can write and share your talents with us." I quickly filled out the application and soon began writing and sharing my talents with FCF with a paid stipend. Within my first article, I found there were secrets to writing and making sure you are not giving false information about a topic. After several great articles, I began covering fashion events in Denver, CO. Some of these amazing events include; A Summer Night to Remember at the Botanic Gardens, The American Idol Tour 2012, Juan Jimenez's Barrera International Preview & Trunk Show, I LOVE COUTURE 3 Fashion Show, Denver Fashion Week 2012 at Casselman's & New Culture Boutique, Fallene Wells Modern Nouveau Fashion Show, Fashion and Wine of the Americas, AnnaFesta Grand Opening, Wine, Women & Shoes 2012 and 2013, Colorado Fashion Week 2013, Westword WhiteOut, Red Ball 2013, Modaperitivo, ADCD Paper Fashion Show, WordLove Tour, Vespaperitivo, and most recently The Faded Image Barber Battle.
Out of all of these events, my favorite event would have to be the one I helped plan with the FCF team. Denver Paint the Runway 2013 was an event produced from the making and planning of the FCF team. From the very first ideas, to the very last model down the runway…I was there. Something I really enjoyed throughout fashion school was fashion show production and with FCF I not only got to dip my feet into that area – but I actually fell into the water. I really enjoyed the creative aspects of planning and producing the show. Along with finding models, entertainment, vendors, sponsors, etc. This was an amazing experience I will never forget and I hope to help with the next Denver Paint the Runway, read our write-up here.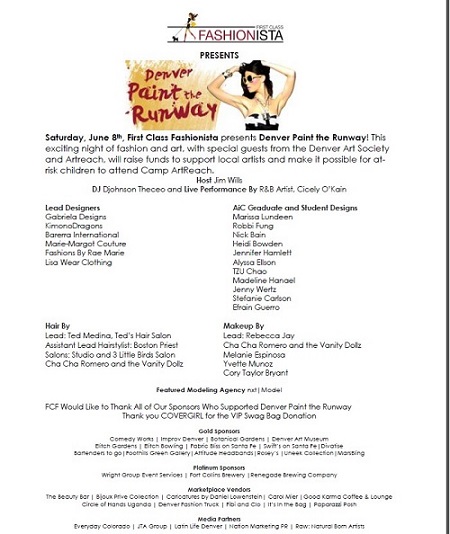 Within each of these events, I attended as a guest or credentialed media. I was able to take photos and videos during the events. While covering each events, I'm also able to go backstage to meet the main guests and interview amazing people like Kandi Banks (an amazing nail technician who has worked with stars such as Nicki Minaj, Demi Lovato, and Amber Rose), Naima Mora from Cycle 4 of America's Next Top Model and numerous local designers and event producers.
Are you still wondering why you should join the team?
Do you love fashion? Well if you do this is the most amazing opportunity to express your love of fashion by sharing with readers your ideas and take on current trends and upcoming fashion events. Locally, the Denver fashion community is so loving and welcoming. Its filled with amazing people with unbelievable creative talents. For those of you in NYC or California, we also have some awesome opportunities that come up. Sealed deal. Right?
Do you enjoy writing?
Get published at FCF (document your work), get credit for school (if needed), and we will give you the chance to clean up those grammar mistakes and show off your clean writing skills, while covering some of the most interesting topics in news, fashion and celebrities.
…Or do you enjoy Photography
…Or do you enjoy Fashion PR
…Or do you enjoy Graphic Design
Or the basics online today. – Do you enjoy having published works to forward to your next employer?
Or do you enjoy Charity Events and Fundraisers
…Or do you LOVE – whatever it IS – bring your talent to First Class Fashionista if it fits.
Do you like trying out new products? Additionally, on occasion, FCF will have product to review for you. Writers are given the chance to try out top brand products and give their opinions on how they worked and what they did for the company involved. Within my experience with FCF, I have been able to test out and keep some amazing products.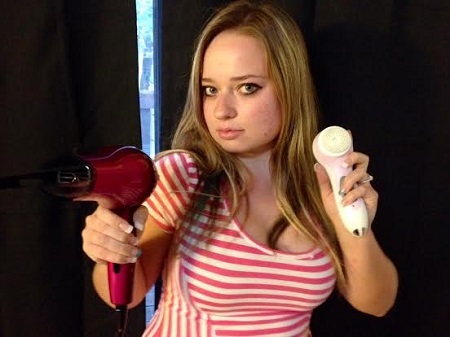 But out of everything I get to do with First Class Fashionista, what I love most are the friends I have made along the way. So if you want to join an amazing team, with a heart of gold, let us know by emailing the founder and owner of FCF, Lonza Dennis, at Lonzadennis@gmail.com. We'd love to have you aboard to share your talents and help plan our next Denver Paint the Runway!
Thank you, our valued readers, for all the support throughout the years!
(P.S. Please comment. I love comments!)