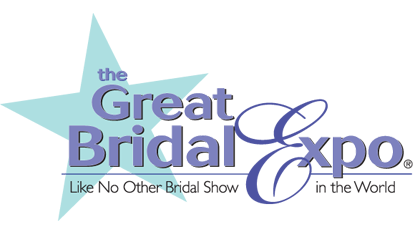 Last Sunday, I was privy to be able to attend the Great Bridal Expo here in Denver at the Marriott City Center. Before the uproar of questions starts- no, I'm not engaged! It was for my work outside of FCF, and to get a better feel of what brides are looking for and what is popular as far as the industry in Colorado. It was definitely a new experience for me, a little bit out of the comfort zone, but if you know a bride-to-be (or you are one!) I highly recommend attending shows such as this one to check out your local vendors, venues and general options. Although I am not getting married, the process definitely seemed much less intimidating after taking a stroll around the booths and realizing that everyone is more than willing to offer their services. If you think about it, EVERY industry is involved in the wedding industry. Fashion, jewelry, cosmetics, food, beverages, paper/printing, real estate; the list goes on! A little hands-on experience and look at Colorado offerings did a world of good that no amount of Google'ing or Pintrest pinning could quite compare to.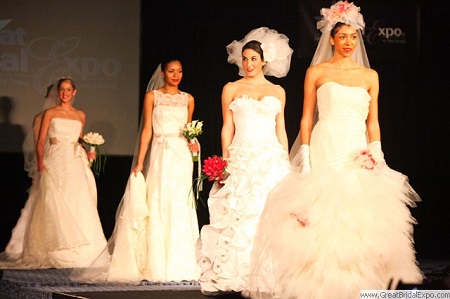 The Great Bridal Expo here had a strong variety of sponsors. These sponsors included David's Bridal, Sandals, Dinner 4 Two.com, Camille, Group USA, Carlson Craft, Bridal Guide, Bed Bath & Beyond, and Bride Click to name a few. David's Bridal seemed to be the backbone of this particular show- they had a large booth as well as provided the majority of the gowns for the fashion show.
There are a lot of photos from the fashion show. Take a look at some of them in our FCF picture gallery below. I was a fan of the variety and of the non-bedazzled bridesmaid dresses. Please, do not get the bridesmaid dresses that are more bling'd out than prom circa 1990. Those hurt my feelings. A lot. Ultimately, brides should get whatever they think is lovely- and I respect that- but let's not force a 27 Dresses montage onto any of our best girlfriends intentionally, okay?
Among the vendors, VaVaBloom floral occasions & decor boutique and Pink Zebra Cupcakes stood out to me as fantastic local vendors. They have never shown up in my idle searches on TheKnot.com about Denver vendors, but I was impressed by their booths. VaVaBloom created some truly beautiful pieces, and even managed to keep some hydrangea looking strong throughout the whole affair! It's a difficult task, for all of us familiar with this particularly thirsty flower. Also the wide variety of shapes and occasions capable of being created by Pink Zebra cupcakes was exciting. They had a photo of the perfect Tiffany's blue box as a birthday cake; I know one or two bridal parties that this would be perfect for a reception or even a small rehearsal dinner treat!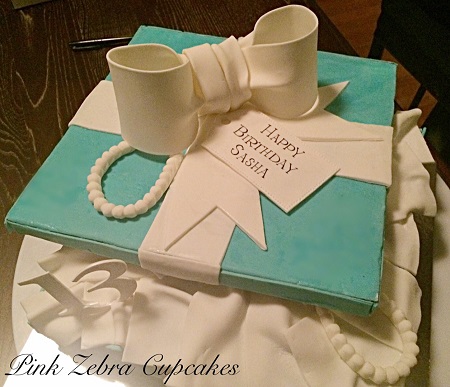 Photo credit as noted in picture.
Additionally, I was impressed by the services Mike's Camera can provide for weddings. Had I never been to this expo, I would have never known that in addition to printed invitations and the like, Mike's Camera can also print, matte and frame a signable photo for the big day, or even create physical pieces to give away as favors or use with the table settings. My companion was particularly enamored with the customized rock objects, and we were very sad to not win their prize giveaway. So, be sure to check events like these out if you are still looking for vendors or something special to add to your wedding. One never knows what they might find to add that extra unique flair to their big day!
While we are on the subject of prize giveaways! This particular event offered the first 300 couples who registered online and showed up free wedding bands. Legitimately, they were gift cards for wedding bands and all you had to pay was shipping. There were also giveaways by Barefoot Bubbly, vacation packages, and a credit towards dresses (or the big-day gown!) at David's Bridal. If I were going to be a DIY bride- and obviously, I couldn't live with myself if I wasn't a little!- I would consider going to more Expos such as this one. Free giveaways, networking, and a little shopping around never hurt anybody!
FCF Editor-in-Chief is a very lucky Mother-of-the-Bride-to-be and we will be working on another article to give all of our FCF readers and family some inside information to the bridal industry and wedding tips here in Denver, CO. So if you're reading this…What questions do our brides-to-be, bride's made or mother-of-the-bride have? What can we address or help you with? What advice would you give to future Colorado brides, or brides in general? We want to make this as informative as possible for all of our dear readers, so please don't hesitate to leave a comment, post on our Facebook, or shoot us a message! Mazel tov!
PS. I have some coupon codes for invitations, stationary, etc for any future brides-to-be who may want them! Good at Mike's Camera or Carlson Craft's featured online retailer RSVP etc. Shoot us a message and they are all yours!