Ladies and gentlemen, please put on your finest attire, as you will need to brace yourself for one FABULOUS NIGHT! Produced by the Cherry Creek Art Festival and presented by Bank of the West is ArtDenver, one fashion event you do not want to miss!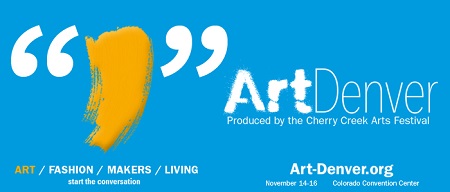 Who you might ask? Michael Costello will be the headlining designer for the opening night. Featured designers also includes Mondo Guerra. So now you know, this is going to be an amazing night with very talented designers. Michael Costello is an international fashion designer. He has done work for well-known clients like Beyonce, Paris Hilton, the Kardashians and Lady Gaga.
Mondo Guerra is a Denver-based designer who was previously on Project Runway, Project Runway All Stars and Under the Gunn. He has been a well-known name in Denver for a few years now and is known for his amazing prints and very unique designs.
What? ArtDenver will feature national fine artists of Colorado. Get ready to witness an outstanding amount of art installations including 135 exhibiting visual artists from all over the country. These talented individuals have produced art from so many different mediums such as ceramics, digital, photography, metal, drawings…etc. For more information, visit the official website.
Where can you see this extraordinary event? The Colorado Convention Center
When? Opening Night: November 14th: 6:00 pm – 10:00 pm
November 15th: 11:00 am – 7:00 pm (10:00 am for early VIP entry)
November 16th: 10:00 am – 5:00 pm
During these extended days, there will be designer trunk shows and free runway shows. However you will be required to have a general admission ticket for each event. You can purchase your tickets now at https://www.cherryarts.org/art-denver/TICKETS.
Sponsors Include: Bank of the West, Colorado Homes & Lifestyles, CBS
4, Cherry Creek Shopping Center, Mountain Living, Heinrich Marketing,
KOSI 101.1, 99.5 The Mountain, OUT FRONT, Reign Magazine, Sheraton
Denver Downtown Hotel, the University of Denver and Xfinity.
Supporting and Contributing Sponsors Include: Blake Communications,
Grand Lodge on Peak 7, Oskar Blues Brewery, American Laser Skincare,
Arta Tequila, Robert Mondavi Private Selection and SVEDKA Vodka.
We at FCF hope to see you there and would love to hear from our readers! Please tell us what you're most excited to see at this event!