What strong woman has not been met with opposition before based solely on her gender? Well, for everyone who has ever heard the words "Girls can't", COVERGIRL has a message for them: Girls can. The popular cosmetics company, COVERGIRL, is starting a new and important campaign along the path of its established past of working to empower women and improve their self-image. This movement began with a video and a strong message, featuring COVERGIRL's Queen Latifah, Ellen DeGeneres, P!nk, Sofia Vergara, Becky G, Katy Perry and Janelle Monáe. If you haven't seen it, click below to get familair with what I'm talking about. If you have seen it, click it anyway. Hey, what woman doesn't love hearing that they can do anything?
MY #GirlsCan Story
I love the idea of banishing the verbiage "girls can't". I am one of those girls who gets feisty and offended when this comes up. 'Can't?! Why on earth not?!' I'm sure every strong- and opinionated- woman had their own can't turned into a can story. My personal favorite of my own has to be when I was taking a P.E. class my last year of high school. When we were doing our physical tests, my group was told that the minimum requirements for girls were much lower than the boys in just about every area. I'm sorry…What? At the peak of both gender's physical height, we expect less of girls and lower the bar for their accomplishments based on gender alone? I made it my personal goal to not only meet, but exceed the minimum the boys would be held to. After a few weeks of preparation, I absolutely blew the minimums out of the water. Even the guys were impressed, although my teacher seemed more bored than enthused when I more than doubled the expected amount of push-ups, cut the mile time in half, and was in the top tier of the sit-ups. Physical "girls can't" are probably the ones that get me the most irked. There's more than one way to do something, and simply saying that girls are unable to do so seems out of line. This "girls can" is my favorite because it started me on a road of understanding that people were going to have pre-conceived notions of what I would or would not be able to do, but if I wanted to prove them wrong it was well within my power. Later I would use this attitude in the workplace to break down freight, in my home to re-arrange, build and haul, and in my personal life to take on male-dominated sports and hobbies. I am woman, hear me roar. And play video games. And play bass guitar. And build an entertainment center. A Message to You from CoverGirl "At COVERGIRL, we've always celebrated strong, inspiring women who don't let anyone or anything stand in their way," said Esi Eggleston Bracey, VP and General Manager, COVERGIRL Cosmetics. "Our family of feisty, fabulous COVERGIRLs embody this spirit, as each of them have broken boundaries in their own lives and careers. We feel so strongly about empowering women that with #GirlsCan, we're putting $5 million dollars worth of funding into people and programs with the same passion that we have to motivate women to kick 'can't' to the curb – for good. (BrandTalent, 2014.)"
CoverGirl for Dress for Success
This November, COVERGIRL is donating $50,000 to Dress for Success, an international not-for-profit organization that promotes the economic independence of disadvantaged women by providing professional attire, a network of support, and the career development tools to help women thrive in work and life. We at First Class Fashionista have also worked to support Dress for Success here in Denver, CO, and are proud to have the opportunity to affiliate with a company with the same goals. Because of the emphasis on Dress for Success as well as women in the workplace, I chose to create an interview-appropriate everyday look with my new favorite COVERGIRL products.
COVERGIRL #GirlsCan Inspired Step by Step Look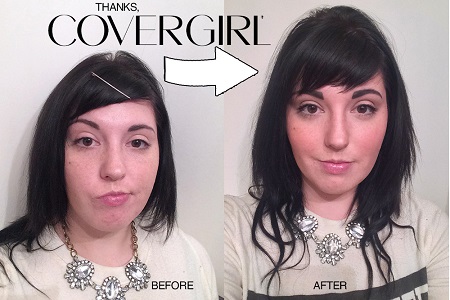 Although this makeup is wonderful for doing a "natural" look, my work environment is definitely full of women who go all-out. So for women who want to do full-face makeup while keeping it more neutral and low-key, this is the perfect look for you!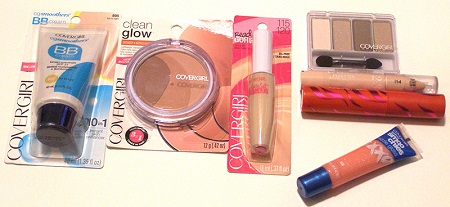 I used the above COVERGIRL cosmetics to create this look (from left to right). CgSmoothers BB Cream in 805 fair to light, Clean Glow Bronzer in 120 Spices, Ready, Set GORGEOUS concealer in 115/120 light pale, 4-Color Eyeshadow Palette in 280 natural nudes, truBlend Fixstick in fair, Flamed Out Mascara in 300 very black blaze, and Smoochies sizzle gloss in 505 tickled pink.
STEP 1:
Start with a clean, moisturized face. I also pull my bangs back to be sure that I get nice, even coverage. (Side note- I also have some brow pigment on in this photo. Yikes! Sorry for cheating, my eyebrows aren't even close to matching my hair right now! I'll talk about brows more later.)
STEP 2: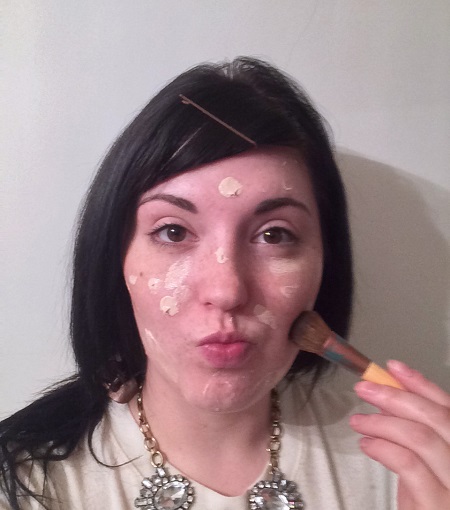 Apply the BB Cream all over the face. I chose BB cream because I am a freckled creature, and I've come to terms with that. If you have freckles and would like them to show through the makeup, this is for you. Otherwise if you want more coverage, feel free to swap out BB Cream for Foundation. truBlend foundation had a ton of skin tones
where I was shopping. Also, you can do this with clean fingers or a brush, I just prefer to use a brush.
STEP 3:
A.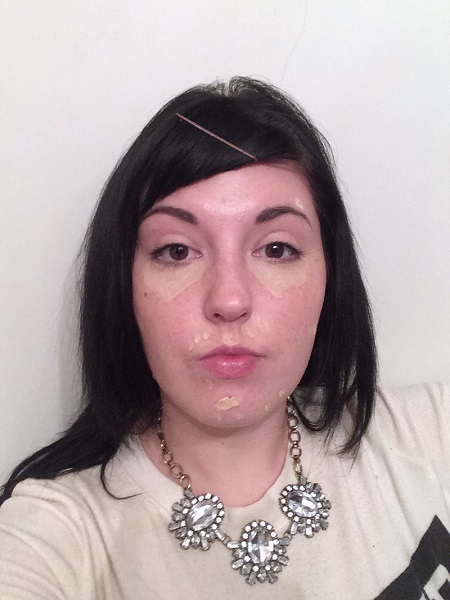 B.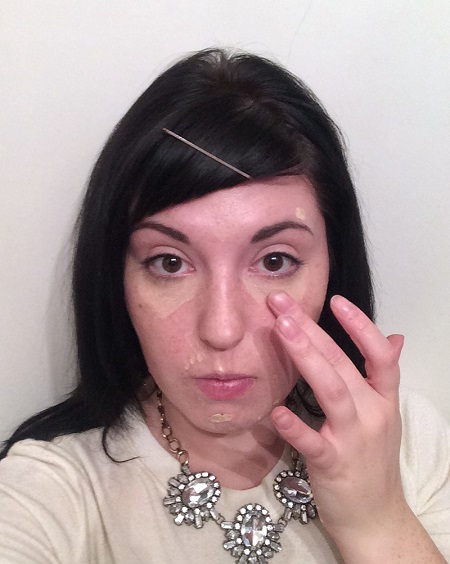 Use the Ready, Set Gorgeous concealer for under eyes and in problem areas. Be sure to use an upside-down triangle under the eyes- not just a half-moon!- to ensure that your eyes get brightened and blended properly. This one I do blend with my fingers. Use a clean finger to blend the concealer in dabbing motions. The heat from your fingers will help it blend into your skin and the dabbing motion will prevent it from looking streaky.
STEP 4:
A.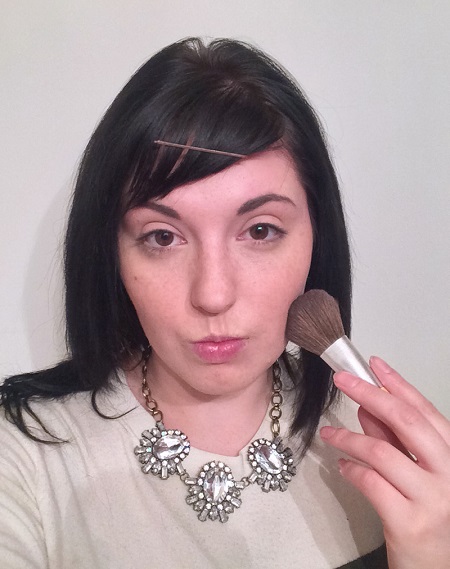 B.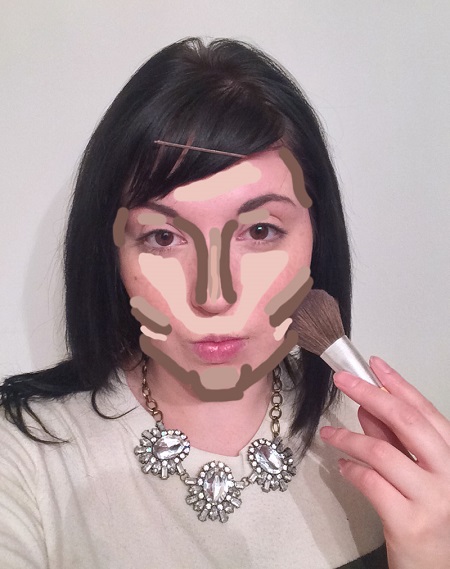 Take the Clean Glow Bronzer set. I brushed the lightest color all over my face for a quick set for the cream foundation we have made. Use the two darker tones to contour, focusing under the cheekbones, jawline, and nose.
Contouring really depends on the shape of your face, but here's a rough diagram of what I usually go with. Use all 3 shades to create shadows and depth. I use them to make my super round face have a little dimension, as well as strengthen my jawline and elongate my button nose.
STEP 5:
A.
B.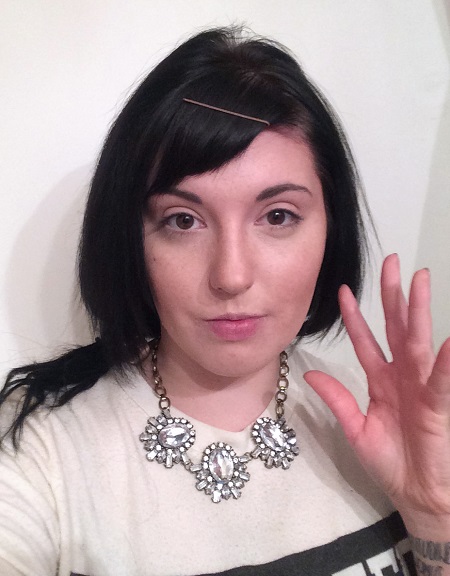 Now we have some light (non-drastic) contouring, yay! Let's just go one step further and really illuminate the face. I used the Fixstick to highlight over those areas of the contouring where the the lightest shade should go. My eyes will look super-bright soon. Blend, blend, blend, and BAM! Look how bright my face is. A nice, dewy
glow. Also, that's supposed to be my excited 'bam!' hand motion. You don't have to do that.
Step 6:
A.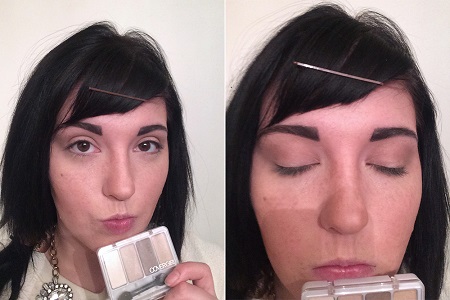 B.

Use the 4-color eyeshadow to create a neutral, pseudo-smoky-eye. Use the left mid-tone all over the lid, and then the rightmost mid-tone on the ball of the eye. Create depth in the crease by using the pointed applicator tip and the darkest color, or try creating a bit of a cat-eye by going out to the eyebrow edge. Then use the lightest color
on the middle ball of your eye and along the brow bone. Blend, blend, blend! (I also filled in my eyebrows some more. Forgive me, the location I shopped at did not have my shade in COVERGIRL brow shaper pencils, but they do exist! And you get 2 in a pack, which would have been wonderful.)
STEP 7: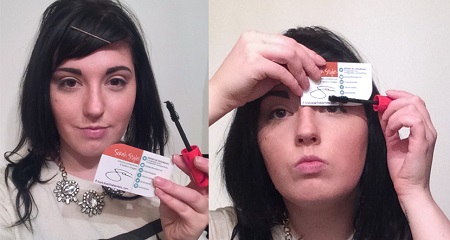 Mascara time! A business card is going to be your best friend for this one. Position behind your lashes and brush up with the mascara. This will decrease clumps, let you put on multiple coats easily, and will preserve your eyeshadow with ease!
STEP 8: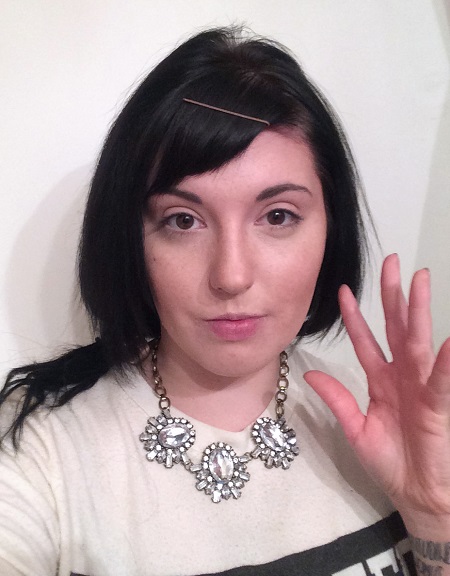 Ready to be done? Just apply that smoochie sizzle gloss and look how it shines! Ta-da! How easy was that? A job-ready look with a bit of a glow. You're ready to face anything. I'm actually sad that I got all dolled up and had nowhere to go that evening. But look at the difference a little makeup can do! I felt like a frump beforehand (and my posture reflected that. Which made me LOOK like a frump), and after a few quick strokes of brushes, I feel like a femme fatale. How or if women do their makeup is their own choice, and I personally feel like it's a great confidence booster. The before and after is fantastic. I'm actually almost smiling in the after! I love that COVERGIRL is giving to Dress for Success, so that women everywhere can take confidence in their appearance and take life by the horns!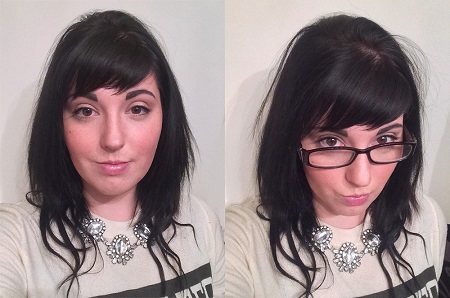 If you want to get the look, for a limited time, look for specially
marked packs of COVERGIRL Flamed Out Mascara (like the one I used
above!) and Pro Mascara on the #GirlsCan display at your local Walmart
to help drive this event. The COVERGIRL #GirlsCan mascaras come in 2
varieties: Flamed Out Mascara and Professional All-in-One Mascara.
Both are under $10 and a fantastic mascara for everyday use. There are
tons of tones, shades and colors. PLUS! Here's a bonus, we will be
giving one lucky FCF reader a $25 Walmart gift card of their own! Why
not pick up a few new cosmetics for yourself, I actually had trouble
selecting what I was going to use without going crazy! There's a wide
variety to chose from, and a million different looks you can go for. I
really want to try the Bombshell eyeshadow in the colors with shimmer
for the holidays! What would you guys choose?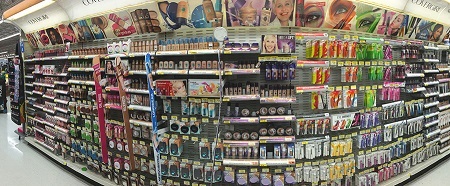 Look how much you have to choose from!
To Enter: All you have to do is hit like on our Facebook page and
leave us a comment on this post telling us about a can't you turned
into a can.
After all that empowering girl-talk, I feel the need to listen to Beyoncé's Run The World (Girls). Should any of you need me, I will be listening to woman-power tracks or watching Buffy. Every day is a great day to be a woman– #GirlsCan and #IWill!
Disclaimer: The Walmart gift cards, product, and information have been provided by COVERGIRL. All opinions are my own.