Be Thankful, It's The Fashionable Thing To Do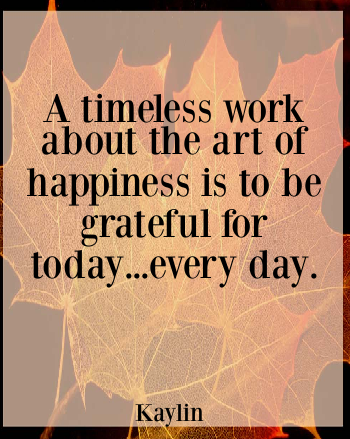 Oh, Thanksgiving…what a delightful tradition of intentional gratitude you are! A blissfully happy day filled with joyous people celebrating thankfulness is my kind of day, everyday. I am a true noble soul and Thanksgiving is my living, breathing reality.
This powerful holiday of many thanks and contagious smiles has been a profound influence in my life. I am a catalyst for positive life changes and I seek to live an authentic and empowering life that radiates sheer happiness. I pride myself on my public displays of appreciation and genuine expressions of gratitude for others. I absolutely love the Thanksgiving holiday as it is an extraordinary occasion that is distinctly different from the other holidays. It not only promotes savoring of positive life experiences, but it is also a day with no political or religious overtones and everyone is simply grateful having a wonderful time. Wouldn't it be nice to have more days of the sort?
The holiday season should not merely be a "time to be thankful", but rather every moment of everyday all year long is the time to practice thankfulness. If you have an attitude for gratitude and trust the law of attraction to bring you what you need, and believe that it will, then it will. It's that simple.
Let Thanksgiving Inspire You To:
Flow with the positive energy within you
Start regularly demonstrating your appreciation for others
Create an environment that suspends judgment
Take some time to reflect on your moral practices
Make gratitude fashionable
The energy of gratitude is a powerful force that solely enhances our quality of life. Start by practicing kindness each day by giving thanks for divine goodness. I make it a habit to tell people thank you on a daily basis, do you?
HOLIDAY FUN FACT:
Thanksgiving Eve is an underrated infamous holiday known as Wild Turkey Wednesday, a definite notable mention in my book. Don't awkward encounters combined with ultra-mundane conversations just sound like a privilege of a lifetime or more like an ideal black-out session? Either way, reuniting and reliving your hometown glory days is surprisingly amusing. Celebrating this preposterous event is solely contingent on where you grew up. I was fortunate enough to grow up in a place where Wild Turkey Wednesday is the biggest party of the year and the motto was always "tomorrow we eat, tonight we drink." No place on earth offers a more fun-filled experience on the eve of Thanksgiving than Springfield, Missouri. Don't believe me? Google search Wild Turkey Wednesday. It's social proof that I am not making this up.
The best part of WTW is your only focus is strictly on your night out because your only obligation the day after is to eat the greatest food in the world and be merry. Seriously taken, moderation and WTW have no affiliation; it's consumption that separates the pros from the amateurs. The ultimate trick to survive your hangover is to indulge in all the delicious thanksgiving goodness immediately upon awakening and maybe pour yourself a little mimosa, if you're up for it!
Happy Holidays!