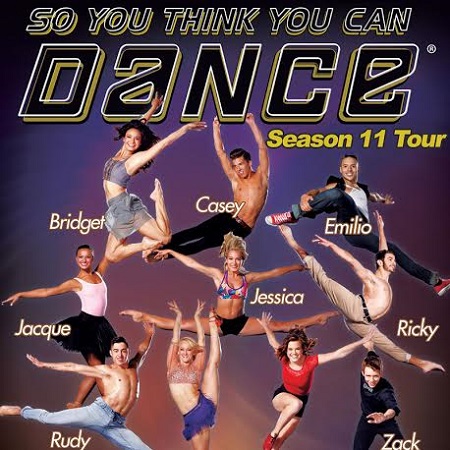 Get ready to be amazed! So You Think You Can Dance is coming to Broomfield, CO. We at FCF will be there witnessing this 13-time Prime-time Emmy Award-winning show on Tuesday December 16th at the 1st Bank Center. Not only will your very own FCF get to attend the show, but I will also get the opportunity to interview the Top 10 finalists for Season 11!
During this event our favorite dancers will be showing off some of their most popular routines and some original pieces as well. Believe me you don't want to miss this 19 Entertainment and Dick Clark production that will BLOW YOUR MIND! This is one of the most exciting opportunities I have ever been given since working with FCF and I'm so excited to go to this event! This season's lineup includes the following: Ricky Ubeda, Valerie Rockey, Jessica Richens, Zack Everhart, CaseyAskew, Jacque LeWarne, Rudy Abreu, Tanisha Belnap, Bridget Whitman and Emilio Dosal.
Other familiar faces you will be excited to hear are coming Colorado are: Carly Blaney, Marcquet Hill, Emily James and Teddy Coffey.
Don't you worry! There are still tickets available at http://www.1stbankcenter.com/events/detail/253036. Ticket prices range from $38.50-$58.50, so hurry and get yours while they last! The official tour routing and ticketing is available on fox.com/dance.
Here's the Break-Down:
Who: So You Think You Can Dance: Season 11
Where: 1st Bank Center: 11450 Broomfield Ln, Broomfield, CO 80021
When: Tuesday, December 16th at 8pm
This FCF is SO EXCITED! I would like to ask all readers and followers who have been keeping up with this season's So You Think You Can Dance to please send any questions you might want me to ask during my on-the-spot interviews with the amazing dance finalists!
As always, thank you for reading and being an important follower of FCF!