I'm sure we have all noticed the weather has cool down out there. Winter is officially almost here. I like to picture it looming ominously, but the visual is really up to you. With the sun setting earlier and the temperatures dropping, it's time to look into how to stay warm whilst going about our busy day. But who says you have to sacrifice style for function? Well, okay, I've heard the "beauty is pain" line too, but here's a warm-for-the-winter themed post that aims to contest all that while keeping you abreast of the latest winter 2014 coat trends.
Do you want something that looks just cool enough, but comfortable enough you can snuggle down into it? Me, too. Drawing on native prints and traditional woven patterns, these coats are basically your bed gone mobile. left to right: Burberry Prorsum Hooded Blanket Coat available at Saks Fifth Avenue. But see what is here.
Pendleton Jacquard Blanket Coat available at Nordstrom.
Topshop Premium textured blanket coat available at Topshop. *no longer available but see what is here.
Buffalo Check Coats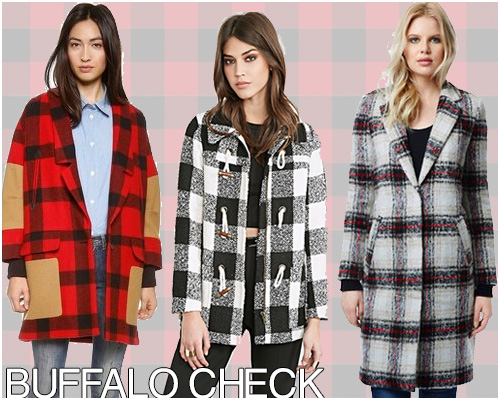 90′s grunge style meets wool, wool-blends, and comfort. These puppies are also usually very utilitarian as they are generally made with large front patch pockets. Shove in your gloves, phone, and -heck- maybe a Starbucks tumbler in your free pocket. Plaid and similar checks make an acceptable substitute if true buffalo check is not an option!
left to right: Rachel Comey Karloff Check Coat available at Shopbop.
Forever 21 Check Plaid Toggle Coat available at Forever 21. *no longer available but see what is here.
Buffalo David Bitton Plaidy Wool Blend Coat available at Lord & Taylor.
Cape Coats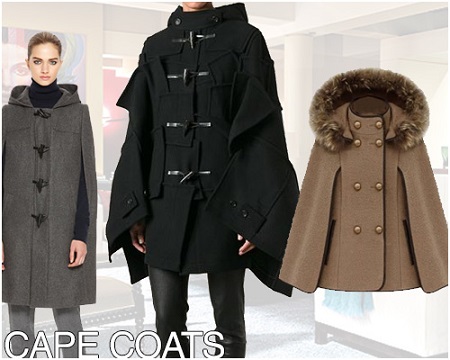 Capes are not just for the elite on the Upper East Side anymore. Anyone can look chic and classy with the easy- and warm! addition of a cape. Bonus, you can oftentimes opt to keep your arms totally inside and keep them snug and insulated in your cape-coon.
left to right: DKNY Toggle Closure Cape Coat available at DKNY.
Comme des Garcons Junya Watanabe patchwork cape coat available at Farfetch.
Double Breasted Camel Cape Coat available at Romwe. *no longer available but see what is here.
Leather Combos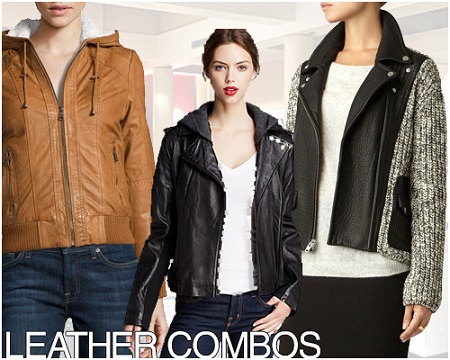 Leather is huge this year. But mix this staple with something a little more comfortable- think a hoodie!- to make this your go-to coat for that brisk morning.
left to right: Marc New York Raquel Hooded Leather Jacket available at Last Call by Neiman Marcus.
DKNY Jacket – Knit Hood Leather Moto available at Bloomingdale's.
Yigal Azrouel Platinum Knit/Leather Moto Jacket available at Intermix.
Now, if I've done my job properly, you will feel the undeniable urge to get a new coat. While scouring images, I had to be discouraged from selling everything I own for the Comme des Garcons Junya Watanabe Cape. If any of you purchase that, please let me live vicariously through you. I promise to behave myself. Send us a selfie.
Go and clothe yourselves with beautiful- and practical!- things that fit your lifestyle. Prepare for Winter in the best way. If you own or are interested in a new coat, look into the proper weatherproofing protocols for the material. Always renew the weatherproof seal on leather every season. It will make it last much longer in cases of moisture! A coat can be a lasting investment, and you will likely need one every day for at least 3 months, so I promise you will get your money's worth out of a solid winter outerwear piece investment.