Whelp, Denver, it's officially cold.
I know, the temptation to bust out the ol' Colorado go-to is rising. You know what I'm talking about. The UGG boots. This year, as with every year, I must implore you: Please, no! These shoes are not only not created for the snowy weather we take them out in, but don't do anything for us fashion-wise. If anything, the Denver fashion scene takes a clompy step backward every time we choose to throw these over our jeans and head out in the blizzard to our local coffee shop.
Don't get me wrong, I understand the allure! Comfortable, sure, trendy- maybe…But I know Australians who have them and think we've gotten out of hand. Yikes. Let's take a look at how we can put our best foot forward this winter- in confident style.
Ash Yuka Shearling-Lined Fold-Over Boot available at Neiman Marcus here.

These boots are lined with sheepskin and the hidden wedge shape will not only be effortless to walk in, but you will look taller and more poised as you do! The slight wedge will make you elongate your spine and use your legs to take strides, as opposed to the posture of dragging our feet along that's all-too-easy to fall into with Uggs.
Tory Burch Marion Quilted Booties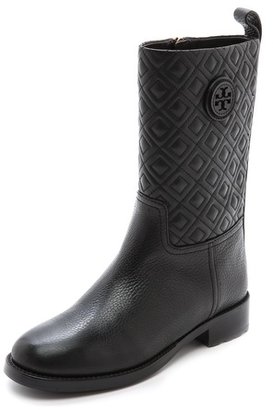 Click Image to Shop Tory Burch Marion Quilted Booties *currently unavailable. See what is here.
Similar style to our friends, but in practical fabrics! Also, the quilted texture is fantastic. You are one weather-proof spray session from a very durable and comfortable boot. The leather will hold up much better than weatherproofed suede or similar fabrics, but these boots are still lined with snuggly sheepskin to keep your toes toasty. How's that for fashionable alliteration? Timberland Women's Mount Hope Snow Boots currently available but see what is here.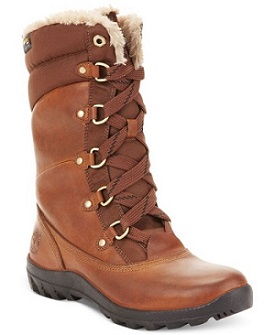 with this boot you get that popular tobacco/cognac color with way more practicality for the snow and cold weather. Super warm inside, anti-fatigue pads to keep your feet from getting sore, and totally waterproofed exterior. Plus, you will look super boho and trendy by throwing them over some dark skinnys or cords and tossing on a loose sweater. Bam. Comfortable just got on point.
Sorel Women's Winter FancyTM II Boot available at Sorel here.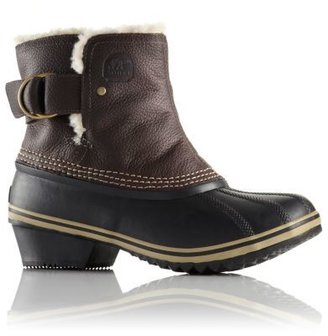 They're called Fancy boots, so you know they're good. Or, they're Sorel's so you know that they're super waterproof with great traction. Don't be scared off by that heel, it won't feel like you even have one. That just gives you the bonus of looking put-together without much effort. Also, they're fleece lined and insulated to keep your
feet cozy!
So, ladies, please join me this year in our new fashionable boots. I know, Celebs like Hillary Duff, Lindsay Lohan, and Paris Hilton have all rep'd Ugg…But that should tell you just about everything you need to know about continuing on this B-list bandwagon. We can do better, and your feet with thank me for it.
Happy snowfalls, all!