This is a sponsored post written by me on behalf of CarMax. All opinions are 100% mine.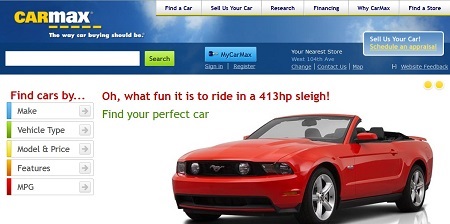 We started our search for a used winter truck about 6 weeks ago. My husband drives a luxury sports car, which doesn't handle well in the Colorado snow, so he's always borrowing my SUV when bad weather hits. In the midst of our search, something interesting happened. The CarMax company contact me to help spread the news about what they have to offer here in my own backyard of Denver, Colorado. How did they know? This reminded us about their nationwide network of used vehicles. We had seen the commercials before, but we forgot all about Carmax (sigh). They have over 35,000 cars and over 100 locations. Too bad we didn't remember to start our search with Carmax because we were already really frustrated with the whole car buying process.
By then, we had already driven to Colorado Springs to look at a Jeep Wagoneer that was supposed to be customized with a rebuilt motor. Well, it was really loud, the interior was ripped out and we could tell just by looking at the stains in the driveway that it had a nasty oil leak. Two days later, we drove out to Fort Collins to look at a Land Rover Discovery s7 with all the repair paperwork, but we smelled burning coolant. Plus, it was priced way above the Kelly Book value. Then there was a Range Rover. One, the owner said he replaced the engine. When we called to verify, we found out the replacement had over 170,000 miles on it. We ended our search here. For now, my husband will have his car and we will continue to share my car.
Honestly, I think if we had started with Carmax, we may have found something that actually worked for us and our cash budget. Carmax has two physical locations in the Denver area, and you can shop their inventory for any make, model and year online. If you're interested in an all-wheel or four wheel drive out of state, Carmax will ship it to the dealership nearest you with no obligation to buy it. This perk makes me perk up! I remember when we had to drive to Arizona to get a good deal on one of the cars we own now. Speaking of good deals, another thing I like about Carmax is the company's commitment to treating the customer fair. You can get a FREE Autocheck history report on any car, the prices are not inflated, and they absolutely will not sell a car that has been in a flood or has frame damage.
Finally, if you're anything like me, you don't like to spend a whole day out of your life at a car dealership. So if you find a car you like on Carmax.com and you are looking to finance, you can simply fill out the credit application online. A sales consultant, whose training is rooted in integrity, will be available to assist you. I've learned, integrity and transparency is what Carmax is all about. Except in California, the sales consultants earn a fixed commission no matter what car they sell. The idea is, the sales person isn't motivated to try to sell the car that will make the most on commission, but rather help the customer find the right car to meet his or her lifestyle and budget needs.
If my husband and I are ever in the market for a car again, we will start with Carmax. I wouldn't hesitate recommending this impressive, super auto store to anyone. And if you need to sell your car, Carmax also does on the spot appraisals in 30 minutes or less.