About a Girl
As First Class Fashionista's newest and most recent contributor, I figured I would tell you a little bit about what lights me up, my story and share my inspirations! As a bohemian spirit through and through, I have chosen to live a life plentiful of happiness and I feel ever so deeply alive. My genuine endeavor is to make multitudinous inpingements on the Greater Denver Area as well as anywhere and everywhere I can by asserting a high level of relevancy to a variety of genres.
I am genuinely interested in fashion for its stylistic appeal. I love everyday street style fashion as it is pure creation from your own imagination. I have every desire to bring stylistic brilliance to the people of Denver from my own inspiring sartorial selections. I like to think of myself as a tastemaker with an infectious passion for style. I think the secret to my stylistic brilliance that others crave is to keep it cool while maintaining an effortless down to earth vibe. Clothing that portrays a gal's spirit through invoking attributes of femininity is pure beauty to me. My personal style is very boho-casual yet sophisticated and carefree, but distinctly fashionable. You can definitely find me wearing Earthy tones that combine rich saturated hues and warm colors. I'm essentially a hopeless bohemian romantic and I absolutely love my layers, boots and oversized goodies!
I'm all about style for its practicality whilst bringing spice to the clothing we choose to wear on a daily basis. With the right layers and poise, anyone can conquer a bold and stylish look. My style is to entice, captivate and fascinate by creating outfits that go off the charts. As a style guru, I know when to blend in and when to stand out glamorously. I always vibe to what I feel works for me, I dress for myself and make my own rules. I am not someone who is a devoted follower of fashion and I don't copy what's trending nor do I creepily stalk every single celebrity to find out what I should wear and I am no designer-obsessed whore either. No, I wear what I like, what makes me look fly and is at least decent-to-good quality.
On a more relevant note by definition, "lifestyle" is the way in which a person lives and even more specifically, "style" is a distinctive manner of expression or one's particular mode of living. This is what I mean when I say I am a fashion and lifestyle blogger. Writing has become this incredible outlet of pure creativity that allows me to be passionate about being myself. Plus, it is a wonderful escape from day to day boredom. Though the freeing hobby did fortunately find it's way to me, truth be told, the writer within me was discovered years ago. Writing is something I have certainly found to be a necessary evil and when I say evil, I am simply referring to my alter-ego Elizabeth, meet the perfectionist. Writing has become an essential part of de-stressing my way to relaxation and the benefits of writing are off the charts!
A few years ago I decided it would be in my best interest to write yearly summary reports to myself as a means of keeping a "new age diary", if you will. It's a place to take informal personal notes of endless memoranda to keep track of the lovely details from your life.
Ideas for keeping a yearly memorandum filled with lovely details from a year of your life:
Start by writing down everything you can remember from the entire year.
Have fun with it! It's only a memorandum book for your eyes. So if you remember a happy moment, write it down, that way in a few months or years to come you will always remember your happy thoughts!
I usually like to get very entertaining with it and write any and all funny moments and good times I can think of!
Reminisce and Reflect. Sit back, relax and go for a drive down memory lane!
Think back through all that happened the last 12 months of your life. Try remembering something from every month!
Even if you don't want to remember it now, just think about how rewarding it will be for yourself to sit back and read in 2020, especially when you accidentally stumble upon your summary of 2014, talk about the ultimate comic relief.
An Absolute Must Do: In years to come enjoy reminiscing the good ole days, hope your days are far better now, laugh at the ridiculous times you had and compare the astonishingly different life's you lived each year!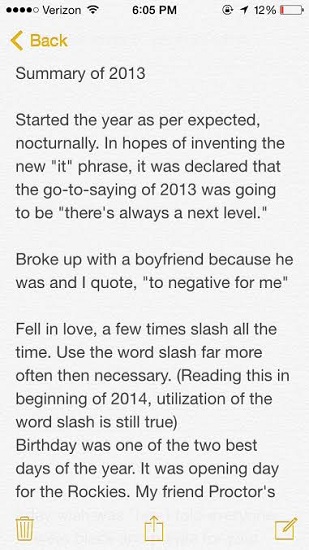 The perks of keeping an annual journal is limitless and it's the perfect time of the year to wrap up this chapter of your life and start another. Start reminiscing away! Get a special notebook that you will keep forever or take notes in your iPhone so it's saved in the cloud indefinitely. Just make sure you write each memory, happening, thought, or feeling you can remember from this past year as your old age memory abilities will be ever so grateful you did.
Speaking of, want to know more about me? I like bearded men, skiing, hiking, camping, puns, sushi, smiling uncontrollably and all things happy. I like to thoroughly indulge myself with knowledge by utilizing my resources and being research savvy, I am a self-claimed internet-addict. In my free time when I'm not shopping online, I am probably obsessing over tree-houses, reading about positivity, or cuddling with my furry friend, Cat. Mr. Kitty Cat, to be exact. Some describe me as a true one of a kind, the hard to find, the exquisite, the classic or simply put as the modern day hippie-cool girl, who has the clothing vibe down. Others might say I am the happiest person they have ever met, which is wonderful to hear because my ultimate goal is to help the world choose happy and to look good while doing it. That's my style and that's what I want to portray to the Fashion Scene of Denver.
There is another unexplainable reason that scientifically defines my rarity and total existence. It is a scientific orthodox on how my existence actually came to be. With my mom being B positive and my dad AB positive, there is absolutely no scientific possibility that my type O blood is physically capable of producing yet I am 100% my parents' kid, but I am also 100% a rare breed. I am a living miracle. Specially hand-picked and carefully selected by the higher secrets of the world. It's crazy to me because the odds, the possibility and the combination of my parent blood types are utterly impossible to procreate the type O positive blood that I was born with. My existence is unfathomable to comprehend and will forever remain as one of the mysterious wonders of the world. I know I am here for a reason and I have chosen to live a life plentiful of happiness.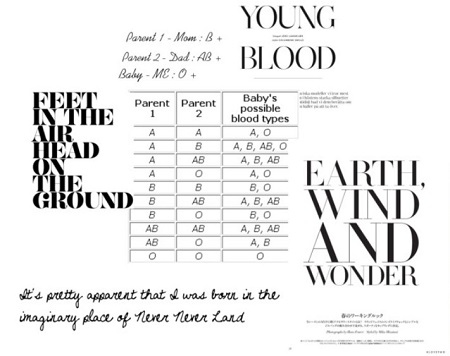 It's interesting when you map your life backwards to backtrack before you were born. When you let your mind wonder about the chain of events that had to happen before you could even happen, you'll start to realize that you too are a part of a divine natural phenomenon experiencing the miracle of life. If you are ever having a bad day or need a friendly reminder to not take life so seriously or for granted, just mathematically consider the odds of your being and realize your total existence is essentially the pinnacle of creation.
It is with my desire to regularly share my stylistic secrets of a seemingly effortless approach, which aims to connect and inspire the every day gal. I promise I will continually strive to create more meaningful human experiences through regular public displays of a positive lifestyle.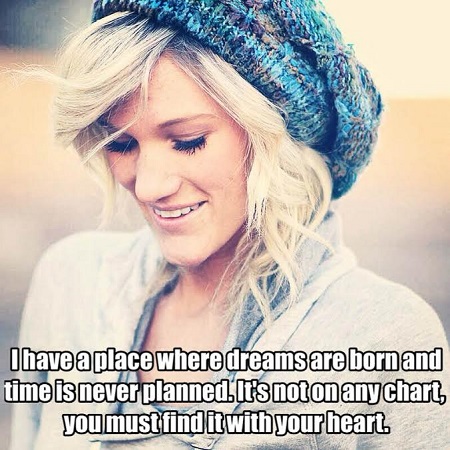 Choose Happy, In Style.