All That Glitters Is Gold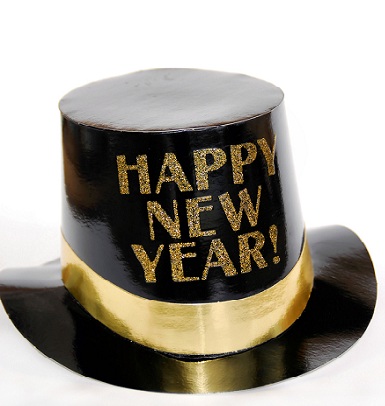 Just like in everyday attire, I'm not the average gal when it comes to my New Year's Eve outfit either. My style may not share much in common with the average glitter and sparkle gal, but I do like to get fancy and am quite possibly a serial party hopper. I absolutely love New Year's Eve for it's an all night long, gallivanting event filled with champagne spilling, smiles and good vibes. With such high spirits ringing in the new year, 2015 is certainly full of promise and possibility!
In case you haven't noticed, NYE is only two weeks away! And, if you only count business days (excluding holidays), there are only 10 days left until the ultimate party night begins. If you are anything like me, you probably haven't even thought about Christmas presents yet let alone your NYE outfit. Yikes, but it's okay. Join the club. NYE is the ideal opportunity to flirt with style. The lure of the night is every glamorous gal's dream as it's a night to look and feel next-level. And, to be next-level, you don't have to wear glitter, sequins or sparkles. It's not required, so don't feel obligated. Unless, it's your preference.
Let's be real here, when it comes to deciding how you want to end the last night of the year, always go out with a bang. I think we can all agree that your party plans are just as essential as your outfit plans. Your outfit really depends on where you go and what type of party you plan on attending. Whether you decide on a classy penthouse party downtown, a mind-blowing concert or you simply decide to stay in and order Chinese – either way, you should still dress up to get down. Even if you decide on a cozy night in, wear some cute leggings with a fancy headband to spice up your everyday lounge attire. It shows your dedication of happiness to celebrate another year in this world. As for the festive party-goer, deck out your look with the perfect sophisticated party girl ensemble. If this means giving your lady- like appeal a stylish twist with ultra- feminine cuts or a showstopping outfit that is dangerously alluring, the choice is yours. The most important thing is to wear pieces that resonate with your style and be confident.
Apparently, when I started sourcing for NYE outfits, I found black is the new black. So, I went with a "color me black" theme to show you some of the looks I find exceptionally classic, but don't feel limited to black as there are 50 shades of metallic these days. It's actually kind of ironic I am inspired by all black items this year, as every other year I'm bleeding in color. Two years ago, I wore a candy apple red dress with ruffle details and paired it with a red sequined headband that dressed the back of my head in feathers (an epic self-vintage dance costume treasure) coupled with my Jeffrey Campbell Johnny Tall Boots and, of course, some aviators. And, last year, I rocked an over-sized denim dress with a deep plunging V and sexy shoulder cut-outs, nothing close to black in my past. Moral of this story : Throw on your party dress and indulge your impulses.
NYE Style Guide. Click the links to shop the look!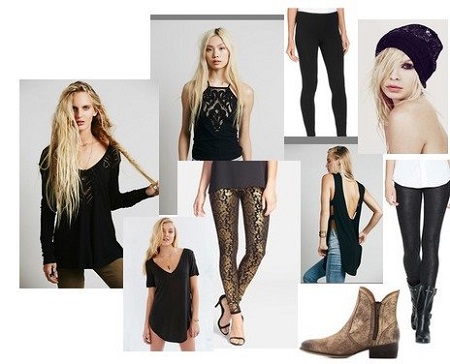 If you are going with the non-plan plan and fully intend on a cozy night in, you should dress up your "dressed down" look for a change. It's okay if dressing up isn't your thing, be a realist and do you. Stay comfy and casual, but maybe add a touch of class to step it up a bit from your everyday attire. Wear some leggings with a deep v sweater and a slouchy sequined beanie! Or maybe wear that dainty embellished headband you bought and never wore. The point is another year has come and gone and it's exciting time to be alive! So, spice up your practical comfy look with some style to ring in the new year. Items: Free People Moonrise Cutwork Thermal, Free People Vice Crop Top, Truly Madly Deeply Deep-V Tee, Hue Foiled Ponte Knit Leggings, Hue Cotton Leggings, Free People Houdini Cowl, Seychelles Shoes Gold Ankle Booties, and Wildfox Couture Ballroom Layered Beanie.
Girl's Night Out or New Flick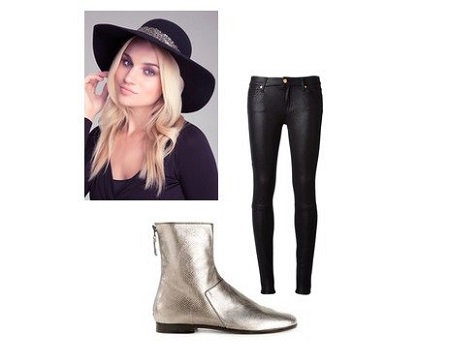 Maybe you're just having a girl's night or you're going to catch a new flick with the love of your life, you can keep it exciting by adding an accessory that gives you flair! Plus, it also shows that you're excited to bring in another year. Items: Bebe Sequin Band Floppy Hat, 7 For All Mankind textured skinny trousers, and Carritz ankle booties.
Kiss Me at Midnight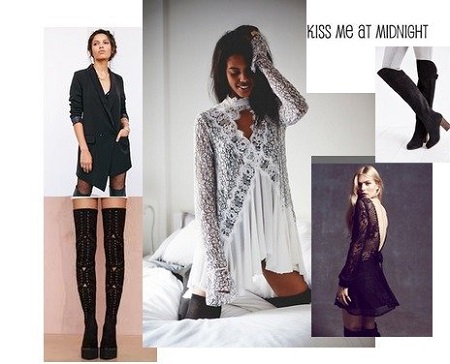 Like any classic glam gal, she likes to keep it classic but makes everyone at the party do a double take when she walks in the room, duh! So, she wears a stylish long black blazer with seductive thigh high boots! Or should we talk about the white piece in this picture? If you want to take breaths away, I certainly recommend wearing it.
Items: Silence & Noise Silence + Noise Asymmetrical Long Blazer, For Love & Lemons Lolo Black Lace Fit and Flare Dress, White Free People Secret Origins Pieced Lace Tunic, Nasty Gal Jeffrey Campbell Notorious Suede Thigh High Boot and Dolce Vita Myer Braided Tall Boot.
Fancy Dinner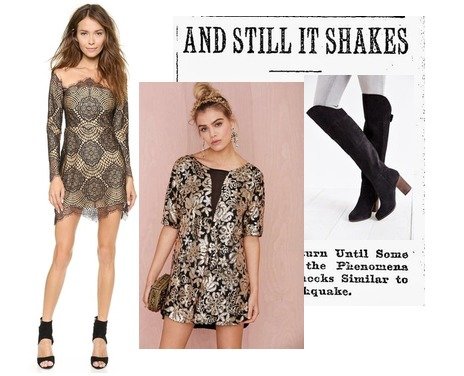 Going to a fancy dinner shindig? Wear this metallic gold boho shift dress and you'll be good to go. Items: For Love & Lemons Grace Mini Dress, Nasty Gal Lovers and Friends Saturday Night Sequin Dress and Dolce Vita Myer Braided Tall Boot.
Jumpsuit Bad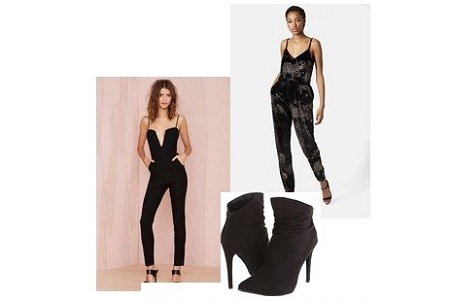 Go on with your bad self and lose your jumpsuit virginity! I dare you. It would definitely be a step in the right direction! Items: Nasty Gal Midnight Run Jumpsuit, Topshop Floral Glitter Velvet Jumpsuit, and Michael Antonio Myles booties.
The Next Level

Sparkle & Fade Mesh Block Bodysuit
Ready to go to the next level? Thought so. Unleash your wild side and let your sexy come out to play! Wear a tastefully revealing bodysuit with a classic maxi skirt and a lacy cardigan or a mid-length skater skirt with thigh high boots, a bralette and a shiny blazer full of sequins. Don't be scared to feature your hot bod with some delicious details. Oh, and throw on some glow stick bangles to light up your arms! I would, wouldn't you?
I think this year I am going to go with a highly refined look that screams delicacy, femininity and resonates with my own innate desire for style. I guess you'll have to stay tuned to find out the end result! What are you going to be seen in when you kill 2014? With a fun time on my mind and a glass of bubbly in my hand, I fully intend on ringing in the new year in S-T-Y-L-E, style. Go out with a bang or keep it cool, either way stay classy.
New Year's eve is certainly a time to wear whatever you want, but it's also a time for change. Choose to surpass your own excellence and be a positive energizer and a well-dressed lady! Don't forget you're bringing in the new year yet again! What do you want your look to be in 2015? Do you have a New Year's Resolution? Need one? Make your resolution : Dress to impress!
Penny for your thoughts!
Do you remember every person you've ever kissed on New Year's? Or your first NYE kiss?!