Your Pantone Color of the Year Fashion Inspiration

With the holidays almost here and gone, and with FCF already talking the hottest outfits for New Year's Eve, I find myself thinking about next year. The big 2015. Although I've seen all the trends for this upcoming Spring, I'm not going to fool myself into thinking I can incorporate those quite yet. Here in lovely Colorado, the winter snow doesn't really present itself until February and onwards. As much as I would love to be rocking some gingham and huge floral prints, I don't see that happening until May. Brr.
So, what can be done in the interim? Well, why not take a page out of the tried-and-true Pantone forecast? For those of you not familiar, there is a color that Pantone chooses to represent every year, which oftentimes helps set the tone of fabrics, fashions, and home furnishings at market and, therefore, what we as consumers will be able to find when we go out to buy things. Last year it was Radiant Orchid, re-live that article here. This year, it is Marsala. According to Pantone:
The impactful, full-bodied qualities of Marsala make for an elegant, grounded statement color when used on its own or as a strong accent to many other colors.
Truth. I think we've been seeing a lot of oxblood, a similar color from the deep red family, creeping into fashion as a staple for some time now. I think this shade is almost universally flattering, regardless of one's skin tone or hair color. Now you have the background. Let's see. How do you get a little Marsala in your life?
Here are some of my current top picks for Marsala, so we can all be trendsetting fashionistas here at First Class Fashionista. Click the links to shop!
Dolce & Gabbana Lace Dress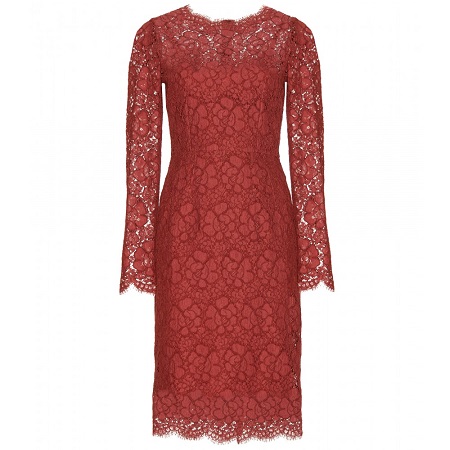 Okay, for most of us this might be an aspiration piece. But I'm totally fine with that. The lace is vaguely floral to help us transition into Colorado's chilly spring of 2015 and the simple, chic silhouette would look very tasteful for tons of occasions. Dolce & Gabbana Lace Dress available at mytheresa.com.
Fond of You Brick Red Lace Dress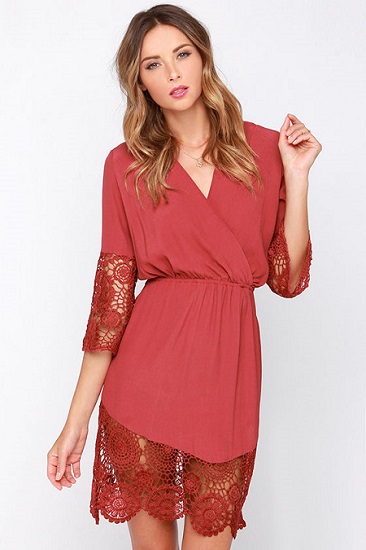 This one is totally more my price range. With a fun draping element, this can be dressed up or worn boho chic. I love it. Fond of You Brick Red Lace Dress available at Lulu's.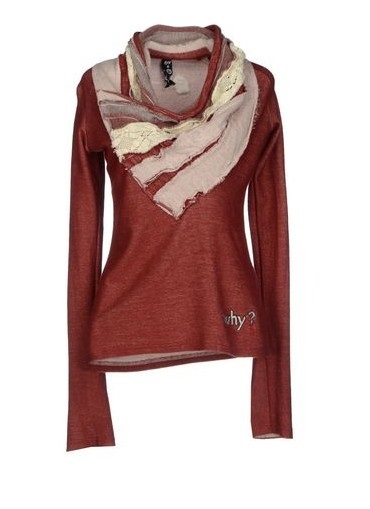 This sweatshirt is definitely something different, while still being on trend. Maybe your New Year's resolution is to push yourself out of your comfort zone a little bit? Plus, it looks comfortable. Desigual Sweatshirt available at yoox.com.
Philosophy di Alberta Ferretti Belt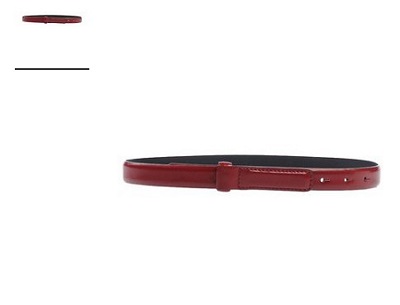 Maybe you just want to add a touch of Marsala to your life. This is an easy addition and I promise we'll still let you be on the early-adopters train. Philosophy di Alberta Ferretti Belt available at yoox.com.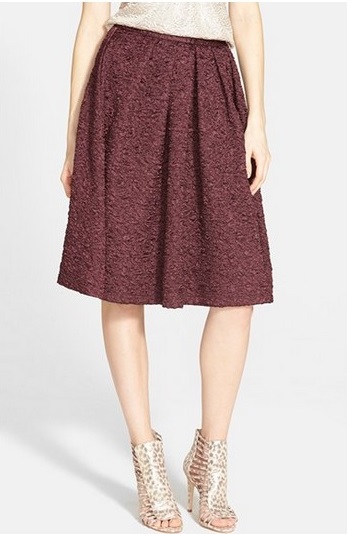 Skirts like this is what this color was made for! It really adds to the richness of the texture. Plus, this will be an easy transition piece for the seasons (or unpredictable weather like Colorado's). Wear it with heels for a Spring-y look, or add tights and boots for snow bunny appeal. ASTR Textured Pleat Skirt available at Nordstrom.
Kate Spade 'Squared Away' Bib Necklace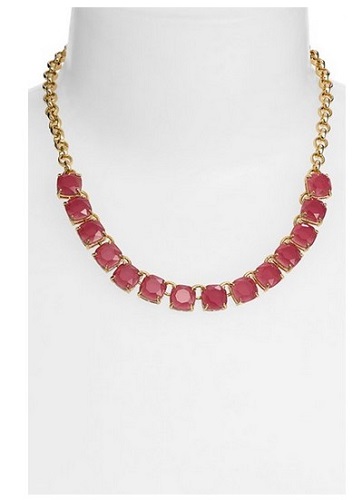 Pop-on some color with little to no effort with this cute necklace. An easy upgrade to any outfit. Kate Spade Squared Away Bib Necklace available at Nordstrom.
Much like the fortified wine that gives Marsala its name, this tasteful hue embodies the satisfying richness of a fulfilling meal while its grounding red-brown roots emanate a sophisticated, natural earthiness.
Well, do you feel Marsala fulfilled? If not, let us know and I promise to hunt you down another piece in the color of 2015. What do you think, readers? Is this the color you would have chosen for 2015? Why or why not? We'd love to hear from you! Don't be shy.