On December 16th, 2014, all of our favorite finalists from So You Think You Can Dance Season 11 came to Broomfield, CO.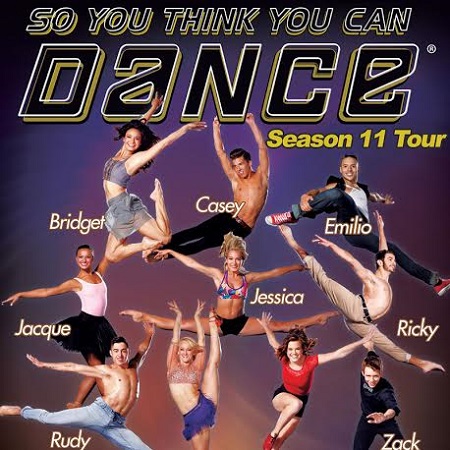 We at First Class Fashionista had the amazing opportunity to attend and review the show! I was so excited to be the one chosen to attend this event and I was able to bring along my partner in crime, Lisa Picciano. Arriving at the 1st Bank Center around 8:00 pm, you could see the line forming outside the building and I could tell this was going to be a very popular event that everyone wanted to attend. Who could blame them? This is a 19 Entertainment, 13-time Prime-time Emmy Award-winning show produced by Dick Clark!
This season's lineup included Ricky Ubeda, Valerie Rockey, Jessica Richens, Zack Everhart, CaseyAskew, Jacque LeWarne, Rudy Abreu, Tanisha Belnap, Bridget Whitman and Emilio Dosal. They performed some of their most popular routines in addition to some original pieces, which you can tell the dancers created all on their own! If all the commotion with the top 10 finalists wasn't enough for the fans, there were also some other familiar faces showing off their moves on stage: Carly Blaney, Marcquet Hill, Emily James and Teddy Coffey.
SYTYCD runner up Valerie Rockey showed off her amazing tap dancing skills. This 20 year old dancer admits how overly excited she gets during her stage performances.
Check out this duet with Casey Askew and Jacque LeWarne. I loved how each dance coincided into another. They truly did an amazing job at keeping the flow within the routines.
One of my favorite songs of the night. These finalists are so talented!
This was a great retro rendition of a very popular song performed by Jessica Richens and Marcquet Hill.
This remix of Break Free by Ariana Grande was performed by Bridget Whitman, a 20 year old contemporary dancer.
This was one of the most beautiful performances of the night, to one of my most beloved songs. Followed by some lyrical dancing by Emilio Dosal, some of these dances were so emotional and told such an amazing story. Check out the routine by Jessica Richens with her partner Teddy Coffey. These were some of the best performances of the night, closing with a solo by contemporary dancer Rudy Abreu.
The music played on the night of December 16th was unbelievable! There was cultural music, classics and some very well-known songs that we could all sing along to!
Some of the songs played that night were:
All About That Bass by Meghan Trainor
Bang Bang by Jessie J, Ariana Grande, and Nicki Minaj
Don't by Ed Sheeran
This was a refreshing night. I have honestly never seen anything like this in person. Emilio Dosal, Ricky Ubeda, Tanisha Belnap and Rudy Abreu were seriously practicing like crazy and the proof is in the videos.
When this group of amazing, unforgettable dancers come together, magic happens. I have to say I loved the stage attire. The costuming is so theatrical, whimsical, and well thought out. By the end of the show, every person in the audience was either singing one of those catchy tunes or grooving with happiness and joy.
We at FCF are so thankful for these amazing opportunities to get out there and show off these once in a life-time performances. I also want to thank my readers for their comments. Special thanks to Lisa Picciano for coming out with me and letting me borrow her phone to record the videos.