Traveling? Here are some simple outfit inspirations for what to wear when you're in the air!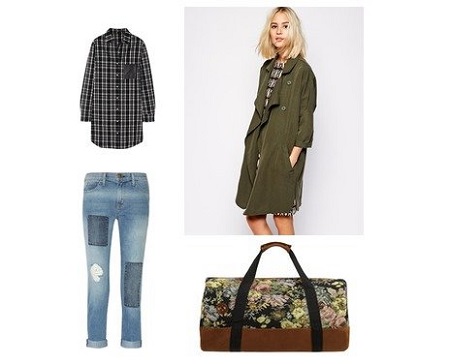 Of course the idea is to be cute but comfy. So, make it easy! Throw on an over-sized sweater with your favorite trench coat, wrap yourself in a poncho and you're good to go! Ponchos are probably the worlds greatest fashion piece ever invented. The versatility is absolutely endless. You can use it as a pillow or it can be your blanket when you get chilly on the plane. Or use it when you land as blanket to sit on when you roam the great outdoors! The best part about ponchos is they are in no way suffocating and they give you pure creative freedom. Wear a poncho on the plane and let your imagination run wild! Items include: Maje grunje leather-trimmed plaid flannel shirt, Current/Elliot The Fling patchwork mid-rise boyfriend jeans, The Laden Showroom x Zacro Oversize Trench, and the Dorothy Perkins Mi Pac black rose print duffle.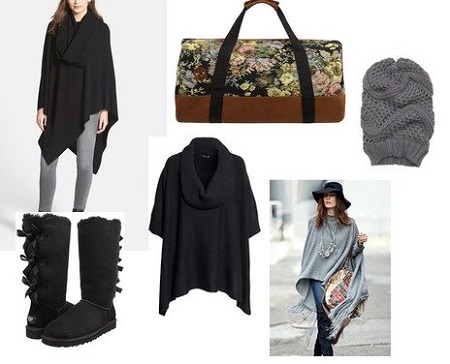 Do you have a pair of patchwork denim you bought forever ago and haven't worn once? Wear them on the plane! They are the ideal lounge denim that keeps you looking stylish while keeping it chill. Items include: Nordstrom Collection Cashmere Poncho with Removable Cowl, UGG Bailey Bow Tall, Dorothy Perkins Mi Pac black rose print duffle, Slouchy Beanie, and the Free People Poncho.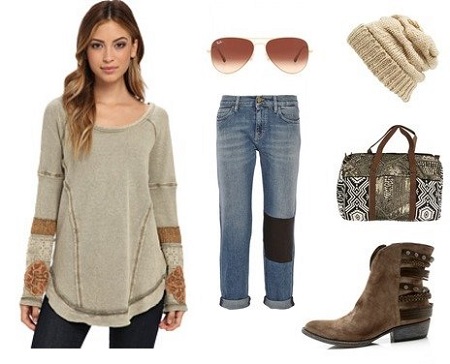 Don't forget some cute socks and easy-to-remove boots! Items include: Free People Tunic, Ray-Ban Aviator Sunglasses, MiH Jeans, Leith Knit Slouchy Beanie, Henderson Weekender Bag and the Matisse Outsider Boots.
Traveling is such a unique experience that sometimes we take it for granted, and sadly don't even notice the beauty that surrounds us. It's easy to get annoyed with the copious amounts of people and not care about anything except for getting from point A to point B. This year, when you're traveling for the holidays, make sure you allow yourself the time to really observe every part of your experience and, trust me, you will be amazed by what you see.
For me, the diversity in people and their fashions is the best part of the whole experience. Seriously, if you ever need some fashion inspiration, go hang out at an airport, you won't be disappointed. Except when you ask someone where they got whatever it is their wearing and it's from some country that you can't even pronounce, then you might be a little disappointed or maybe you'll be inspired to travel there!
If you're anything like me, your airport experiences and interactions vary from trip to trip. Sometimes I find myself catching up on my never-ending to-do list, such as play with color, errr I mean, edit and upload a bunch of photos to Instagram. But sometimes I indulge in rare encounters and find myself freely engaging with another and somehow through a series of utterly pointless small talk, one time I discovered the other person had gone to high school with my brother! And then there are other times where I'm strolling solo through the terminals, carrying a barely blank canvas, a notebook and a vibrantly oversized festival boho bag, and I find myself dead silent and loving it.
Airports remind us of how truly small we are on this giant planet we call Earth. So, sit back, relax and safe travels everyone. For more traveling tips, see "Pack and Travel Like a Pro".