FirstClassFashionista would like to invite you to shop: DesignerClothes@FirstClassFashionista
DesignerShoes@FirstClassFashionista
DesignerHandbags@FirstClassFashionista
*BOOKMARK THIS SITE* Official Celebrity Fashion and Gossip Website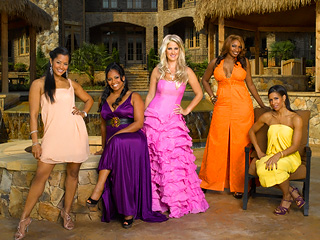 This post has been brought to you by popular demand. In a recent interview, Lisa speaks candidly about how Kim set her off during the taping of "The Real Housewives of Atlanta Reunion" …
When you come after my integrity or my family- says Lisa (Circulating Rumor 9/16/08- Kim called Lisa a crack whore as well as insulted her kids)
Lisa says that she has learned a lot about each of the women on the show and that in season 2 she will treat each accordingly. Lisa's nature is to be non-confrontational but she says that she will not let people "play" with her because "they'll think they can do that all day, every day." It's on! Watch and find out what Kim says to set it off!
Do
expect intense drama!
*Don't
miss "The Real Housewives of Atlanta" season one reunion scheduled to air on November 25, 2008.
Here is where you can tell fans what you think about the show. Share a comment with thousands of visitors. What do you think about Lisa, Kim, or any of the other women on the show? *Copyright Protected. First Class Fashionista permits a direct link and credit. *Don't forget to bookmark and share this post with a co-worker, friend, or family member.