The reviewer has been compensated in the form of a Best Buy Gift Card and/or received the product/service at a reduced price or for free.
It's January and people everywhere are giving exercise a try again. Honestly, I never complain about my gym being too full because I can recall when I was the newcomer. Please remember to be kind and welcoming. If your favorite aerobics class is at capacity right now, be patient and plan to get there a little earlier than usual. Or, why not go for a run outdoors once or twice a week? Change is actually a good thing.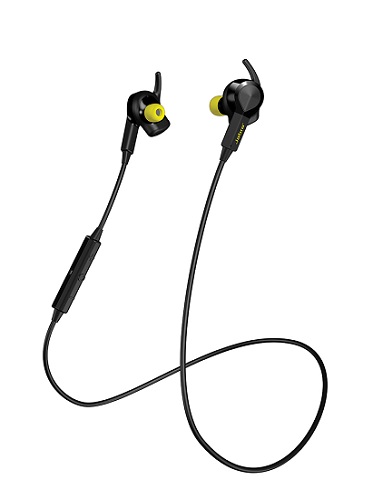 If you're a runner or fitness enthusiast like me, you'll want to know about the new wireless Jabra Pulse sports headphones. They ingeniously monitor your heart rate through the headphone earbuds. I'm really impressed with it. A while back I bought a sports watch I didn't use because it came with an annoying chest strap. If you're new to running this year or new to the gym altogether, keep at it. I promise it gets easier. Running was once a real challenge for me, but I'm proud to say I dropped 25 lbs (biking, running and and strength training) and finished a 10k in good time last year. I've learned that setting a manageable pace, monitoring your heart rate, sticking with it mentally and a motivational play-list is key.
With real-time voice coaching, the Jabra Pulse can help maximize your performance and take your training to the next level. I think they're perfect not only for runners but walkers, cyclists, hikers, kayakers, skiers, and more. Listen to your music in high quality Dolby Digital sound and set/track distance, time and calorie goals with the built-in intelligent app, Jabra Sport Life, all while you're working out on the elliptical, stair climber, treadmill, or stationary bike–free of dangling cords. No more dropping your phone. You can even take calls with the Jabra Pulse. The Jabra Pulse is currently available at Best Buy for $199.99 with free shipping.
Happy New Year! First Class Fashionista readers, I want you to be a shining example for our New Year Resolutioners. Share and make room them. A few will stick around and change their lives forever.
"Running is not, as it so often seems, only about what you did in your last race or about how many miles you ran last week. It is, in a much more important way, about community, about appreciating all the miles run by other runners, too."
–Richard O'Brien