This post is about things in your wardrobe that you don't have but you wish you did. Surprisingly, for me, that's not too much. There have been a few select items I've been crushing on for a while that still have yet to make it to my closet and that's why I feel compelled to write about them. Maybe the more I talk about them, the more likely they will magically appear in my closet. The power of manifestation here we go!
For as long as I can remember, I have been wanting a classic extra-long black blazer. I just think it sounds so easily chic and has the potential to achieve insta-classy. You can throw it on over any tee-shirt if you so dare and it's a simple way of feeling classy when you want to feel classy. And, that's just why I like it and need to have it.
The next thing on my wish-list is kind of a mission. I have been on the hunt for over-the-knee, thigh high boots for quite some time now. It sounds simple right? They are seemingly everywhere. Wrong. When you are 5'8 and have a 5.5 shoe size, thigh high boots just apparently don't make sense for the world in shoe making, hence my problem. So, if anyone finds an amazing pair of thigh high boots that are extra-long in my size, you know where to find me!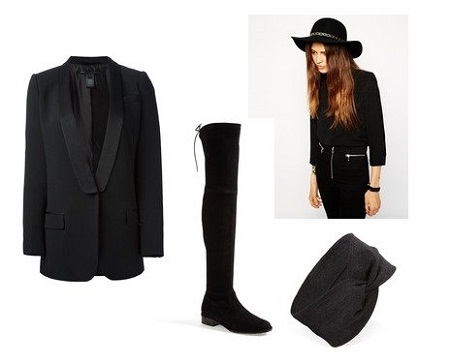 This look includes a Marc by Marc Jacobs classic blazer, Stewart Weitzman Over the Knee Boot, ASOS Heart Band Felt Floppy Hat, and the Forever 21 Knotted Headband.
Last summer, I was on the hunt to find the perfect dreamy boyfriend baggy long cropped denim shorts and, sadly, I wasn't successful. This year, that has to change. Since I have been on the look out for this long, they are destined to find their way to me! If you have a perfect pair, please share!
Fourth on my list would be the perfect white-v-neck-tee and then to buy the rest in stock once I find it. On New Years Eve, I ended up wearing a black classy tank with a super low cut back, tucked it into some chic black denim and paired it with a fun-printed, every color belt and a sequenced black, turquoise and gold thick headband. You might ask me why is this relevant? It's relevant because my best friend whom joined me on the party festivities, told me that if she had a barbie she would dress her up just like me! It was mainly the hair-down headband combination that won her over and, essentially, now has won me over too! I mean, I'm always going for a color me in perfect barbie attire. Aren't you? Ha. Needless to say, I want to make it my goal this year to wear my hair-down more often–Let the power of a thick headband do it's thing and let loose.
Stemming from the headband talk, I'd like to mention one thing that I already have in my wardrobe that I would like to see myself wearing more freely: The Floppy Hat. As the winter season sets in, I tend to flock to my beanies as I have over 20 of them ready to be worn, but I easily have 4 colors of floppy hats and a few stylish fedoras too. So, I would personally like to see myself steer away from the easy-to-do beanie and throw on a floppy to achieve a voguish-look instead! It'll be like insta-style!
Last but not least, I would like to see an amazing new cross-body purse in my sartorial collection. I have been in desperate need for a while and it's time we change that too.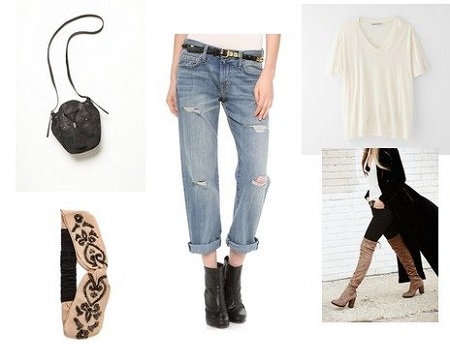 This look includes Acne Studios v-neck tee, Free People Gold Dust Cross Body Bag, Namrata Joshipura Embellished Headband and the must-have Free People North Star Over the Knee Boot.
If this post gave you anything, let it give you the freedom to imagine your dream sartorial pieces to top off your wardrobe exactly how you would like to see it. Let it be a closet a gal can dream about.