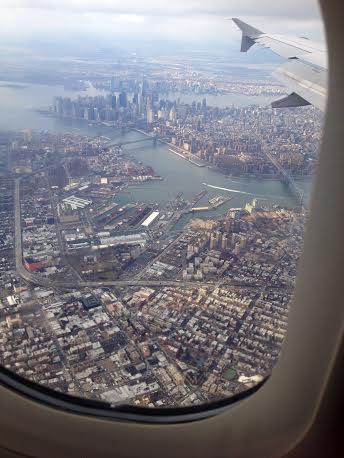 Recently my friend Lauren and I went to New York for New Year's Eve. We stayed for three days in Queens near La Guardia Airport. I wanted to write this article to let others be more prepared for their trip and to know a few things you only learn when actually being in the big apple.
1: Have a plan…
Lauren and I were fantastic at this first step, we knew what we wanted to do while we were in NY and made a schedule, so that we could fit everything in. We bought our tickets while at home in Colorado. We purchased tickets to The Lion King on Broadway, the Body Worlds exhibit and last, but certainly not least, tickets to the VIP Room for New Year's Eve.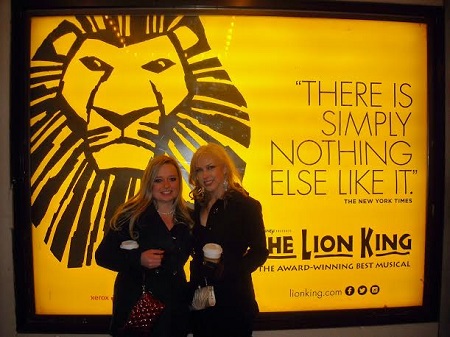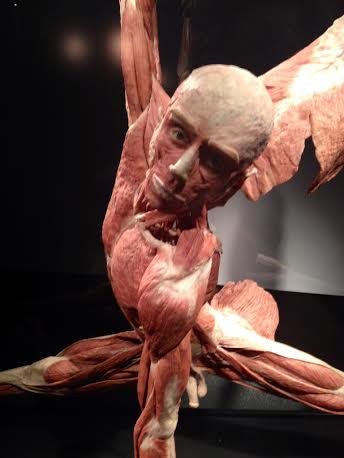 We did think about experiencing the whole Times Square ball drop but after talking to several people who have done it, we decided not to. So I heard in order to get a good standing spot for the ball drop, you'd have to get to Time Square by 11 am, Dec 31st. It gets very crowded and if you need to use the restroom, many of the shops nearby are not very happy to let you use theirs.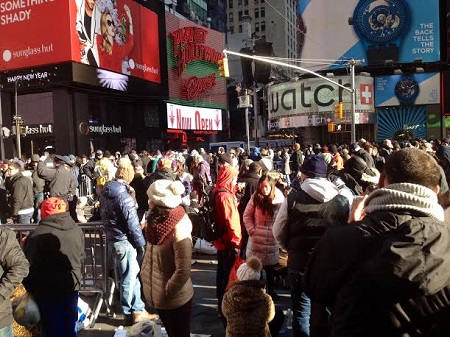 So instead of freezing and standing all day, we decided to stay warm and have a nice drink in our hands at the VIP Room.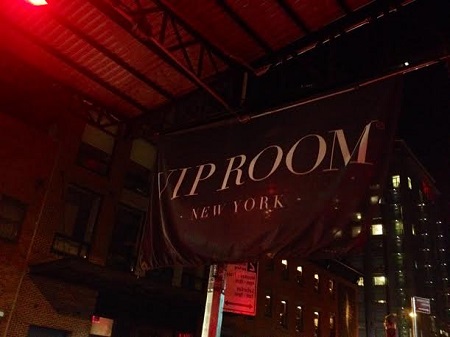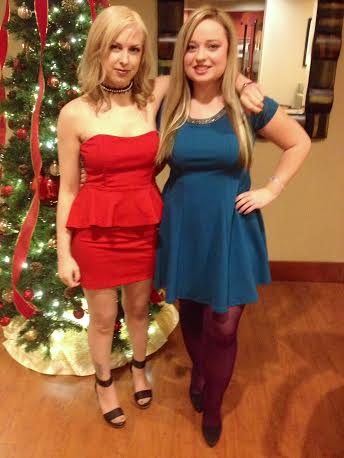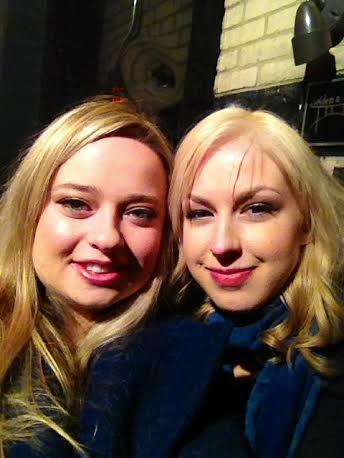 2: Stay in a hotel close to where you will be adventuring.
This is something Lauren and I had to learn the hard way. We stayed in Queens but we spent most of our time in Times Square, Manhattan. We thought it would save us money by staying at the cheaper hotel close to our airport, but instead we most likely spent the same about on taxicabs.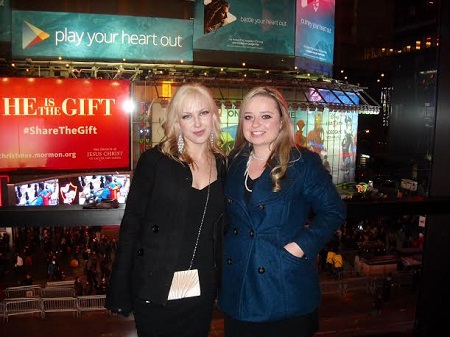 3: Only ride in taxis that have a visible meter.
In NY, you will find that everyone "hustles". What this means is that they can spot a tourist and will charge the highest price possible. There are known gipsy taxis, who are not licensed to even be a taxi driver. They do not have a visible meter in their car. They normally will be driving a black car and a majority of them will only accept cash. Only take actual yellow or green taxis while in NY. These people will have visible meters in their cars and will only be able to charge you what the meter reads. Although, if you pay with a credit card, they do charge you 15% extra. If a gipsy taxi pulls up to pick you up, just tell them "No thanks. I will get another taxi." While we were at our hotel, the hotel would actually call us a taxi. In that case, most of the time, it was a gipsy taxi…since there was not much traffic in La Guardia, we didn't really have a choice but to take that taxi. You can avoid this problem by staying in Manhattan, rather than La Guardia.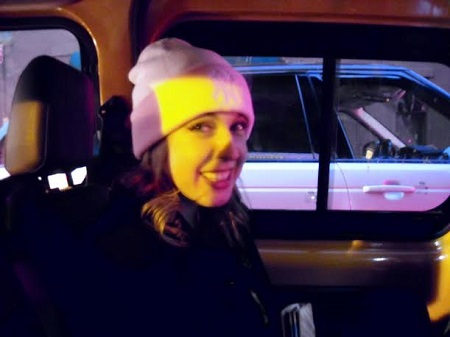 One other thing…WEAR YOUR SEAT BELT!
4: Get up early!
Unless you're going to an awesome night club and you will be partying all night, get your beauty sleep for all the touristy, sight-seeing things you might want to do in NY, such as visit the 911 Memorial, Statue of Liberty, etc. All of those places close early, so you want to get there in the day time.
5: It's crowded!
As you might have guessed, NY is crowed. If you plan to go to a club in NY, be patient. Lauren and I went to the VIP Room for New Year's Eve. We bought our tickets ahead of time and still had to wait. The club didn't open until 9 pm and we got there at 9:30 pm thinking, "Oh it should be just getting started around this time." We were wrong! We ended up having to wait in line for almost two hours!

Then when we got in the line for the open bar, it was crazy long! Something you'll learn in NY is to be pushy…We could tell real New Yorkers from visitors because the real New Yorkers would push through the line. This is something that differentiates westerners from easterners. If you did something like that in the west…you might get punched in the face. But people in the eastern states are used to this and just yell at each other. There was one moment in the club when no one could move because everyone was pushing through to get to the front of the bar.
6: Pickpockets
I heard about this and was warned before going to NY, but I didn't actually think it would happen. To prepare myself, I bought a cross body purse so that my purse would be more attached to me and less available to snag.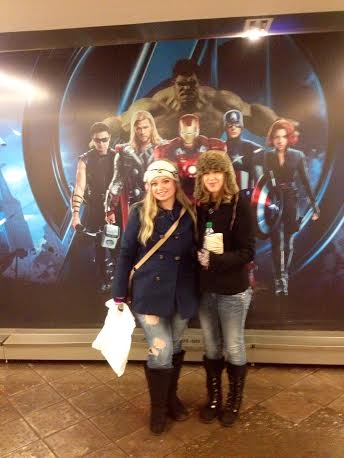 Next, I left most of my important but unnecessary items in the hotel. Something really cool that I got before this trip was a SholdIt clutch wrap. This wrap had a pocket to carry light items like my credit card, ID, and tickets. You can read more about the SholdIt here.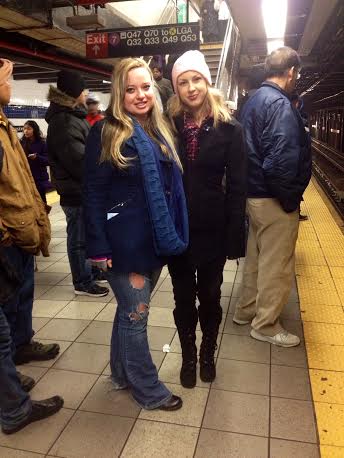 So while Lauren and I were at the Ripley's Believe it or Not! museum, I actually felt someone dig into my coat pocket while we were in "ahhh" at the remaining hair from George Washington, Abraham Lincoln, and Elvis. I looked up after I felt someone and I saw a guy walking away. I knew he had tried to reach into my pocket, but luckily I was keeping all my valuables in the zipper pockets rather than the open pockets. This is a valuable lesson because he could have easily walked off with my phone.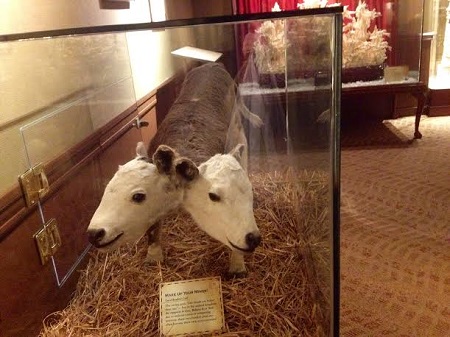 7: "I work for tips."
When you're walking around Times Square, you might find some familiar movie characters walking around in Spider Man, Iron Man and Frozen costumes. It will be a great photo you might say…but think again. As I was taking a photo with Olaf from Frozen, might I mention…he came up to me for the photo (I actually didn't want to take a photo with him and I would have rather taken a photo with Spider Man), Lauren was getting ready to snap the photo and he tells me, "I work for tips". I laughed because I thought he was being funny or joking, then to find out he was serious. When we tried to walk away, he told me again…"I work for tips". I looked in my purse and only had a $20 bill. I told him this and he said he would get me change. As he came back, he tried to give me back $15. I thought to myself…"Ummmm, no I need more change back." He ended up taking a $2 tip. This is another difference from west and east. People in the west don't do stuff like this. I want everyone to be aware of these costumed characters because it's almost like panhandling.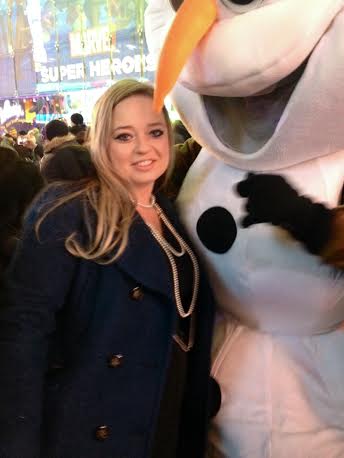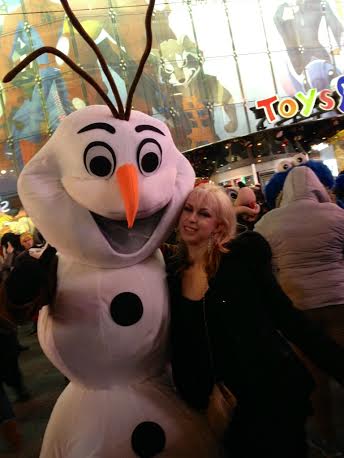 8: Bargaining
This is another topic that will show real New Yorkers from visitors. In the western states, the price is the price as marked. In the east, people will bargain for the best price, whether it's for a hot dog on the street or an item in a retail store. Lauren and I experienced this quiet often since we probably looked like visitors.
We went into a souvenir store in Times Square and I placed about 7-10 small items on the counter. The man behind the counter pushed a bunch of numbers on his computer, then said "$52". I then said "OMG" and started taking items off the counter. The next price was $30 and I started asking how much everything was…Then he said "Okay, $20." As you can see, he was trying to get the most out of me; but I was starting to figure that out by the 2nd day in NY. So I advise you to ask questions and learn to hustle in NY because if you're not hustling, you will be hustled.
Another bargaining adventure Lauren and I encountered was at a hotdog stand in the Lower East Side by the 911 Memorial. We simply ordered two regular hotdogs and two Italian hotdogs. Now this was a time when we should have known better and bargained, but the guy running the stand was intimidating. He charged us $34 altogether, which was very expensive for the hotdogs and we were not carrying that kind of money and he didn't take credit cards. By the time we figured this out, he was already making the dogs for us. So he said, there is an ATM right up the street. I was in shock. I looked at this man like, "You trust us to walk up the street and get the money?" To find out, he didn't trust us at all. He actually walked with us to get the money. Even though it sounds like I'm doing a whole lot of complaining, those were some amazing hotdogs!
9: If people want to talk, they want something from you…most likely.
Lauren and I ran into several people on the streets in NY that we thought might want to be our friend and get to know us…but instead somewhere within their spiel, they were trying to sell us comedy club tickets, tickets to a museum, a simple newspaper…the list goes on. There was one occasion, during the intermission of The Lion King, when a man walked up to us and tried to sell us tickets to a comedy club. The conversation was all over the place. It ended with him asking us to pray for him and his girlfriend. I seriously think this guy was on something because it went from one topic to another very fast.
10: Try real New York pizza!
Lauren and I had a blast trying all the amazing foods in New York. We went to a little shop in Times Square and grabbed some real New York pizza! It was so different than any pizza available in Colorado. Even the way everyone was eating it like a sandwich was different then what we were used to in the west. We actually had to eat it outside because the pizza restaurant was so crowded.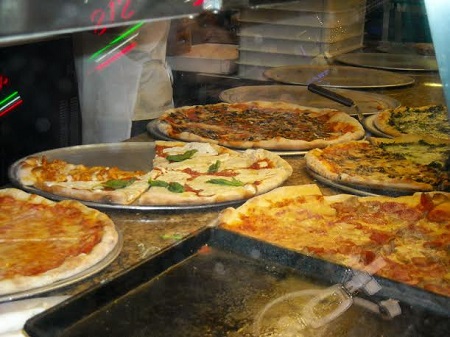 We also tried pizza in a fancy restaurant on the Lower East Side. Now that pizza was to die for! Also, don't forget to try real NY steak! We tried it at a place in Times Square and it was the best steak I've ever tried!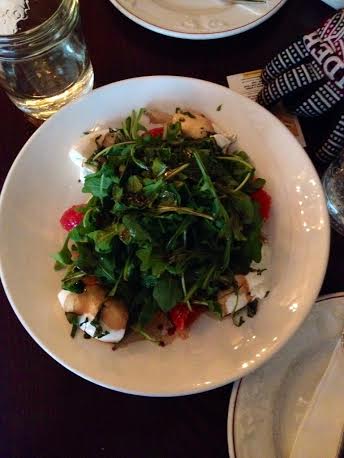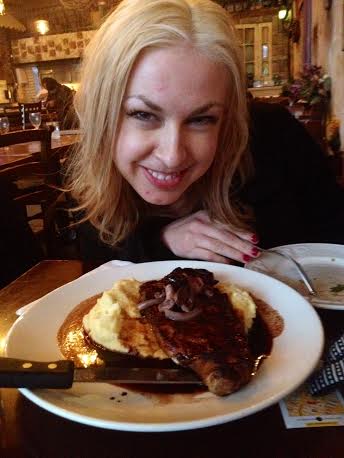 On our first day in NY, we went to the Jekyll & Hyde Club Restaurant and Bar in Times Square. This place had great entertainment, but the food was not too good. We only ordered appetizers like calamari and fried pickles and neither were hot or very crispy. I would only recommend this place if you want to see great entertainment, which by the way…You do pay for in the end on your check.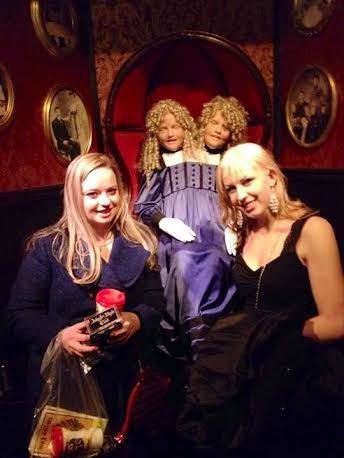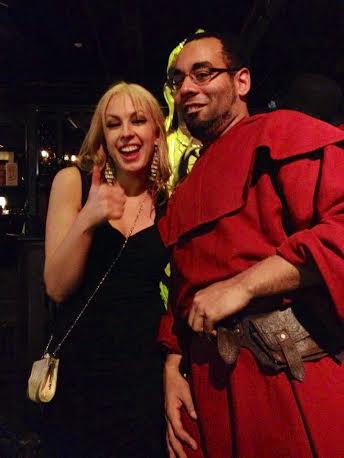 http://www.jekyllandhydeclub.com/home.html
11: Bring your health insurance card!
You might not think you'll need it…Neither did we. Lauren and I got to visit the NY Hospital on our last day in New York. Lauren was not feeling so hot in the morning of the 2nd, so we took an ambulance ride to the nearest hospital. Even though it did put a little damper on our plans for the 2nd, we still managed to have a great time and it also made our friendship even stronger.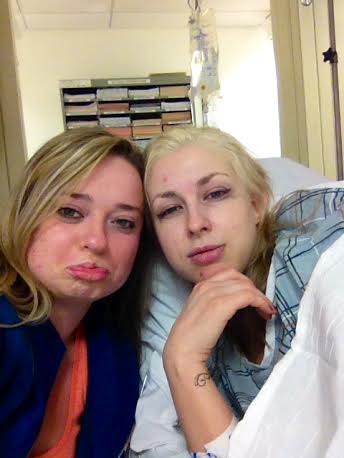 12: Have fun and take lots of pictures!
NY was an amazing trip for Lauren and I. We both had an AMAZING three days. There was honestly not enough time to do everything we wanted to do and even if I lived there I still don't think you'd be able to do everything possible there is to do in the city! Make sure you have your priorities straight and that brings me back to #1, have a plan. Make sure you bring multiple cameras with you to New York. Unfortunately, my digital camera had a lenses error on the second day, so I'm very thankful I had my iPhone with me for extra photos.
The one thing I loved most about NY was the lights. The tall buildings giving off those bright lights at night are breath taking! If you're planning a trip to this wonderful city, please let me know what's on your agenda and what your most excited for!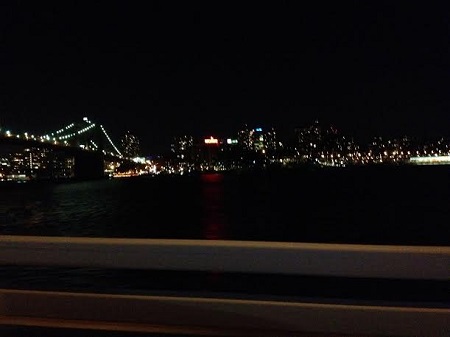 Thank you for reading!