We all know fitness is among any fashionista's favorite things and with all the talk about introducing some fun and exciting new gadgets to enhance your workout here at FCF, I figured I would talk about my favorite form of working-out—Dancing!
The art of dancing is not only my favorite form of exercise, but it's also my favorite form of art; as it is the process of pure creation from within. Dance can take you on a journey of artistic experiences unlike any other athletic performance because it is simply characterized by resolute fearlessness. Dance is a way to be visually expressive through the rawness of creative movement and the choice of response is entirely up to you. Dance not only interrupts the barriers from the outside world, but it can also be individually stimulating and a great motivating impetus. So, if you are looking for an alternative work out, dance may be well worth the consideration!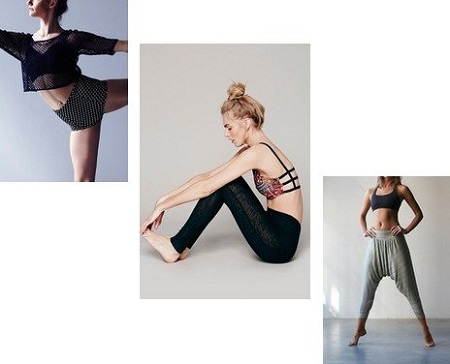 Looks includes Free People Lounge Legging, Free People movement pant, and Free People movement shorts .
Fortunately for me, my parents made the right choice by putting me in a dance studio at an early age and I've been dancing my way through life ever since. I even majored in dance my first year of college with the help of an exceptional scholarship. With ballet classes in the morning and modern in the evening, it was everything any dancer could have ever wanted or any college student for that matter. It was truly a dreamlike experience and very inspiring to be apart of. However, I one day I decided I was never going to move to New York or LA to be a dancer and I had to make decisions that would best benefit my future self. So, I gave up my dream to be a dancer, but that doesn't mean I gave up dancing as a form of exercise!
That's me on the far right!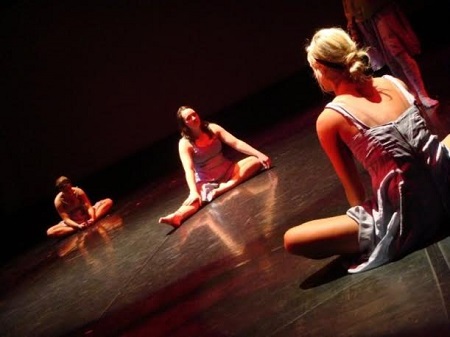 A dance class is the ultimate total-body workout experience that offers more benefits than most any other workout. You can burn as much as 400 calories from a 1-hour class! Much like the ever so popular yoga, it increases your flexibility, improves your posture and enhances your total vitality while giving you more energy. In addition to those amazing benefits, dance is definitely the most fun way to get your cardio in while toning nearly every muscle in your body. For me, it's the supreme physical exertion and it is here to stay. Need a quick dance get-up? Click the links below!
Look includes the Free People Bra, Free People Boyfriend Henely, H&M Sports Shorts and Free People socks.
Aside from the body sculpting perks, dance connects the mind and body in powerful ways. In dance, when we use our thoughts to positively influence our bodies we are indulging in self progression and that is the most empowering form of exercise we could ever actively perform. I find that through the art of motion, the possibility of discovery is infinite. Dancing is the perfect medium for sensing, understanding, feelings, experiences and, essentially, discovering one's soul. When you dance, your mind is connected to only the movements and the future movements of which your body makes or will be making and while you're in this complete state of solitude it inspires your spirit and tickles your soul. Your total being is connected as a whole and you become one with yourself.
Another interesting truth you experience from a dance class is the subjective interpretation of time. In dance, the elements of time and space are directly related to effort and energy. You are granted a vast expanse of convenience to move freely and curiously at the beat of your own drum. Dancing has awakened my soul in ways I could never begin to explain and, therefore, Fashionista, dance is my number one athletic curriculum and preferred workout experience.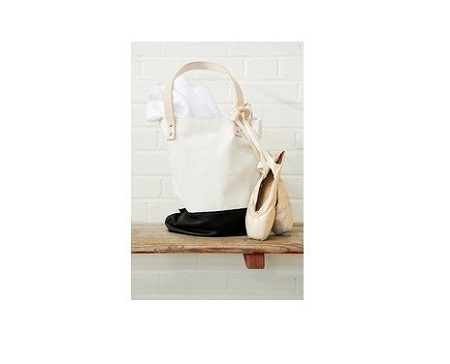 Ballet tote available at Urban Outfitters.

So, I hereby encourage you to lively up yourself through the intensity of motion and head to a dance class! You won't be disappointed.