FirstClassFashionista would like to invite you to shop: DesignerClothes@FirstClassFashionista
DesignerShoes@FirstClassFashionista
DesignerHandbags@FirstClassFashionista
*BOOKMARK THIS SITE* Official Celebrity Fashion and Gossip Website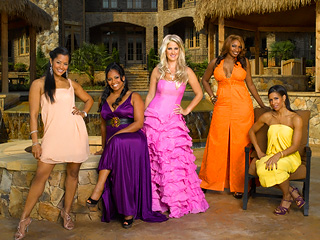 An FCF visitor had this to say about "The Real Housewives of Atlanta Kim Zolciak (which may or may not be true):
"Kim is a stripper from the Cheetah in Atlanta. Somebody else must remember her, she used to dress up as a nurse. She worked there until at least 04 or 05."
If true, I find Kim to be a poor representation of a real housewife. She AIN'T no real housewife. She is a stripper…What the heck! Did the producers of the show do a background check?! I think that the audience of "The Real Housewives" are interested in a more accurate depiction of a REAL HOUSEWIFE!
*If not true, shame on Truth for starting such a mean spirited rumor.
Here is where you can tell fans what you think about the show. Share a comment with thousands of visitors. What do you think about Kim or any of the other women on the show? *Copyright Protected. First Class Fashionista permits a direct link and credit. *Don't forget to bookmark and share this post with a co-worker, friend, or family member.