Valentine's Day is just a few days away and I thought of a super fun and playfully romantic date night activity for any fashionista. So, if you're single, stay tuned in, because you too can benefit from the suggestions below. But, if you have a hot date or you are in a relationship, then let's talk about some date night activities.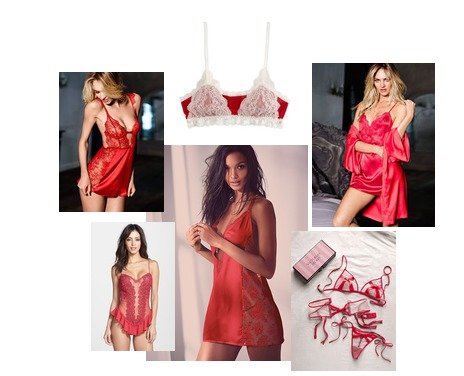 Very Sexy Lace Slip, Lace Side Satin Slip, Mesh and lace Bralette, Mesh Bra Garter Belt & Panty Gift Set and the showstopper. (click links to shop)
Some of you probably have dinner reservations at a delicious restaurant or some of you might be staying in to make a romantic dinner at home. Either way, do you have plans after dinner? Or, ladies and gentleman, are you thinking your date has anything in store for you? No matter how long you have been together, make your date fall in love with you again after the dinner activities. Spice up your love life, and do something totally unexpected! We are.
Authenticity is more romantic than one might think. Imagine if you could create an intimate experience totally exclusive for just you and your special someone. What would that look like for you and your partner? I'm guessing the setting would take place on a sandy white beach; likely somewhere tropical? Though, that would be ideal, that may not be realistic nor is likely going to happen for most of us who didn't plan for it. We all have very busy calendar-full lives and, sadly, we just can't escape off to an island somewhere just because it's Valentine's day. However, what we can do is put our clever selves to work and create a similar vibe from the comfort of our own home.
Here are some suggestions for creating a magical and unforgettable evening!
Buy 3 lingerie outfits for yourself. Or if you're dating a woman and, when, you fall in love with this idea (which I'm sure you will soon) then buy these 3 outfits for your lady but make sure you know her size.
Why buy 3 lingerie outfits and not just 1? Because you are going to perform a fashion show for your date. And, obviously, you can't just have one outfit in your fashion show, otherwise it wouldn't be a real fashion show. Right? So, choose wisely and choose for yourself and your mate. Of course, you want your date, lover, to think you are super sexy, but it should primarily be a special treat for you. You might be thinking, if I am buying 3 lingerie outfits just for myself, then what's my date getting out of this? Well, think about it, who would be mad about having front row seats to their very own, private lingerie fashion show? No one. So, let it be your excuse to go shopping and pamper yourself a little bit. After all, it is Valentine's Day and no one said you can't love yourself. Do it for you, do it for them. It doesn't matter because this Victoria's Secret inspired show is a definite win, win for everyone!
If you are single, my advice is definitely put on a fashion show for yourself anyways! Or maybe tell your girl friends to buy some lingerie too, grab a few bottles of wine, and have a mini fashion show with your best pals – afterwards you guys can talk about all the different ways you can wear your intimates and talk about creating wearable street style outfits with your new foxy pieces!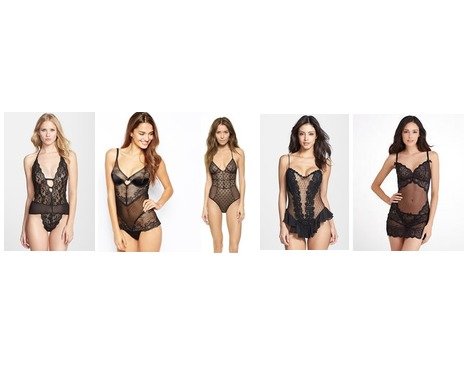 Dita Von Teese Screen Queen Bodysuit, Flora Nikrooz 'Showstopper'Bodysuit, Jonquil In Bloom by 'Noir' Thong Bodysuit, Love Haus Dot Bodysuit and the Agent Provocateur L'Agent by Vanesa Slip Chemise. (click links to shop)
Okay Fashionistas, now that you're planning a mini fashion show, now only 4 days away, let's figure out the runway details so we can get your signature looks ordered and on the way! What to wear for a fashion show you are the shining star in? Whatever you feel cute and sexy in, but most importantly feel like you in…or not…Maybe you want to role play during the duration of your fashion show, you do you. After all, it's your show and the sky is the limit.
Start with a luxury basic for your first look. My advice, something practical and something worthwhile. A dain-ty and feminine, yet comfortable bra, you can wear again and again, that just so happens to be tastefully alluring and ultra-flirty. Again, it's a win-win scenario! Personally, I have found myself flocking to these dreamy intimate bralettes as my regular daily go-to bra. Especially the bralettes with intricate lace detailing, which are insanely gorgeous, absolutely freeing and in my opinion, and an every day essential. A simple bralette will wow your date and rock the runway! Check out these super sexy and dainty, yet, realistic bralettes.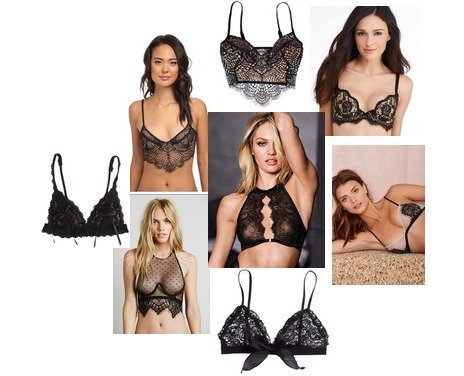 For Love and Lemons Bat Your Lashes Bra, Very Sexy Chantilly Lace Unlined Halter Bra, Free People SKIVVIES by Vixen Halter Bra, and the Signature Lace Peek-a-Boo Bralette. (click links to shop)
The adorable little black lacy satin bow bralette is only $14.95.
Slips. The perks of wearing a slip goes far beyond your Valentine's Day fashion show. You can wear slips with everything for the rest of your life. Wear a slip under all of your dresses or wear it to bed. Throw a slip on while you're getting ready or simply when you haven't picked out your outfit yet. Slips are simple and ideal and, if you don't own any yet, well, we should probably talk about that later but, for now, if you don't; let this be the perfect opportunity to add one to your intimates collection.
If you already are a slip connoisseur, give your old ones a rest and treat your body to a slip refresh! Let's be honest, a new sexy slip adds happiness to every gal's closet and I strongly recommend this open side lace slip.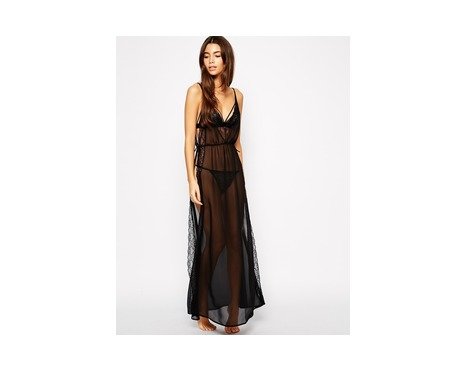 Here's the thing. We all day dream of these sexy little lingerie outfits, but not all women wear them or would ever actually even buy something of the sort. There are a lot of reasons why women don't indulge in lingerie. For example, some women don't feel they will look like a sexy Victoria's Secret super model and in turn, she may become body consciousness. Ladies, this should never happen when constructing and executing your Valentine's Day Gift Idea. First of all, your date is already interested and obviously into you. So, you must realize that your body and the way you look is part of what attracted them to you in the first place. Don't let yourself forget that, ever again. Take my advice and embrace your true beauty, be you, and smile – a lot. I promise you if you do this, you are sure to have a good time and an absolutely successful evening.
The grand finale! Go out with a bang and rock a smoking hot bodysuit. Or if that's just not your thing, then try a classically sexy and tastefully appealing robe. In either direction you go: you, your date, and your wardrobe will benefit. Especially, if you choose the robe. Don't act like you won't wear it again! Wear the robe over one of your summer dresses this spring. If you decide on one of these foxy bodysuits, fashionistas, you should definitely wear it again and wear it beyond just sexy time. The next time you wear the bodysuit, re-purpose it by wearing high-waisted shorts, a blazer and some killer ankle booties with it – it's feminine perfection, to say the least. But, let's get back to your Valentine's Day date and how to wear the bodysuit or the robe for the finale of your show.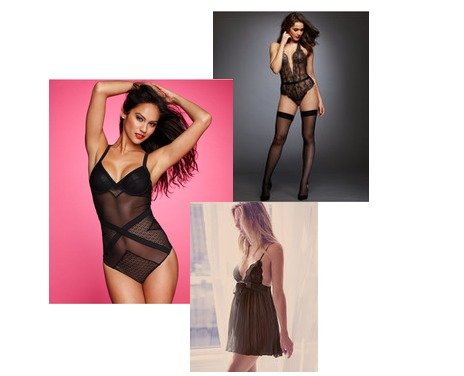 L'Agent by Agent Provocateur Idalia Bodysuit, Calvin Klein CK Black Fierce Bodysuit and the Very Sexy Pleated Babydoll. (click links to shop)
Be too cute too handle. What could possibly be more fun than giving your date a lingerie fashion show and most likely, the best Valentine's Day ever? Saving the sexiest piece for last. Since this outfit will conclude your fashion show, it needs to be the perfect lingerie attire to walk the "floor" in. Fashionistas, don't forget this is a runway fashion show, meaning, when fashion shows come to an end, the models usually walk the floor while wearing their last featured stage look. Since you are the star attraction of the show, I recommend you wear this hot little number for as long as you can after the show – total heart winner. Go on with your bad self and strut your stuff for the duration of the date, you definitely earned it and your date will love it!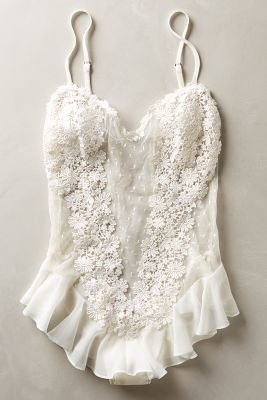 Flora Nikrooz Fleur Flutter Bodysuit
Lastly, have fun while you rock your date's world. Don't forget to turn on some music! Or if you have time, make a play-list. Give your date a truly impressive show and soak in all the love you can. Get lost in the night as you engage in deep conversation with one another and let your love life truly reap the benefits.
Again, only buy lingerie outfits that you are comfortable with. You want to be confident and fully dominate the runway, don't you? Well, the secret to sexy is confidence. So, own it, love it and just do it! Because, why not? It's fun, it's different, it keeps the spark going and interest flowing and hey, you just got yourself some new undergarment goodies!