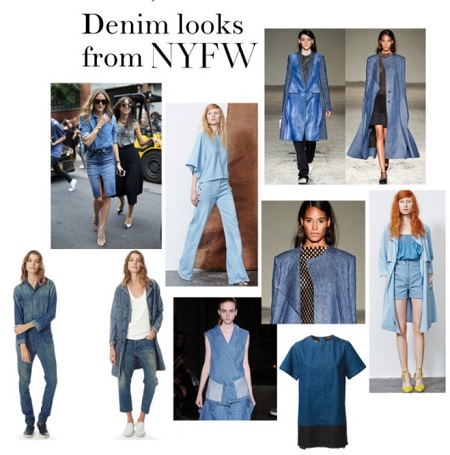 Never fear, summer is near! With summer quickly approaching and our closets soon changing, it's time we reconsider our staple pieces and try to get the most out of our closets. For all you local Colorado babes, denim is a staple must. Plus, every fashionista should know by now that denim isn't going anywhere, which makes denim the perfect everyday piece.
When I say "denim", I am not just referring to the ever so classic jeans; but, rather, denim dresses, chambray shirts, denim jumpsuits and trench coats. If I have discovered anything from my own not-just-jeans-denim collection, it's that a denim dress, or whatever it may be, is always a super easy go-to-look that happens to be just as easy as any other basic outfit that you would pair with plain ole jeans. So, let your cutoff denim shorts take a break and introduce to your wardrobe a new kind of denim.
While the classic Canadian Tuxedo certainly does make for a great ready-to-wear outfit, this summer try something different and let the denim dress be your new go-to look. The best part about the denim dress is not only does it take your day outfit perfectly into the night, but it will also take you from summer to fall to spring, flawlessly. It's the perfect transition piece and every fashionita needs to own at least 1 denim dress, if not 5!
Besides, New York Fashion Week 2015 has spotted some incredible not-your-average-denim looks and because not all of us can be in NYC right now, FCF wanted to bring the runway to you. Selected Items: Free People Kimono Denim Jacket, Free People Slit Wideleg Pant, Acne Studios Denim Dress.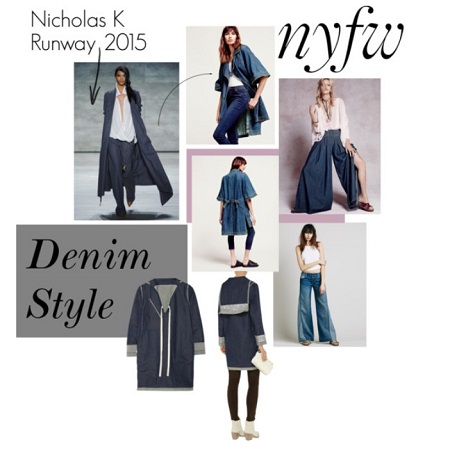 Nicholas K wasn't the only one to feature the fabulous wide leg denim!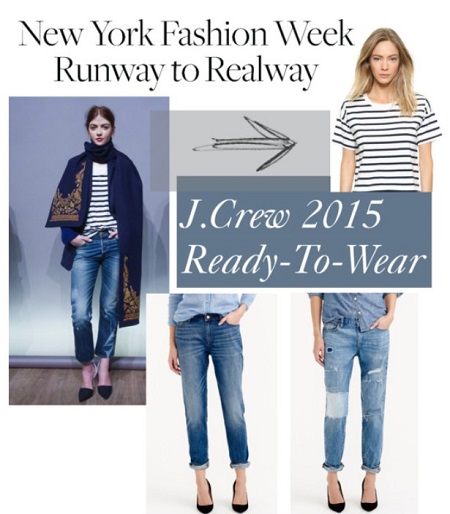 J. Crew also featured some definite street-style ready-to-wear looks too! Items: J.Crew Broken-in Boyfriend Walker Wash Jean, J.Crew Broken-in Boyfriend Jean Rogers Wash, Madewell Lewis Stripe Crop Tee.
Here are a few of my favorite denim dresses for 2015 so far: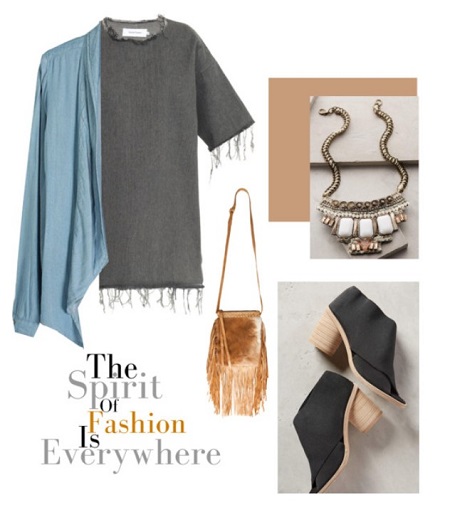 Items: ChicNova Denim Coat , Ella Moss Crossbody Bag, Anthropologie Bib Necklace, Jeffrey Campbell Booties, Frayed-edge Denim Shift Dress.
Keep it chill and wear some laid back ankle booties. This festival bound, revolutionary look will take you anywhere you want to go! Get to it. And, when it comes to winter time, easy. Add tights or leggings, throw on a scarf and a sweater jacket and you're ready to go!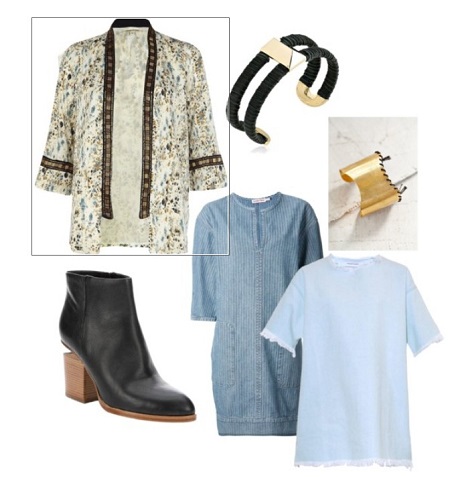 Try this look. It has the coolest of the cool girl vibe to it, effortlessly. And, it's the perfect day to night outfit. Win! Selected Items: River Island Embellished Kimono , Ettika Seductress Cuffed Bracelet, Urban Outfitters Seaworthy Cuff Bracelet, See by Chloe Striped Denim Dress, Frayed-edge Denim Shift Dress , Alexander Wang Black Zip Ankle Booties.
Try accessories of delicacy. What does that mean? It means don't go overboard. Denim is a strong statement on it's own. It doesn't need to much glam to be glam. Yet, depending on the dress, a luxe chunky statement necklace could very well be the golden ticket. Just note that pairing accessories with denim dresses can get messy fast. When the time comes, you'll know if it looks too busy or if it works. So, keep it light and you'll be sure to get it just right!
Some tips and tricks for other denim inspired looks!
Denim outfits: rather it be the Canadian tuxedo or a chambray shirt dress, the outfit should always have an easy going vibe to it with a naturalistic appeal. There will be times where you want your denim look to be on the flirtatiously sexy side. If so, definitely do it. There's nothing sexier than a lady in a tastefully alluring yet down-to-earth denim outfit, all dolled up in heels, wearing some cool girl shades and paired with some kissable red lips – sexy is as sexy does and the girl wearing that outfit is on fire!
The Canadian Tuxedo: Contrast is usually the easiest. A light chambray shirt with your favorite dark denim jeans, should work every time.
For the bold and daring: If you want to wear nearly the same shade for the top half as the bottom, you have my approval – as long as you wear it with confidence and the right shoes. The right shoes combined with sun kissed hair is how to pull off any Canadian tuxedo.
Denim on denim shorts: Try pairing some light colored denim shorts with a heavier dark denim shirt. The top can be over-sized or fitted, buttoned or open with an under shirt exposed. It doesn't matter because either way you'll be killing it in this outfit. Throw on some gladiators or ankle booties and rock the day away.
More incredible NYFW inspired looks brought to you from yours truly, FCF:
From barbecues to concerts to festivals or to an evening candlelit dinner on a patio, go ahead and throw on any of these adorable ultra-chic denim dresses below. You'll be ready to go for whatever comes your way and you'll be rocking whatever you do in style. Guaranteed.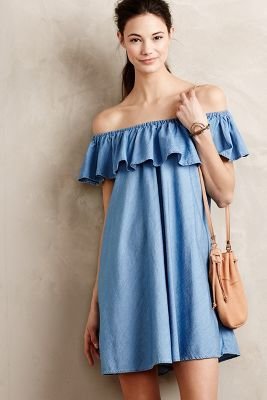 Anthropologie Alexa Chung Chambray Ruffle Dress available at Anthropologie.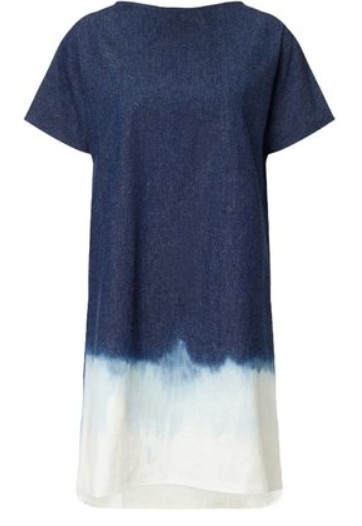 Blue Tie-dye Jemima Dress available at Avenue32.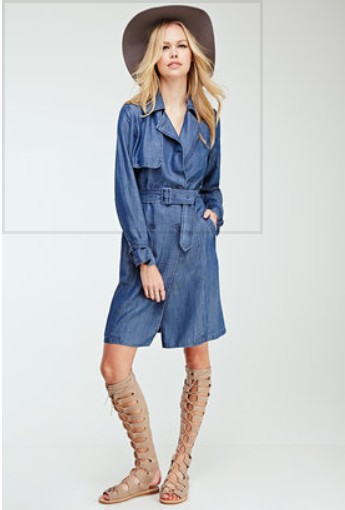 Forever 21 Washed Denim Trench Coat available at Forever 21.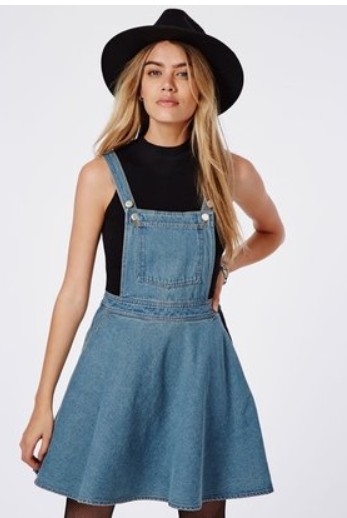 Missguided Octavia Denim Mid Wash available at Missguided.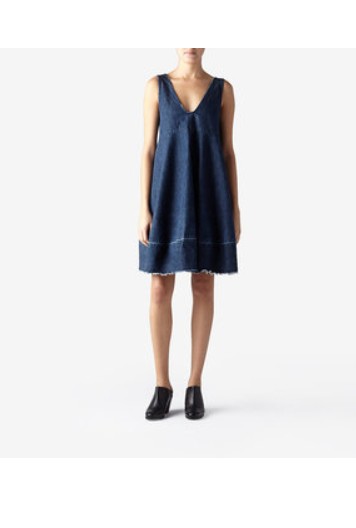 Rachel Comey Dark Baby Doll Tank dress available at Steven Alan.