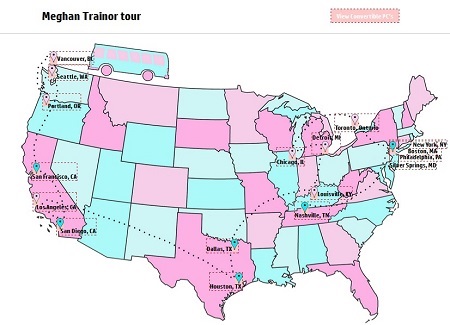 We've got some awesomesauce, pretty exciting news we've been waiting to share with you, our valued FCF readers. HP is bending the rules and First Class Fashionista is happy to have been selected to be an integral, influential part of it. We love getting the word out about something innovative–something excitingly different. So, to start, one Friday I was dancing along to a song called "All About That Bass" in Dance Jam, my group fitness class, and heard "Yeah, it's pretty clear I ain't no size 2 but I can shake it, shake it like I'm supposed to do." I was a fan of the song right away. I couldn't help it. The song was super catchy and when I saw the artist, it made me love the song even more. I thought Meghan Trainor looked like your average pretty girl next door, really refreshing in our image obsessed world. And, later, Trainor's "You're Lips Are Movin" actually kept us grooving because it seemed to resonate with so many women in the class. Could Meghan be talking about her job or even the music industry, not just a boyfriend? I think that's why Trainor's songs are a big hit.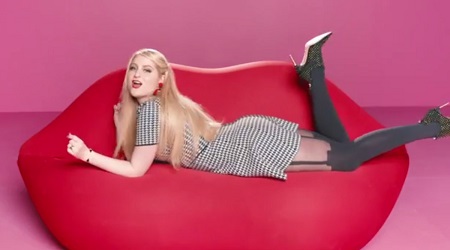 Singing since the age of six and writing songs by 11, Meghan Trainor is talented and bending the rules for us girls and fashionistas a bit. Just watch the videos. In February of 2014, Trainor, whose style is said to be soulful pop and somewhat of a cross between Katy Perry and Taylor Swift, was signed on with L.A. Reid's Epic Records at only 20 years old to release her award-winning, breakout record of the year, "All About That Bass" and the news is: Trainor is set to go on tour with the ultimate #BENDTHERULES sponsor, HP.
HP was looking to break the personal computer; notebook and tablet rules with their hybrid, convertible HP x360 at a smart 2 in 1 price, and they sure did. I love it. As an influential blogger, with the backing of your dedicated FCF readership, HP gifted First Class Fashionista their latest in technology. HP wants to keep you in the know about what's happening on the Meghan Trainor #ThatBassTour because, all the while, Trainor and HP will be bending rules meant to be broken. Sounds like super duper fun. Right? Look for updates!
To get fans ready for what is to come, popular bloggers, Viners, Instagram and Youtube stars first teamed up with HP and Meghan Trainor to create and star in the "You're Lips Are Movin" music video.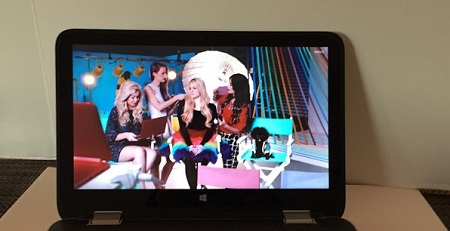 This has never been done before with social media influencers like me. The video captures the esteemed guests on location, in the video, using the x360 convertible tablet during the shoot.
The x360 has 4 modes; the Laptop, Tablet, Tent and Stand. My new favorite PC laptop capabilities are none other than the tablet and the tent. Remember trying to watch something on the plane and propping your iPod or cell phone up, only to see it fall over and over again?
I downloaded a client for one of my preferred social media sites, Instagram, to use with the touch screen tablet mode and I'm thinking the tent will definitely come in handy while I'm traveling on the plane to places I want to visit this year. Honestly, I have never chosen to carry both my laptop and my tablet on a trip anyway. So, this is absolutely perfect and since we're talking about the 4 modes of my newly gifted PC, the 4 trips I want to take my new PC before the end summer, includes the Dominican Republic for my anniversary (Already booked!), New York to visit my daughter at Parsons The New School for Design and, while I'm in NYC, I want to also mark off another one of my bucket list destinations, Niagara Falls. It's about 6 hours and 49 minutes from New York City. Finally and possibly, Paris for a special girl's birthday. As a blogger, I always take my computer with me. I really love the 2 in 1.
To see behind the scenes footage of Meghan Trainor's tour as it happens, follow all the action on the @HP Twitter and Instagram. Watch the first of its kind, behind-the-scenes tour footage and be a part of the fan generated documentary on the official HP Meghan Trainor Tour page by tagging your photos on Instagram and Vine with the hashtag, #BendTheRules. The webpage also has a cool map of the tour, and exclusive "Lips Are Movin" outtakes.
That Bass Tour page: http://www8.hp.com/us/en/ads/detachables-convertibles/mttour.html
Brand Statement: Easily convert from notebook to stand to tent to tablet mode for all your productivity and entertainment needs with these amazingly value-packed convertible PCs, featuring a 360-degree hinge. Disclaimer: This is a sponsored conversation written on the behalf of HP. The opinions and text are all mine. Regardless, our team at First Class Fashionista only recommends products or services we use, will use or have used personally and believe will be good for our readers. We are disclosing this in accordance with the Federal Trade Commissions 16 CFR, Part 255 Guides Concerning the Use of Endorsements and Testimonials in Advertising. In cases where we can not support a product, that product will not be featured at FCF.