This year, I dare you to make everyone around you fall head over your heels. How so? By only wearing the classy and fabulous, of course. The nude heel. It just so happens to be a girl's best friend for life that will forever be a timeless staple of elegance. To save you some time on shopping for your perfect nude heel, which can actually be quite the time filler, I collected a random array of nude heel variety just for you, right here right now.
Since it is 2015 and we are all (or probably should be) aspiring minimalism practitioners, take this post to heart. Save the bank, save your space and let your bare naked feet lust over their monogamous relationship with their perfect nude sole mate.
Sole Mate? Umm, yes please. I can't wait to show you off like a trophy!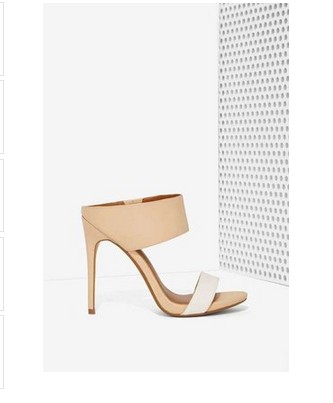 Available at Nasty Gal.
Calvin Klein is killing it with the ridiculously comfortable and, of course, stylish bandage sultry heel. The best part is, they are only $119!
Calvin Klein Veranic Bandage Heel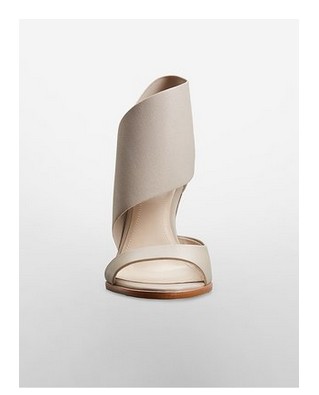 Available at Calvin Klein.
When I first started researching and writing this post, my productive thoughts were to write about "the perfect nude heel". With wedding season soon approaching, I thought that it would be quite the relevant topic and the investigation process didn't hurt me any because I'm currently in the market for the perfect maid-of-honor nude heels for my sister's wedding. So, I figured, hey, why not share with the world my nude heel journey of discovery and spill my findings. I mean, what fashionista doesn't want to know about the perfect nude heels? It's the perfect shoe that is always in season and because it's an ageless staple, it's not really the type of closet item you get sick of nor can you have too many.
That said, I present to you the top 18 nude heel styles that your closet needs at least one of, right now.
Splendid 'Jayla' Ankle Cuff Sandal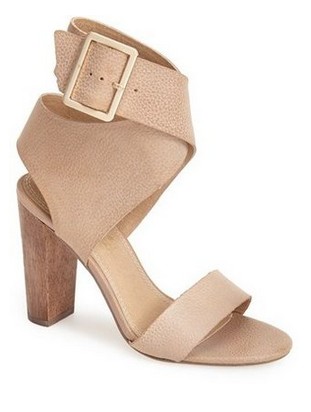 Available at Nordstrom.
Vince 'Freida' Ankle Strap Sandal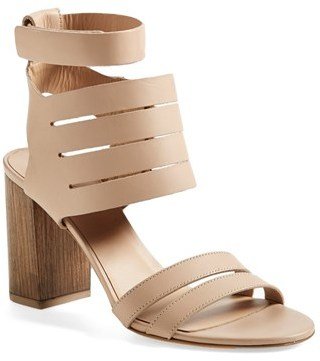 Available at Nordstrom.
Between the oh so sweet chunky sandal heels mentioned above and the deliciously spicy wedges mentioned below, I'd say these next 2 classic platform sandals are the perfect blend! If you don't own a pair yet, I think it's time to pull the trigger.
Topshop Leather Cross Strap Platform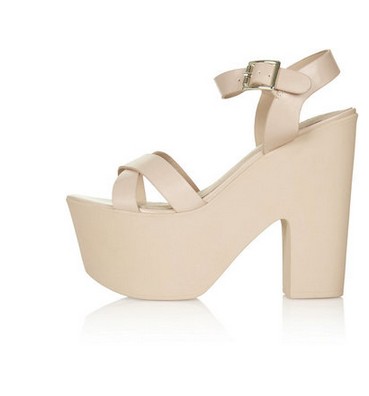 Available at Topshop.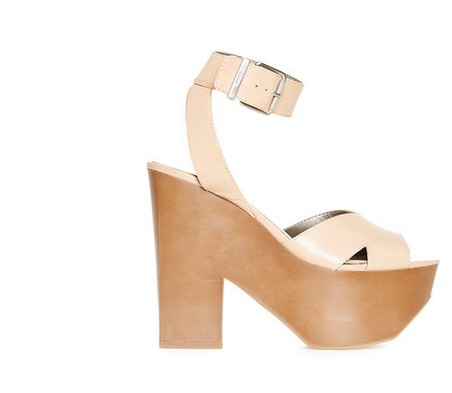 Available at Daily Look.
Ladies, listen up! Because I could have driven a quarter of the way to Vegas on my "perfect nude heel" scavenger hunt. Literally, I found myself 4 hours later with 3 pairs of shoes charged and ordered, only 2 dollars left and my inner bad witch from the east saying, "It's okay. Just finish looking at the pretty shoes and get to writing by the end of the hour"….only several end-of-the-hours later, this disgusting little habit of mine (aka addiction) only continued through time and time itself was slowly dissolving through the brilliance of the Inter-web.
Meanwhile, I found some truly incredible, "must own immediately" nude heels, amongst many other must-have shoes and, of course, I discovered some cool new shops to further feed my very addictive online shopping illness. Which brings me to my next point where I was once just a happy gal getting drunk off my quest for the perfect nude heels, I now I must admit that scenario seems to be no longer the case as I am now on the boarder of suffering chronic depression due to the lack of available money trees in the surrounding area. Bummer.
However, may we not get greedy and may we allow ourselves to indulge in at least one pair of "perfect nude heels" as that was and is the original mission all along. Moral of this story, we don't need to own every single pair of killer heels in the world, especially not the ones that are very sadly way out of our price range. Instead, find one really good pair that tickles your fancy and makes you feel like gold every time you wear them.
Perhaps I could interest you in some springtime, patio-ready wedges that will perfectly strut you right into the sun kissed days of the summer? Take a look.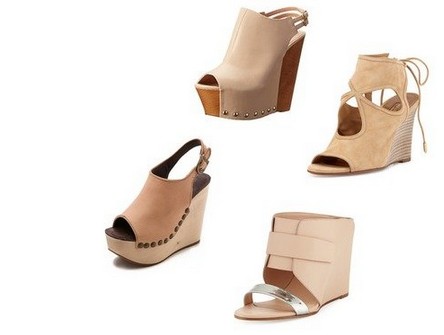 Zigi ZiGiny Saywer Wedge, Jeffrey Campbell Snick Wedge Sandals, Aquazzura Sexy Thing Lace Up Back Wedge – And, the sexiest and my personal favorite – the bottom center wedge, by Vince Karima.
Or maybe you have been looking for the perfect ever so classic pair of nude heels? Found them. And, it shouldn't come to too much surprise that they are made by the one and only, Sarah Jessica Parker.
SJP Asymmetric Leather Pump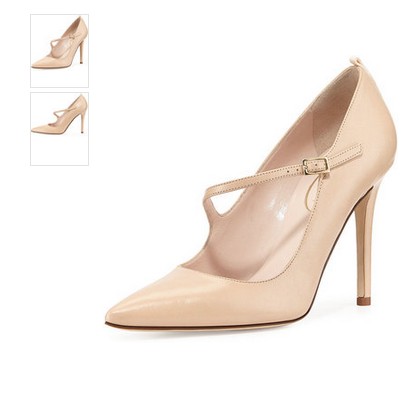 Available at
Neiman Marcus
.
Another classy nude pump for the ultra-chic, sophisticated and absolutely adorable babe!
Neiman Marcus Verity Leather Bow Pump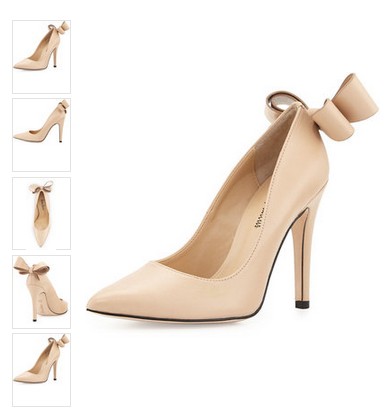 Available at
Last Call by Neiman Marcus
.
A modern classic at it's finest.
Topshop Leather Rounded Toe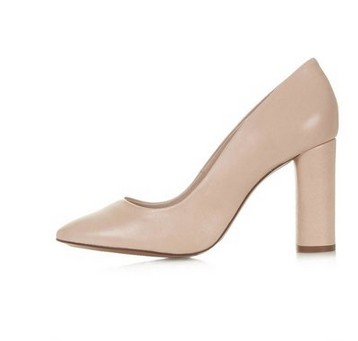 Available at
Topshop
.
Buy smarter. When you make a purchase for something even as simple as a pair of nude heels, don't forget that in all actuality, you are making an investment on a timeless closet. That said, go for quality over quantity and put some extra thought into your soon-to-be brand new spring-ready shoes.
Inspired by the New York Fashion Week 2015 runway and street style
Dolce Vita Kisa Strappy Lizard Embossed Pump — Only $65, that is seriously a steal. Get them before they sell out!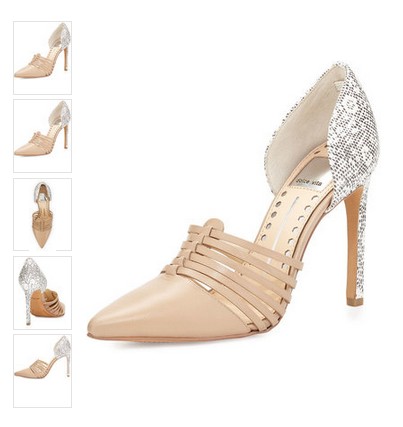 Available at Last Call Neiman Marcus.
Calvin Klein Peeptoe Adela Suede Cutout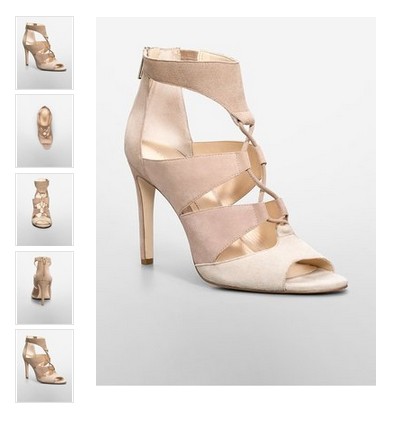 Available at
Calvin Klein
.
On my own hopeful journey of discovery in finding mutually (bride) agreeable heels to wear in my sisters wedding, I'm proud to say I thoroughly narrowed down my ever so indecisive but wisely particular, nude heels list!! Luckily, my initial list got immensely condensed down to only a select few, highly desirables. I'm not sure if other maid of honors are allowed this sort of creative freedom in their wedding attire, but needless to say, I'm extremely happy that my first MOH experience is with my big sister. I love you Erin!
And, on second thought. Maybe luck will be a lady and my soon bride-to-be-sister will want to splurge and buy these babies for my wedding ensemble! Possibilities are endless and I like to dream big. OBSESSED with these chunky heels, as I truly feel they are the goddesses of all chunky heels.
Margiela Strappy Chunky Heel Sandals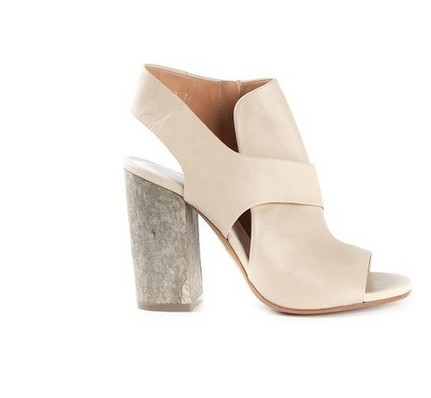 Available at
farfetch.com
(for 1,050). The most expensive of the day.
Finally, and most importantly, always handle your shoes with care.
Even if your perfect nude heels are only $40, treat them as if they were $400. By doing so, you'll be able to get more uses out of them. Just like most other things (we come to own), if you take care of your things, they will take care of you by lasting longer, guaranteed. Plus, when it's time for a new pair, get another. Then, your love story will be back on track and you will be falling head over heels in love yet again! Trust me, it's a very fulfilling cycle.
Drum roll please…had to save my person favorites for last. And, just a heads up, these lace up nude heels are flying off-line as we speak! My advice, life is too short to not buy a pair of shoes, so just do it. It'll be long worth it.
Free People Pember Lace Up Heel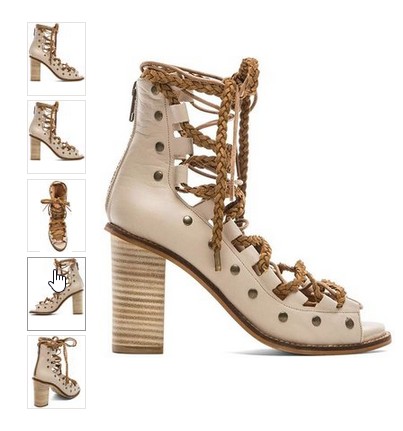 Available at
Revolve Clothing
.
Aquazzura Sahara Suede Heels