Hair loss, thinning and breakage can be a tragic experience to go through for both men and women. You might feel, at times, like there is nothing you can do to stop hair loss, but I'm here to tell you there is a solution and treatment for whatever you and your hair are going through. Working in an Aveda men's barber shop for almost a year, I have been recommending the Invati System to my clients struggling with ongoing hair loss.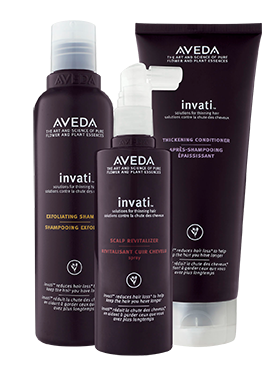 This product line is 97% naturally derived from plants. The most common ingredients within all three of these products include the Ayurvedic ingredients of turmeric and ginseng; also known as the densiplex system. Invati's promise is to reduce hair loss up to 33% due to breakage in a 12-week time duration. In this three step system there is the Invati Exfoliating Shampoo, Invati Thickening Conditioner, and the Invati Scalp Revitalizer.
About these amazing products:
Invati Exfoliating Shampoo: From using the product myself I can tell you this is not like the normal shampoo you've probably been using. It is very watery and it almost falls out of your hands if you don't create a cup with your palm. For this reason, it goes straight to your scalp to remove build-up that can and has been clogging your hair follicle pores. It works by renewing the scalp with a wintergreen-derived salicylic acid. This product nourishes dry, tight scalps with millet seed and milk thistle.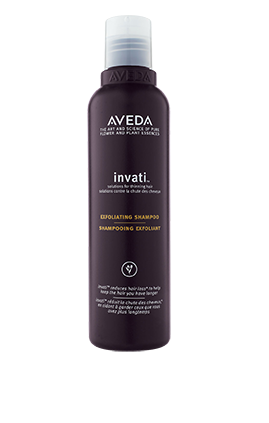 Another characteristic of this product is that it doesn't lather. The reason being is that it was created with low viscosity for easy spreading. The surfactants are plant-based and include: Babassuamidopropyl betaine and sodium methyl cocoyl taurate. In addition, shampoos that lather are not always the best thing for your hair, it actually creates a ruff surface to the outer cuticle of your hair that can create a dull surface. The shampoo is sold in a variety of sizes that can range in price from Travel size for $11.00 – 1 liter for $106.00. Currently available at Amazon.
Invati Thickening Conditioner: The conditioner is on the complete other spectrum compared to the shampoo. The conditioner is very thick and extra creamy!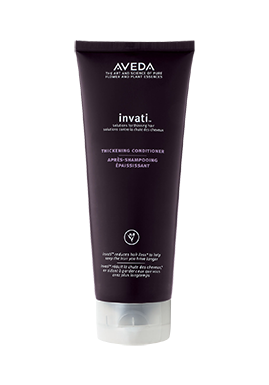 With soy protein and natural amino acids, these ingredients mimic your hairs building blocks to create a weightlessly thickened hair shaft. Some of the active ingredients include: guar, rapeseed, arginine, and soy protein. With these ingredients, the hair is thickened, strengthened, and the elasticity is restored to reduce breakage. Within this product there is organic kukui nut oil to add natural shine and of course the densiplex system including turmeric and ginseng. I must add that I love the smell of this conditioner. It's not too strong or overwhelming, especially for men who use it. Just like the shampoo, the conditioner is sold in a variety of sizes that can range in price from Travel size for $9.00 – 1 liter for $106.00. Currently available at Amazon.
The next and final step, but the most important one is the:
Invati Scalp Revitalizer: If you are going to try any of these products without the whole system, I would highly recommend using the scalp revitalizer because it is the strongest part to the system as a whole.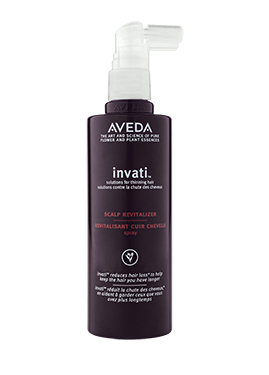 This product will help you keep the hair you have longer and prevent you from losing more hair. With the densiplex system of the Ayurvedic herbs containing turmeric and ginseng, this will help energize and rehabilitate the scalp around the hair follicles. Containing vitamin E, this product is easily distributed to be spread into a larger area. Thus saying, you only need a few pumps and you can get complete coverage to the area needed. The revitalizer is sold in a variety of sizes that can range in price from Travel size for $26.00 – 3 refill sizes for $162.00. Currently available at Amazon.
I have been in the hair industry for several years now and, I have to say, these products are the best that can be sold in salons. One characteristic I have to point out is that this product will not regrow hair, but reduce breakage and hair loss. In addition, it is best to start this system as soon as you are noticing hair loss. For my clients who have been using this product, they have been happy with their results and that they've been able to keep the hair they have.
If you would like to learn more about the Invati System, visit www.invati.aveda.com or get the complete system today at Amazon for an excellent price.
As always, thank you for reading!