This just in–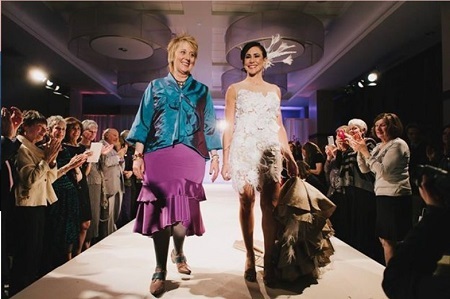 March 12th, Denver, CO Brooks LTD will showcase their new line at the Evening of Caring Gala benefiting Sue Miller Day of Caring, a breast cancer organization. Brooks Ltd was founded in 1976, Brooks fashions have been a staple in the Colorado community as well as selling designs to Saks Fifth Avenue and others. Since 2002, Brooks has served clients privately in her atelier in LoDo. A breast cancer survivor since 1990, Brooks shares that she has become more empathetic and understanding of women's needs. Since her diagnosis, she has been featured multiple times in the Day of Caring events.
Designs featured in the Evening of Caring showcase the latest trends in fashion while highlighting the shape and character of each survivor model. "It is important for me to continue working with breast cancer survivors because I want them to feel beautiful and special," Brooks said. " Giving these women the opportunity to have a custom made piece can be life changing. The confidence that you see in their faces on the runway is indescribable. It makes it worth it."
An Evening of Caring will feature a thirty-one person Survivor Fashion Show featuring past Day of Caring models and recent breast cancer survivors. Models include well-known Denver survivors including, Ellen Beller, Jan Gillam, Murphy Huston, Rachel Rabinovich, Tiffany Reed, Dr. Joyce Sedlacek, Paula Ullman, and Lou Ann Van Daele to name a few. Half of the models will be wearing custom looks made by Brooks Ltd, a longtime Denver designer, and breast cancer survivor
The Survivor Fashion Show will feature original music from up and coming artist Kayla Marque. Songs will include Marque's "Wait to Rust" and others from her new album "Live and Die like this".
Sue Miller Day of Caring is Colorado's first breast cancer organization to form in Colorado. Formed 31 years ago by Sue Miller, the organization has provided education and awareness to over 15,500 individuals through their annual breast cancer conference.
An Evening of Caring is sold out, however tickets are still available to the general public for their Dress Rehearsal on March 11th at 7p.m. at the Embassy Suites Denver Colorado Convention Center. Tickets are available at the door, as well as online at http://dayofcaringcolorado.org/aneveningofcaring/.