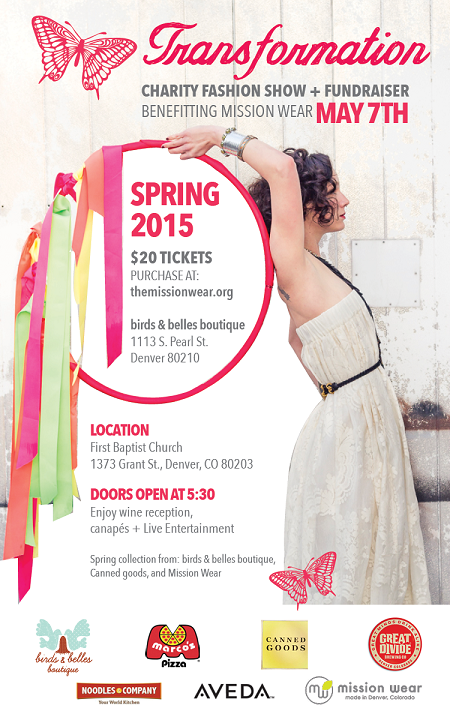 Mission Wear's upcycling fashion show is back! Remember last year, when we saw refuse and other materials find new life through fashion? If you need a refresher, see our First Class Fashionista coverage of the first Mission Wear Fashion Show, includes winners from 2014. Returning for spring with a theme of 'Transformation', designers transform otherwise unwanted materials into fashions to be rocked by local models and Mission Wear program participants.
Bonus- It's all for a good cause.
WHO: Mission Wear, a Denver-based non-profit
WHEN: Wednesday, May 7, 2015
WHERE: First Baptist Church
1373 Grant Street, Denver
Mission Wear is a non-profit sewing business which aims to provide women with employment challenges a place to gain the skills and confidence they need to rejoin the workforce and support themselves and their families. As part of this goal, Mission Wear exclusively uses recycled materials that would otherwise be discarded to make their totes, messenger and laptop bags. Get it? Mission Wear is founded on recycling, and what better way to promote that with a fashion show founded on the same idea?
"We are passionate about helping women who are recovering from substance abuse or have a history of felony or homelessness," explains Mission Wear founder, Beth Massey. "These women often want to work, but are not given the chance to prove that. Mission Wear offers these women a safe, supportive environment in which to gain experience and the skills they need to re-enter the workplace."
Transformation Fashion Show and Fundraiser is a night to give back and celebrate social responsibility with eco-fashion on the runway, music, and showcasing the talents of Denver designers. Student designers and artists are asked to reuse old or recyclable materials that would normally go to landfill to create a piece of art that is not only durable, but looks hip and fashionable and can be worn again or recycled after the show. Re-purposed designs will be paired with accessories provided by Mission Wear employees, the show's fashion sponsor, Wash Park boutique birds & belles and local jeweler Canned Goods. Hair design provided by D'Ametri's Aveda Salon.
The winning design will be on display at birds & belles boutique for the month of June and awarded a professional sewing serger – a fashion designer's dream tool. A serger would be a fantastic prize for any aspiring designer!
"What a dream come true to aid in giving women another chance by providing eco-friendly, resale clothing," says Kyla DeTienne, owner of birds & belles boutique. "Mission Wear continues to provide quality merchandise through their programs to the customers of birds & belles, and we couldn't be more proud of the work they are doing in our community."
Canapés will be provided by Noodles & Company and Marco's Coal-Fired Pizza with libations supplied by Great Divide Brewery. Live entertainment will be provided by the band, Narrow Gauge.
Admission to the Transformation Fashion Show available for purchase online at www.themissionwear.org and in person at birds & belles boutique, location is 1113 S. Pearl Street Denver, Colorado 80210. All proceeds go to support Mission Wear. Attendees can also support Mission Wear by purchasing specialty items via live and silent auction that evening. For more information on Mission Wear visit the link above, or to inquire about the design contest contact Irma Reyes at ireyes0520@hotmail.com.
Transformation Fashion Show is generously sponsored by: Birds & Belles Boutique, The Art Institute of Colorado, Canned Goods, D'Ametri's Aveda Salon, Great Divide Brewery, Marco's Coal-Fired Pizza and Noodles & Company.