New York Fashion Week, the theatrical, glamorous, multi-million dollar affair has announced that it will be moving to 2 new venues. This announcement came Monday, April 13th, following the news that the event has supposedly lost its five-year contract with the Lincoln Center after allegedly being accused of misusing Damrosch Park.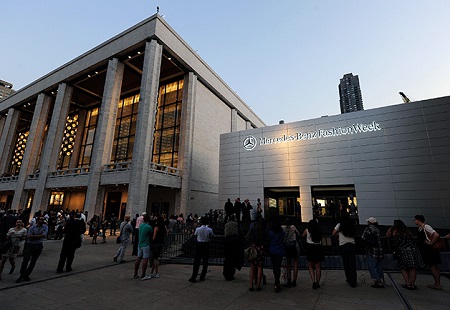 Lincoln Center, the Former Space of NYFW
Where will the event be now? Well, it will be in fact be moved to two venues. For next year, designers will set up their shows at the Skylight at Moynihan Station- inside the historic James A. Farley Post Office on W. 33rd St.- and Skylight Clarkson Square on Washington St. in SoHo. Rumor has it these will be temporary spaces, but you wouldn't know it from the venues themselves. Both look fully capable to house fashionistas and fashionistos alike; restored and ready to rock. Neither venue is new to the scene, as Philip Lim and Kanye West have both shown some of their respective collections at the new digs.
Although it will be a shame to have Lincoln Center no longer at the forefront of the New York fashion scene, this isn't much of a change for most who attend the event. Many designers had already tired of the commercialized and centralized atmosphere of the center and had already chosen to move their shows to other venues, leaving many attendees jumping from place to place in cabs. I can only imagine that leaves you with more time in traffic than at the runway. Shame. Hopefully these two new spaces will provide enough creative leeway to appease designers for at least a few years to come.