The infamous Denver Fashion Week is THIS week, which strictly means, it's time we put on our fancy pants and head out with the rest. Need not to be taken literal (ladies) – unless you are wearing a pant jumpsuit, then please, take that literal.
The question, "what are you wearing to DFW Spring" – might seem difficult when considering this is one of the biggest artistry events in the Denver fashion scene. But don't be intimidated, just be excited! In comparison to every day street style fashions, the key to a winning look at fashion weekend is undoubtedly confidence and worn of course, with a killer smile. That said, get yourself a foxy little number, strut your stuff, wear your favorite smile and walk through the event as if the floor is your very own runway.
Right…but what do I wear?
If you are still asking yourself this, never fear FCF is here! We have thrown together a look for each event of Denver Fashion Weekend Spring 2015. Here ya go, we'll see ya there!
The first night, tonight, Wednesday, April 29, will be feature the SW Hairstyling Awards. Start this year's fashion weekend off with a bang and show your love for hairstyling by having fabulous hair (duh). Dedicate some attention to your strands by stylizing your hair in a way that looks like it was dipped in cool, fashion cool. Try throwing on this shabby chic headband shown below and pair it with this super sultry but classy —- be prepared for double takes because you'll be getting them all night long.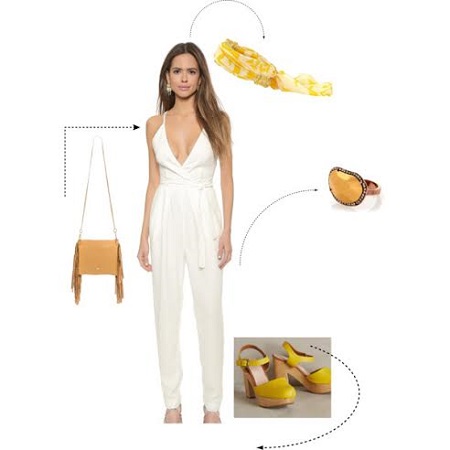 Missoni Scarf Tie Knit headband available at Intermix. White jumpsuits at shopbop.comAnthropologie, ring at House of Harlow, and crossbody bag at Handbag at shopbop.com.
The second night, Thursday, April 30, is Street Wear Fashion Night. Fashionistas, I think it goes without saying, but the phrase "dress to impress" certainly applies here. Rather you're known for your city slicker style or your more of the messy but always well put together boho type of gal, if you've been instagraming your life away with your latest whereabouts in the cutest fashions – make sure you wear your favorite look because DFW is your chance to make your instagram come to life.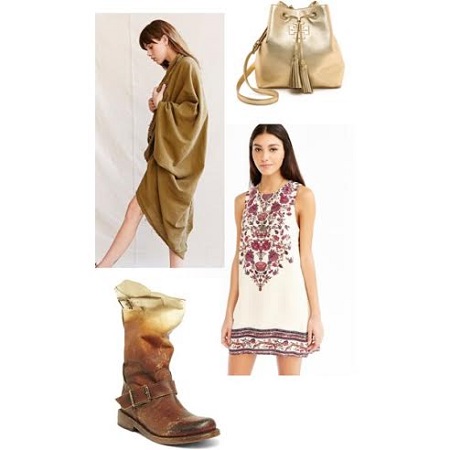 Floral Frock dress available at Urban Outfitters. Cardigan at Urban Outfitters, boots at Steve Madden.
Saturday, May 2, is set to bring night three in with a bang and will be featuring local and national fashion collections! For those of you who don't already know, Scotch & Soda (Cherry Creek) an Amsterdam fashion brand will be showcasing their summer 2015 collection for the very first time in Colorado. This is a local fashion HUGE.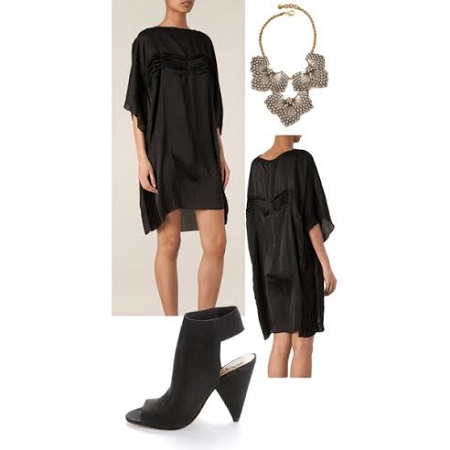 LBD at Farfetch, Lulu Frost Cactus Flower Necklace, booties at Bloomingdale's.
The last night concludes DFW and on Sunday, May 3, night four will go out in style with The Hair Show. The runway during Denver's Hair Show always features nothing but inspiring looks, including head and body. Consider your hair's new go-to-style to be discovered this Sunday night. Basing off track record, The Denver stylists will far surpass the next generation of hairstyling, which makes for a spectacular runway show well worth seeing.

Maxi available at Planet Blue. Boots available at Free People, booties at Nordstrom, Free People floppy hat, Jennesa Leon floppy hat.
If we, the people, (fashionistas and artists) of Denver want to make it big in the fashion industry, then we have to live like we are big in the fashion industry. Sure, we have our very own Fashion Week to attend, but the skinny is this: The notorious street style fashion trends contribute to literally half of what makes up any fashion week or weekend, to say the least. This plainly means, as an attendee of Denver Fashion Weekend, fully own your look just as if you were attending NYFW. If our city collectively dominates "street style" and "what people are wearing" to our local fashion events – then be prepared for Denver's Fashion scene to sky rocket because street style, essentially, is what will gets us noticed. Shall it not be forgotten, the featured designers, brands, artists and artworks which are showcased at relative events of the sorts, which are indefinitely the main attraction of Denver Fashions.