Chocolate and Couture
If you are a fan of First Class Fashionista, then you know we love nothing more than to know it first, try it first and share it with you, our valued reader, first.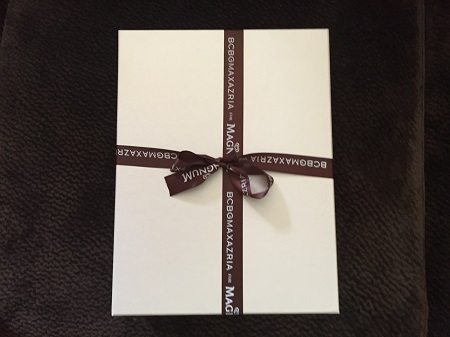 This week, FCF received a package. Inside the package was a gift box containing a BCBGMAXAZRIA wrap, the first fashion accessory with a wearable oNote scent. Fashionistas, this wrap smells like chocolate; MAGNUM Belgian Chocolate to be exact.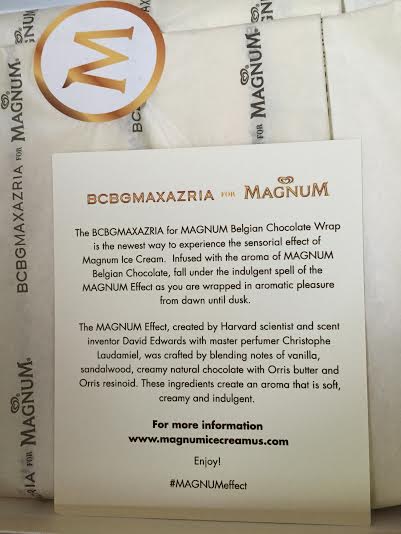 MAGNUM Ice Cream teamed up with BCBGMAXAZRIA to bring together chocolate and couture in a new way for women to indulge. The exclusive unveiling of the chocolate wrap was held at BCBGMAXAZRIA's NYC flagship store last month, Tuesday, April 28th. So, when and where can you get it? The wrap will be available this summer as a FREE gift with purchase at select BCBGMAXAZRIA stores and online.
At FCF, we think fashion scent technology is exciting news and couldn't wait to share. Imagine being wrapped in the aroma of chocolate while enjoying a delightful after dinner walk or summer music festival at the park.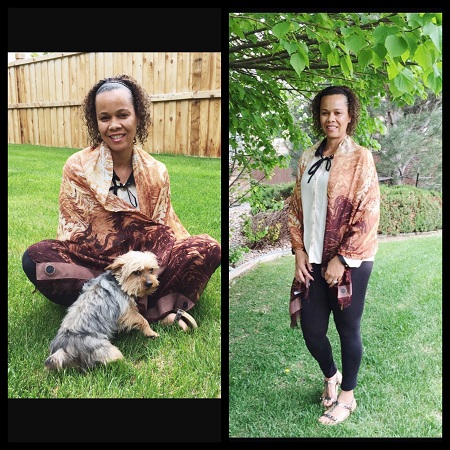 I would also have to say that this wrap is perfect for cuddling up with your best bud on the sofa at movie time. As you can see, my Yorkie (Dolce) loves the wrap too. He wouldn't stop photo bombing my pics, so I gave in and let the pup join in on the fun.
In addition to the olfactory element of the wrap, the exotic design incorporates the sense of sight and touch as well. The BCBGMAXAZRIA for MAGNUM wrap is exquisitely crafted with suede and silky viscose, and the pattern of the fabric is designed to resemble a melting MAGNUM Double Caramel Ice Cream bar. All of these elements (the aroma, colors, pattern and textures) work together to elicit what is called the 'Magnum Effect', the pure indulgent pleasure of eating and really enjoying a MAGNUM. Simply seductive, right?
"Scent is an incredibly powerful stimulus of emolon and memory. By infusing the aroma of MAGNUM Belgian Chocolate into a fashion, the scent-based messages within the BCBGMAXAZARIA for MAGNUM Belgian Chocolate Wrap will have the power to alter and enhance every day experiences." —David Edwards, Harvard Scientist and Scent Inventor.
What to do while you wait for the release of this highly anticipated innovative product? Why not make it family ice cream night with MAGNUM!