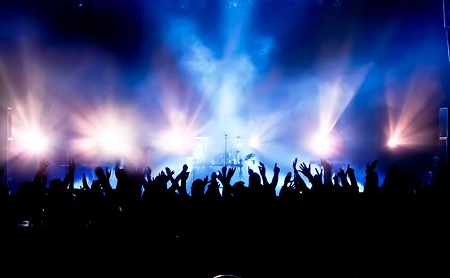 What inspires you? Currently for me, it's the guy dancing next to me at a concert or at least, somewhere in my peripherals. You know, the guy with the neon backpack, wearing a cool pair of shades whose been dancing his face off ever since you first noticed him. In fact, he literally hasn't stopped dancing and you just happen to notice it's already been 2.5 hours into the show or 2.5 days in, if you are at a music festival. Can you say…Can't stop, won't stop. This guy can't, and I find that utterly inspiring.
When it comes to live music performances, try to find such inspiring, energetic spirits in the crowd. At least when I do, I find that their dancing vibes spread to me like butter and the next thing you know I'm like Stella and I just got my groove back. So, for those of you attending the one and only Electric Forest this coming weekend, when you need a "perk me up", find that guy and jam to the flow of his groove. Don't worry about your inspiration leader not being in sight, if you are looking hard enough, they will always be there.
Sourcing for inspiration is something we do every day. Rather you do it via Pinterest, through writing, or dancing at live performances – sometimes all you need is to take a closer look. More specifically, when we go to music festivals and/or concerts dancing is the ultimate plan at hand, but the point is this. I don't know about you guys, but I'm not getting any younger and though I do go to shows on a regular basis, I find that my stamina is dwindling and sadly so. This is exactly why sourcing for inspiration is of paramount importance.
Sometimes all we want is to dance our faces off or work our asses off, but then our exhaustion ensues. Sometimes all we need is a little help from a friend to motivate us to keep on going. And sometimes, you have to remember it's your choice to be where you are, which means you are at liberty to change your state of mind at any point in time. For me, it seems I tend to feel better when I have a fresh perspective, i.e. watching the raver looking guy at Rebelution this past weekend was all I needed.
So ladies and gents, next time you need a dose of inspiration, look for the person closest in sight who is being the change you wish to see in yourself. Then, once you find your spark, get your happy feet back on and dance the night (or your life) away. Find someone or something who inspires you to keep going, then capture it and absorb it.
Follow it. Do it. Live it.
Disclaimer: I've clearly been spending a lot of time at Red Rocks lately. Check out What to Wear.