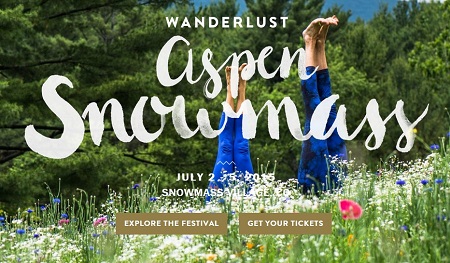 WANDERLUST ASPEN SNOWMASS announcement
Kim Small, Publicity Director
Wanderlust, producers of the largest yoga lifestyle events in the world, returns to spectacular Aspen/Snowmass, July 2-5. The four-day festival allows attendees to choose their own adventure from a variety of activities including yoga, live music, meditation, explorative hikes, kayaking, running treks, fine dining and more. The 2015 season will feature an unparalleled lineup of some of the world's most sought after yoga teachers, musicians, meditation instructors and performing artists. Attendees can practice various styles of yoga (at all levels), outdoor activities such as hiking, nature runs, paddle-boarding and biking, and indulge in wine tastings and organic delicacies.
What's New and Not To Be Missed at Wanderlust Aspen / Snowmass 2015?
Musical Performances: Get down with live performances featuring the one and only MOBY, the soulful sounds of Lee Fields & The Expressions, the sheer exuberance of The High and Mighty Brass Band, Bluetech's ambient techno, Vinnie Fallico, Nikki Lane and more.
Charcoal and Hops: Beer Tasting and BBQ: Celebrate the 4th of July with a locally-sourced barbecue and beer tasting. Tickets include samplings of local and national brews, a locally sourced BBQ dinner in a picnic-style setting (with vegetarian options) and an evening of free, live music.
Brand New Black Light Venue: This new space adds an extra sensory dimension to classes aimed at expanding horizons both mental and physical. Shine bright by wearing crisp whites or neons!
Soulscape Classes: This yoga practice led by Gina Caputo and accompanied by our DJs powerful, exclusive playlists is designed to dissolve hardened boundaries and unwind the tension. Classes devoted entirely to the music of Pink Floyd and The Police are on this year's roster.
Speakeasy Talks: Get inspired by our lecture program featuring today's thought leaders: US Army Major Daniel Caffarel, who found meditation while on tour of duty in Iraq, holistic nutrition expert Christa Orecchio, Buddhist activist Noah Levine, and more.
November Project Workout: Brogan Graham, Co-Founder of the 19-city fitness movement that started in Boston, is now at Wanderlust. This is no ordinary class—fun, fast, fierce, athletically challenging and community building.
TY KU Sake Tastings: On Thursday and Friday late afternoons, sample four types of award winning sake and learn how to craft unique cocktails.
Tribal Body Marking and Movement: Alongside special guest Elana Meta, Amir Magal begins this partner class with exercises that incorporate acro yoga, Capoeira and balancing movements. From there, you'll learn how to use his special pens and markers to create gorgeous designs on the body—bring your willingness to paint and be painted!
The Buddha Walks Into A Bar: Based on his best-selling book, Buddhist teacher and author Lodro Rinzler will discuss how meditation can be applied to all the nitty gritty areas of your life (including dating, Facebook, work, and more), and reveal with everything you need to establish a meditation practice in your own home.
Self Massage with Mother Earth: Take a relaxing hike with Christopher Ray and Kate Lewandowski, and learn how to use rocks and other items from the natural world to release aches and pains and encourage muscle release.
Grateful Phlow: A unique fusion of sweet sounds of Grateful Dead and Phish with Aaron King's vinyasa sequencing.
Yogi Tribe: The last class of the entire event will be an all-out ecstatic celebration. Join MC Yogi, Amanda Giacomini, DJ Drez, and the High & Mighty Brass Band to close the festival. This class will send participants back home feeling refreshed, fully energized, connected and inspired.
The Wanderlust Festival tour will continue beyond Aspen/Snowmass with stops in Squaw Valley, California, July 16-19; Whistler, British Columbia (Canada), July 30-August 3 and Tremblant, Quebec (Canada), August 20-23. For more information and tickets please visit: www.wanderlust.com/events