I've been speaking of going on a yoga retreat for the past 3 years, likely to Belize. It would've cost me or somebody who loves me very much a mini-fortune but, fortunately, there are many, many wonderful perks to being a lifestyle blogger. Over the 4th of July weekend, I was invited to come out and experience the Wanderlust Festival tour in Snowmass Village, which is located just 9 miles from Aspen, CO. My complimentary ticket included all four days of the yoga retreat, Thursday, July 2 to Sunday, July 5. This was meant to be for me, so my hubby and I decided to make an Independence Day holiday stay-cation out of it.
MY Drive Up
Making our way through bumper to bumper traffic out of Denver and up the mountain in considerably good time to the Glenwood Springs area on Friday, we decided to have what we call linner (late lunch, early dinner) and spend the rest of the day at the hot springs pool. We ate at The Lost Cajun on Grande Ave. I did the Cajun Shrimp Stir Fry, the healthier choice, and he had the fried shrimp plate. I also had a cup of the seasfood Gumbo. It was mostly roux and okra. Looking around, the crawfish plate and the seafood platter looked really hearty and visually appealing. Over all, it was good food and the pool was the perfect thing to do after.
Meeting New People at Wanderlust
The meaning of the word wanderlust is the strong desire to travel and that's exactly what I have. My husband and I have the travel bug big time. My bag was actually still packed from our last trip. I had to unpack my bag to re-pack it for Wanderlust. Well, I have to love my life…And, I love the name and purpose of this retreat. I met people who traveled from as far as New York to unite with other yogis and celebrate the yoga lifestyle. It was a beautiful thing in a beautiful place. And, Wanderlust was designed for all levels and abilities. I've been doing yoga for years and I still feel like I'm a beginner. I also don't consider myself a yogini, in the spiritual sense, but it was fascinating to meet and connect with so many devotees of the practice.
Wanderlust Things to Do
There was lots to do at Wanderlust every day. This was my schedule for Saturday, July 4th. I just didn't make it to MC Yogi's Mixtape. I'm sure I missed out.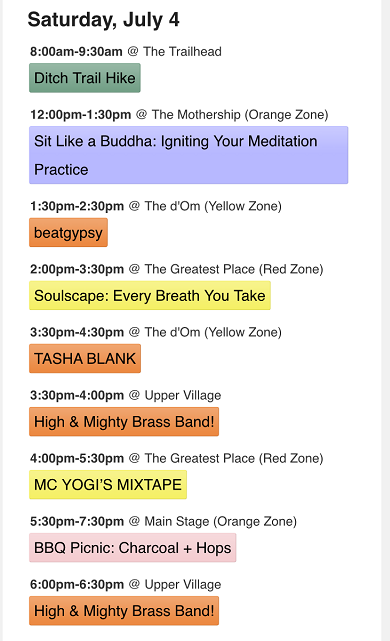 Sit Like a Buddha
Author Lodro Rinzler taught me to sit like a Buddha and meditate on the breath.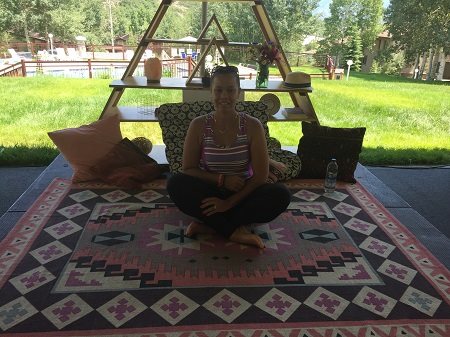 He is the author of 4 books, including "The Buddha Walks Into A Bar" and "Sit Like a Buddha", with a fifth one on the way called "How to Love Yourself".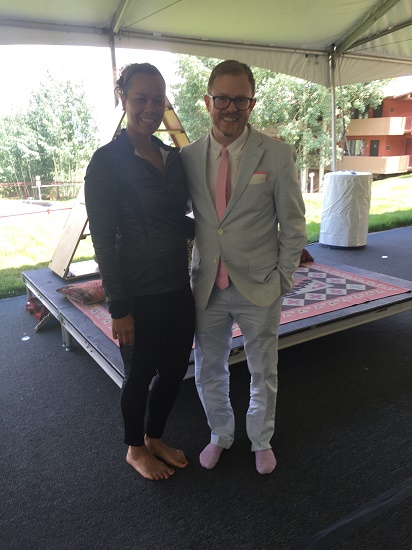 Lodro talked about how meditation and making the mind an ally is a real way of creating positive change, both physically and mentally. So often we beat ourselves up with non-condusive negative thinking. Clearing the mind or letting go of all your thoughts for just 10 minutes a day can reduce stress, boost social coping mechanisims, improve the memory and even aid sleep. There's no wrong way to do it. Yes, you can start today without reading a book or doing a "how-to" search on the internet.
To meditate on the breath is simple. Sit cross-legged on a pillow, rest your hands on your thighs, sit up straight and relax with your eyes closed or open, gazing 2 to 3 ft in front of you. Then, tune in to the breath. According to Lodro, it's okay to be aware of the presence of sounds that surround you, but be mindful and stay focused. So, for example, if you hear a dog bark or a car honk, you'll be aware of those things but being mindful of your meditation will keep you on track. To quiet the mind, when you start to think about things, Lodro teaches his students to just say "thinking", a tip that really works. The challenge is to do it for 21 days, and you'll probably do it for the rest of your life.
Soulscape: Everybreath You Take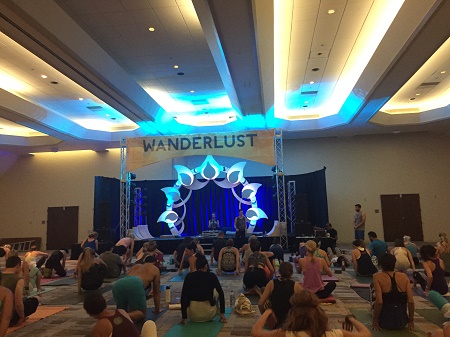 Boulder's Gina Caputa was the instructor leading my Soulscape session. Soulscape is about having fun while doing yoga to music with an amazing DJ and sounds from an iconic band, like The Police. Gina encouraged us to snap and sing along as we moved through the poses. In this class, participants also had the opportunity to meet and connect with others when moves required a supportive partner.
The BBQ
Throughout the festival there were lots and lots of free samples from vendors, including cold bottles of water to keep you hydrated.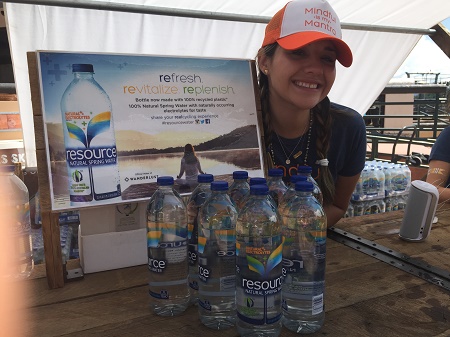 I had to slow my roll though with all the treats to enjoy. I was afraid I'd get too full and wouldn't be hungry enough for the BBQ. It was the only thing I had to pay for. The BBQ, biking and whitewater rafting was an extra fee. The food was only $30 and it included hops. I don't have a picture but I had the pulled pork, a piece of chicken, a salad and angel food cake. It was all sooo delicious.
My Wanderlust 4th of July Finale
So it was the 4th of July, and I could tell you more but all good stories have to come to an end. After the BBQ, we wanted to complete our Independence Day stay-cation trip with Aspen's fireworks show. We got to Aspen about about an hour before the show started, went for coffee, walked around and talked to a man who made his fortune in dog treats. We usually make it up to Aspen at least once a year and this was the trip for us. We've been in Denver for 14 years now and this was our second time celebrating the 4th of July in Aspen. We think the people are really friendly and it's fun to marvel at what it really means to have "disposable income". Check out this sign. #OnlyinAspen #FashionistaFun #AspenStyle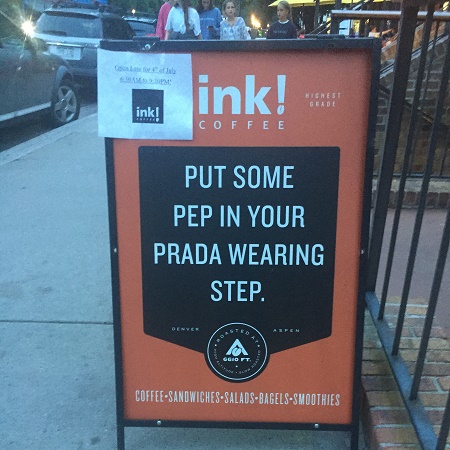 Ink! is an Aspen family-owned coffee shop. "Born in Aspen, still have to work" is their motto.