Today, we introduce a revolutionary woman and the inspiring avantgarde brand, FBF by Checka.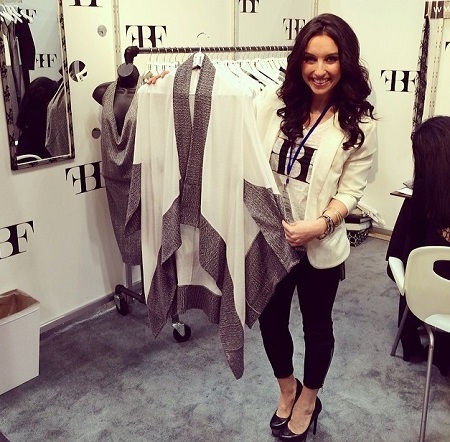 Committed to each piece with her whole zealous heart and passion at hand, there is no doubt that Francesca Skawk is elevating the world from mediocrity to greatness one sartorial at a time. She dares the audacity to dream big and has created a sophisticated high-end fashion line blended with complete luxury statement and ready-to-wear artisan pieces.
It takes divine vigor and fire to craft such an impressively bold clothing line and ladies and gents, the girl has moxie and you gotta give her that. Each and every cut has just the right amount of urban chic, which makes her alluring collection nothing but perfect for the classic modernista. Click here to view her collection.
The FBF brand by Francesca Skwark is a dream come true. Francesca started out her fashion career working her way to the top as an intern, pursuing her passion for fashion. Then her life changed when she became a head hostess at a trendy restaurant in West Hollywood. The job took her on a fashion journey where she met celebrity clientele, like singer Jordin Sparks, who five years later, she is now dressing in the chic FBF label. Skwark's humble beginnings led her to find her most passionate supporters and many customers and guests of the fashion world. If Skwark had not had the restaurant job, her takeover of the fashion world would not be where it is today.
To continue that fashion journey, FBF has launched a Kickstarter campaign that will run through the end of July. If you back the brand and support the campaign, you will get a complimentary FBF tank. It's time you show off your fabulous, beautiful fashionable self and give back to the community!
Kickstarter launch: Click here to join the movement and show your support for FBF by Checka.
You can give as little as $5 or you can break the bank! The point is, every cent helps. Give Skwark an opportunity to grow independently by helping build a transparent and supportive fashion industry in which she can thrive.
By investing into an emerging designer as brilliant as Francesca Skwark – YOU have the luxury of reaping the benefits. If you help this talented young artist kickstart her career, all that simply means is more impressive clothes for your closet. It's a win, win!
On a stylish sidenote, First Class Fashionista is proud to announce that we have received FBF's best-seller, the Nagare Wrap, a one-size fits all number one stunner with contrast textured double knit binding (pictured above). It's more than casually cool, it's befittingly swanky and intimately cozy. It's lavish design is perfect for an evening out on the town, but get caught wearing this wrap during the daytime and whoa, your street cred just went up by 1000 points.
Explicitly show the world you got taste by wearing FBF by Checka. FBF is available online at fbfbychecka.com and in boutiques in Laguna Beach, Newport Coast, Beverly Hills and Costa Mesa.
Don't forget, when you find a fashion designer with as much drive, passion and poise as Francesca Skwark – it's well worth it to give back.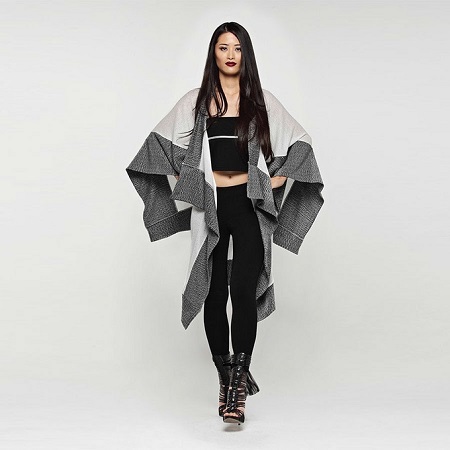 See more of her designs at: https://www.kickstarter.com/projects/1579650499/fbf-by-checka