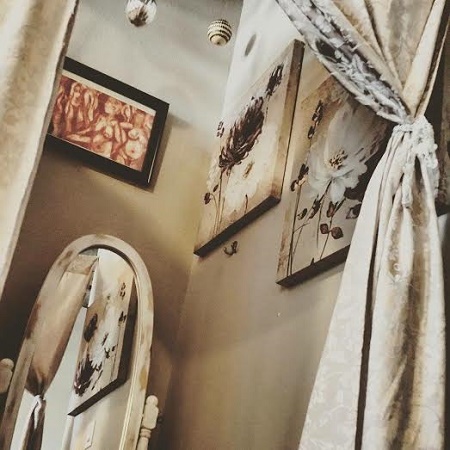 On Monday, I had the pleasure of meeting a new design showroom here in Denver called Blackberry Maverick and it's officially safe to say that I just met my new best friends. Like a marshmallow, it was a rich and comforting experience and I can't wait to go back!
Blackberry Maverick is a creative design team made up of two lovely women, Lex and Leslie. The two met in Colorado Springs and it was by happy accident that they did. From that moment on, they got lost in their own creative world and never looked back. Being so different in their own design aesthetics, but having the same sketches, it was a clear sign their meeting was not by mistake.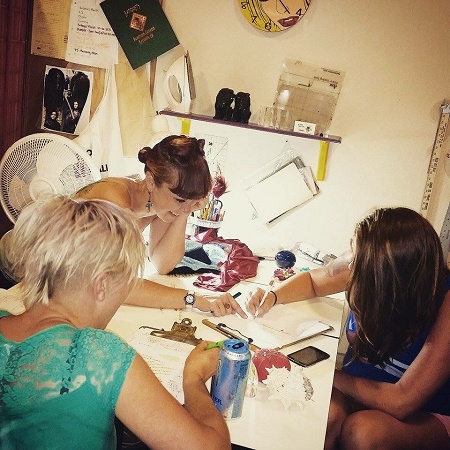 The dynamic duo has been working together for three years now to passionately and successfully design two inspiring sartorial collections. Inspired by the searching for the dreamworld, together they have every desire to help the modern intuit woman become even more of a woman. Each collection features the perfect amount of modern elegance in the most beautiful, serendipitous way possible. Shop the complete collection here!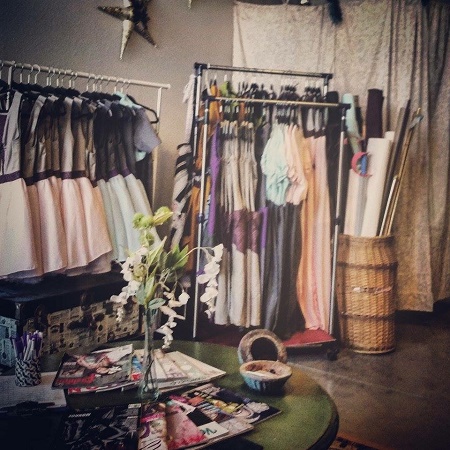 Through unconventional influences, Blackberry Maverick is indisputably capable of creative, personal vision, as well as crafting the most beautiful pieces of cloth that any given person can fall in love with – both so passionate and so driven to craft such maverick silhouettes, if you will. I am so fortunate to have gotten to take a peak behind the scenes to take a closer look at the art of their craft and daily lives.
Without further ado, here's our interview with Blackberry Maverick!
How did you grow up?
Lex: I grew up sewing and was always kind of an odd ball little hippie girl running around barefoot, making my own horrible bag lady clothes. I used to make sock dolls when I was a little girl and it's funny, the only stitches that I have ever had was actually from making sock dolls. I went to The Fashion Institute of Design & Merchandising in San Francisco. As invaluable education, I learned so much about the world of fashion and how to navigate through it and that's where it all lead to here.
Lesile: I'm not formally trained, but I too started designing when I was a little kid. My mom and I used to sew together, we would make American Doll girl clothes. Do you remember the American Dolls? Well, I never had the collection but I did have the Molly doll solely because I wanted to wear her glasses, but I of course couldn't because they were too small for my face. Growing up my mom used to make quilts and would make stuff for around the house and I went the clothing route. And, I don't know one day I was so inspired I wanted to make my own pair of pants. So, as an 8 year old, I lied down on a piece of paper and asked my mom to trace me, totally thinking that if I lied down and she traced me I could cut up the fabric from my tracing and they would magically turn into pants. They didn't work at all because obviously that's not how you make pants.
Me: That's such a smart 8 year old, if you ask me!
Leslie: Yea, in my little kid brain I thought that that would work. Ever since, I've always been very math oriented and have done what I needed to in order to piece it together to figure out how to make what I want. So, it was cool because the math side of brain gets to figure out how to construct something and the creative side of me is like, "oh I get to play dress up for myself and make my own clothes"
Lex: And that's so the way it works with her. Over the time that we've been working together, I've really learned to trust her sewing skills even though she's not technically formally trained. I know where the arm hole is supposed to go, but Leslie is more like through trial and error, no matter what she will figure it out and it will stick, and it works for her!
Leslie: My stuff is more raw. The pieces I make usually come together through math and my brain trying to figure out how to make it work and then Lex, will make it work!
So, you guys make customer orders? Tell me about that. How long does it normally take? Describe the design process from idea to final masterpiece.
Lex: Yea, making custom orders is really our bread and butter. I really like to meet with clients face to face to truly feel their vibe, their energy and find out what the customer is feeling for this piece. From then, we discuss what types of fabric, budget, time frame, etc. and, the time frame really just depends on the project, it can be anywhere from 3 days to 3 months.
Leslie: The time frame also depends on fittings and how involved the customer wants to be or not involved they want to be.
Lex: Through trial and error, this is just the way we roll. And, we've learned two huge things as designers: 1. Don't overlap the edges because you never know if you are going to have to take them out or re-do them and 2. Always get your own measurements.
How much does it cost for a customer if they want to have something made?
Leslie: We are totally willing to work with people, it just really depends on a variety factors. But, at the end of the day, we just want the customer to have something that they love. If you don't have a huge budget then that's okay, then we'll just use minimal design elements to create what it is that you want. Again, we are totally willing to work with anyone and are more than happy to make them something that they will absolutely love.
Lex: We are also open to fostering relationships through trade and any getting involved with the community anytime we can is absolutely ideal
Tell me about your guys shoe collection?
Leslie: We actually work with a brand out of the UK called Irregular Choice and in the beginning, I emailed them directly and told them how much I loved their shoes. I even admitted that I took my ex husband's butcher knife and made trecks in my favorite shoes of theirs so I could wear them in the winter time. And, pretty much, we have been working with them ever since. Their shoes compliment our clothing really well and the brand has been nothing but kind to us and it has been an honor to have such a wonderful partnership with them.
Say it's the weekend, what are you wearing?
Leslie: Oh man, what am I going out to do?
Me: I don't know, what do you guys do on any given Friday night?
Leslie: Well, I eat breakfast from breakfast king at 4 in the morning.
Lex: Les is always running around, going to the top of buildings look for adventure
Leslie: Something loose, something with some flare, something maneuverable. I am a big fan of spandex booty shorts in neon colors. I wear high top neon pumas all the time and usually some sort of loose fitting top that's easy to move in – and that's sorta my M.O. these days.
Lex: My whole thing is whatever makes me feel good, which is usually in the genre of greaser or I pin-up. I like to be different so, really anything that hones that in. And my favorite dress is yellow!
So you see, the intersection of these two coming together is the ultimate representation of what Backberry Maverick stands for; serendipitous, luxe designs for the modern day woman.
That's a wrap! It's safe to say, one-of-a-kind items are what feeds their soul. It's obvious that through each collection these two inspiring ladies' designs truly does reflect and connect back to their roots and it's a beautiful thing. They love working with anyone and everyone and can't wait to hopefully be able to work with you! Rather you need a party dress for vegas, a costume for com-icon, an outfit for burning man or simply anything that you could possibly want to wear – give Blackberry Maverick a call. They want to make the next favorite piece of clothing in your closet!
They're located at 2785 N Speer blvd Denver, CO 80211.