After attending The Big Fake Wedding this past Wednesday, August 5th, I have to say that a new precident for bridal shows has now been set. Unlike typical bridal events, this one was much more interactive and entertaining. It was wonderful to see both the vendors in action and taking part in a real vow renewal ceremony for 2 people who are still very much in love!
As we pulled up to NOAH's Event Venue, I knew this would be a more intimate affair than previous bridal shows I had been to. The venue is beautiful and understated, which helped to set the tone for the evening. Upon check-in, we learned that it was a booked event- good thing we got there early!- so we quickly found some seats for the ceremony which would take place first.
I brought with me a pair of good friends who are recently engaged, which both gave me this insight of an actual married couple as well as the chance to help potentially introduce them to a service or idea not previously thought of! It was great to get to introduce them and force my lovely friend to take every sample and business card she can get (hey, mid-way through planning I know that I would regret not taking a jar of honey or a bag of peanut butter cups).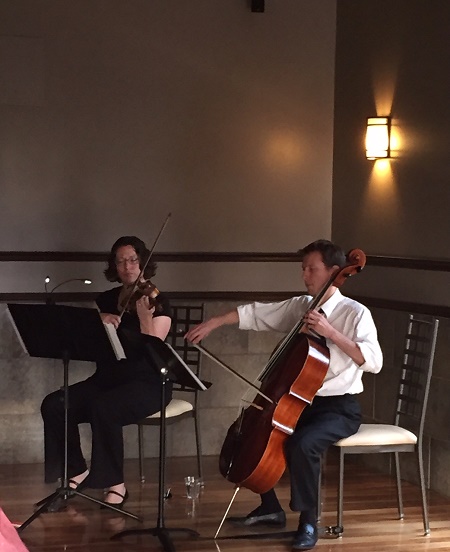 The ceremony itself was short and sweet. The flowers were done by a vendor, who primarily used greens and fillers to create very outdoorsy and rustic bouquets and decor. A pair of musicians occupied the corner, playing contemporary and classic wedding songs as the venue slowly filled. The best part about The Big Fake Wedding Denver was getting to see people in action! This is a great example, because who knows how well a classical duo might perform together live at your wedding without hearing them play? The chance to show off your skills comes off as a great alternative to word-of-mouth or a booth set up.
After the ceremony, we were directed to the larger open hall for light bites and dancing. The room was set up creatively; the actual seating was decorated as imaginary place settings, each different. It was fun to see a live demonstration of how your guests might feel sitting at a done-up wedding table, complete with matching linens, flowers, and placeholders. Don't worry, I took photos of every one I could before people started occupying them!
The food was an interesting combination, provided by Serendipity Catering (serendipityfood.com). As a veggie on a diet, I had to live through my friends and boyfriend to tell me the overall consensus. However, it looked great, paired well, and seemed to go with the overall theme. I desperately wanted to try the live S'mores bar- how cool is that?- with a firepit to roast your own marshmallows and create it the way you like.
Vendors for the event took this time to talk to interested brides and bridal parties while showcasing their work in the traditional way with a decorated table and portfolio. I think the work that was being showcased was of great variety. Justin's was even there with peanut butter sampels! Did you know that if you include Justin's in your wedding, they will reward you for good product placement photos? How cool is that? There were even some included in the S'mores bar so you could try adding that into the mix.
The photo booths were fun, the vendors were very sweet and professional, and I came away with the sense of sincere passion for this industry from nearly all of them. Overall, it was a fun and inviting atmosphere. My singular complaint was a little bit of lack of direction. The ceremony itself started a little late and afterwards we were a big confused blob in the larger room. (Do we start dancing? Can I just grab some of these little h'oerderves to nibble on?) However, once everyone was a little more informed (via DJ) and the music started playing, the place seemed to turn into about half party and half vendor networking. The friends I brought were able to walk away with a free swag bag full of goodies and a fistful of new contacts, should they need them.
I would definitely recommend this event for any bride-to-be. It's a great chance to see people and how they might actually be at your wedding; people look for different things and have different tastes. For instance, the catering food was delicious, but it wasn't very vegetarian-friendly, and most of the crew- excluding the super nice S'mores bar attendant- were pretty hands-off. So, since I need veggies and outgoing individuals for my dream wedding, this event educated me to both my preference and a vendor that might not fit my needs, but perhaps would be perfect for someone else!
I want to come back when it's my turn. But, until then, I will settle for living through my darling childhood friend and her fiance. If you get a chance, check out The Big Fake Wedding next time it rolls around to Denver! Their event page is located here at http://thebigfakewedding.com/rsvp/, so you can keep abreast of their travels and RSVP when once again it's time for this fun event!