This might just be a man's dream come true…We all know men are simple creatures, but this new barber shop might have started something so innovative that they may need to get a patent on this concept. Spruce For Men is a new men's barber shop and clothing store; giving men a way to redesign an existing wardrobe and a new hair cut all under one roof. Spruce is tucked away in the Berkeley neighborhood of Denver, CO, near 44th and Tennyson.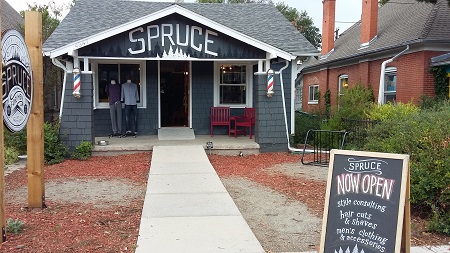 The Grand Opening of Spruce is going to be a night you do not want to miss!
The Grand Opening party will be on Thursday, September 3rd, starting at 6:30 pm. The event will be located at 4347 Tennyson Street in Denver. Make sure to bring your appetite as there will be delicious foods and drinks. If you get there early, there will be grab bags and discounts. If you need to get cleaned up before this event, go to www.spruce.me and schedule a personal style or grooming appointment before the party starts.
Your very own First Class Fashionista was given the opportunity to meet the owners and barbers at this new establishment. Owner, Becca Miller, and her soon to be husband and co-owner, Taylor Romero, gave me the grand tour of this place and I must say I was amazed! In the waiting area of this barber shop, they actually have a gaming system with almost every game known to man downloaded and ready to play!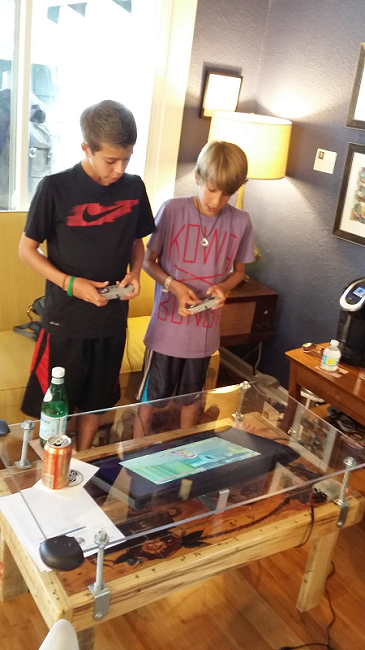 Each structure, door handle, table and cabinet has been made by re-usable materials. For example the lock in the fitting room was made with two Phillips screw drivers and the stations were built specifically with the barber in mind.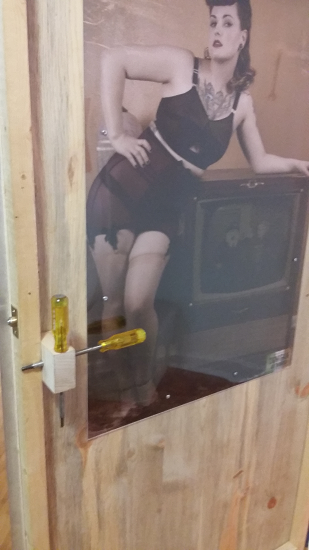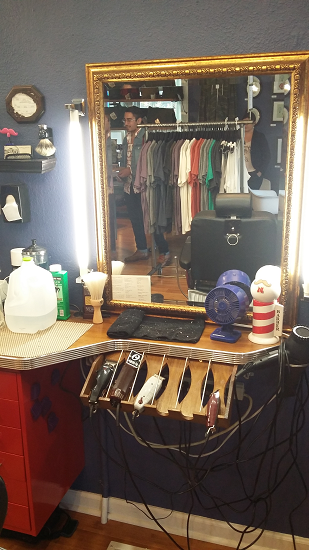 Another very unique aspect within this new shop is in the fitting room. They have a clothing drop box where if something doesn't fit you, you can just throw it in the drop box and someone will take care of it for you. Also in the fitting room, there is a motion censored iPad that has the ability to change the lighting from disco to beach in a matter of seconds.
It's amazing how Taylor and Becca created this unique business from the ground up. Currently, they have two full time barbers and one part time barber; Diana (head of barber services), Dane and Dannae whom have both been in the industry for several years.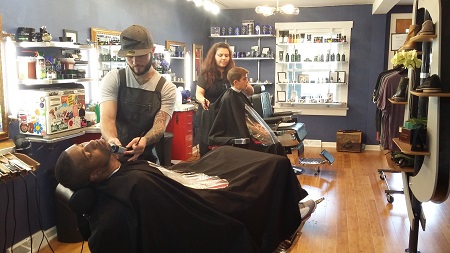 Taylor is currently co-owner and head of technology. While his soon to be wife, Becca, is owner, style consultant and head of retail.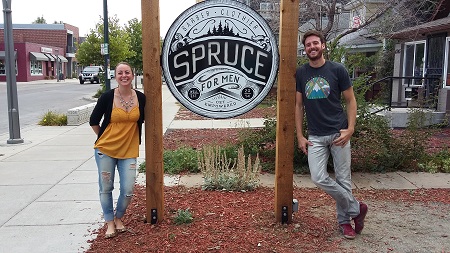 You might be wondering what the name Spruce even means and why it is the name of this shop…Well Taylor and Becca had a great story behind this question. When they were trying to come up with a name for this great new place, they wanted it to have a meaning of redesign or makeover. Becca suddenly thought of the name Spruce, which also gives a feeling of the mountain culture and had a manly ring to it. Taylor didn't listen to any of the other names, Spruce was it!
Spruce offers many services including free clothing style consultations. This service gives guests the chance to chat one-on-one with Becca Miller, the Spruce style consultant. Given her background in fashion retail and merchandising, she is able to define wardrobe needs and advise men on proper clothing fit.
Contact Elida. She is Spruce's sales associate and eyes and ears of the shop; maintaining appointments, greeting guests and maintaining necessities.
Other services offered at Spruce include:
Spruced up Shave (45 min. relaxing shave) – $35
Traditional Shave (30 min.) – $20
The Ultimate (75 min. signature haircut and signature shave) – $65
The Signature haircut (45 min. haircut, hot towel shampoo, neck shave/style) – $35
These are just a few of the services offered at Spruce. They also offer a 13 and under haircut for boys, head shaves, beard trims, neck trims and a number of hair and shaving products.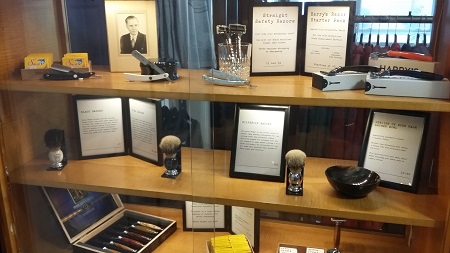 Spruce offers a variety of apparel needs for men some of which include:
Leather Belts – $30
Sunglasses (made from broken/battered skateboards) – $79-$95
Basic Tees – Start at $28
Duluth Bags – $115
Casual Blazers – Starting at $70
Button down Shirts – Starting at $79
Rustico Leather Goods (iPad case) – $95-$106
Vintage Foundry co. Shoes – Starting at $110
Lord & Lady Bows and Ties – $55-$65
Spruce is definitely a one of a kind place for men to shop. They carry a wide range of shaving products like brushes, shaving handles, straight razors, blades, and bowls. Also, they have trendy items like beanies, joggers, and shot-gun shell cuff links.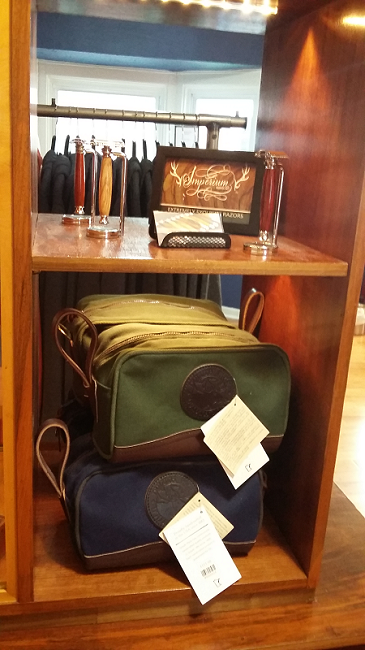 I had so much fun within this mini meet-and-greet that I know the grand opening party is going to be a huge hit! We at FCF hope to see you all there to help support the grand opening of a new local business.