Thursday, September 3rd was the Grand Opening event of the new Spruce barber shop. I must say this was an event that makes me proud to be a First Class Fashionista writer. This was no ordinary event, it felt like a family gathering.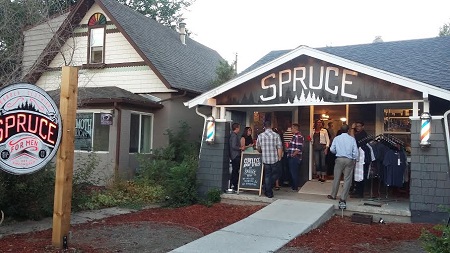 Tucked in the sweet little neighborhood of 44th and Tennyson, Spruce is located at 4347 Tennyson Street in Denver. During this event you could see people just popping in to see what the entire craze was about; everyone was welcomed with awesome foods and drinks. As I wondered through the crowd of laughter and gathering…I found the food table filled with delicious cupcakes made by KatyDid Cakes and mini lemons cakes made by a Spruce family friend.
Not only were there fantastic sweets, but also crunchy bread pieces with dips of Greek Feta Salsa, Tandoori Eggplant and Roasted Tomato Bruschetta. Spruce put together a great event, I can't say that enough. They even had young gentlemen walking around offering the gabbers Mediterranean tastes, grilled bacon on a stick and, barber Dannae's favorite, CHICKEN AND WAFFLES!!!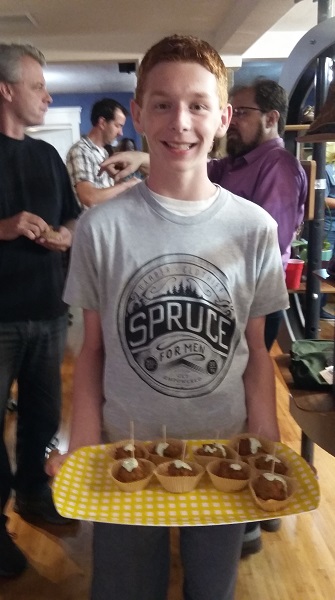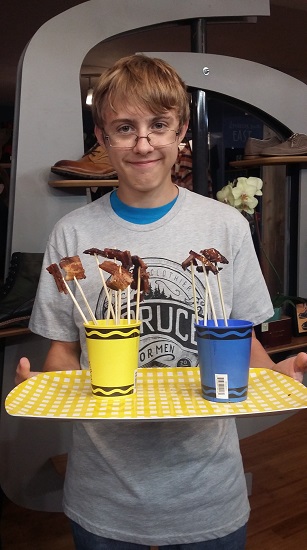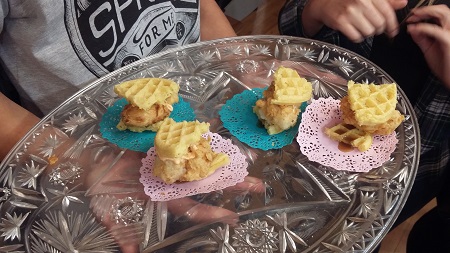 The drinks offered at the Spruce event were unlike any you find in your neighborhood liquor store. They had a sweet little keg that had a very fruity like beer that I tried. Barber Diana was cool enough to pour drinks for new guests.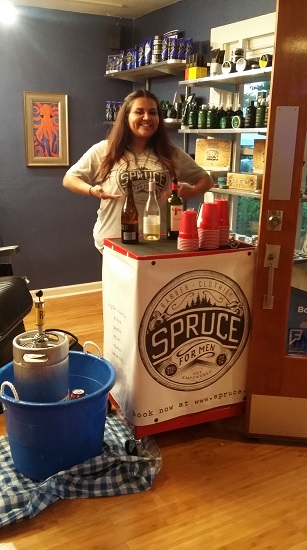 So many great people were at this event, I actually ran into Heather Okimoto; the owner of the new Denver Style Magazine. They are just releasing their 3rd issue, to learn more about Heather and her new magazine visit: www.denverstylemagazine.com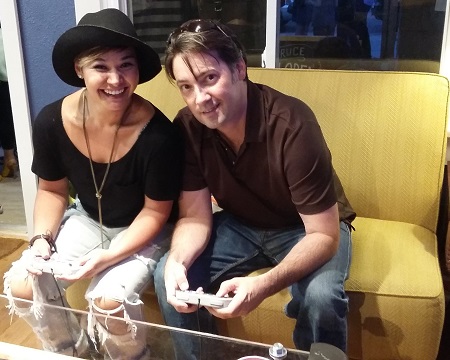 Another fantastic person I was able to meet during this event was the interior designer of Spruce barber shop, Terry Tomsha.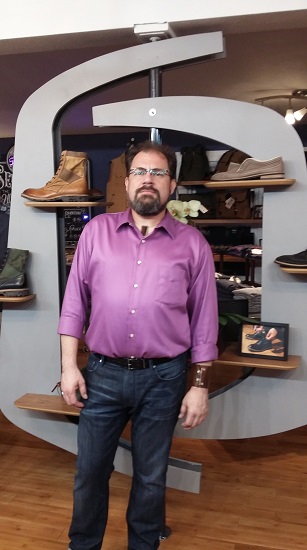 This man loves to use the unordinary and turn it into extraordinary! His favorite piece in the whole shop that he and his company created is the shoe shelf. You can learn more about Terry and his company at: www.atomic-jellyfish-design.com
Something I love about events like these is being able to meet new people and learn their craft. Terry invited his friend Cassandra Lourie; she is a local jewelry designer. Her pieces are very interesting, she has necklaces with the coordinates of Denver engraved on them in copper and bass materials. You can learn more about Cassandra's jewelry line at: www.brokenrevoltjewelry.com
Since I was able to check out Spruce before the Grand Opening, I noticed some hidden details in the shop that I didn't see the first time around. I also got to see some of the pieces that were in process, now finalized work of ART! One of the hidden details I found while wondering through this eager environment was a custom made magnetic strip found at barber Dane's station. This is an amazing creation where Dane is able to put all of his tools while working. As a barber myself, I could see myself using this magnetic strip in-between clients while cleaning up my station and disinfecting tools. It can also be useful at the end of the night, having a safe place to keep belongings.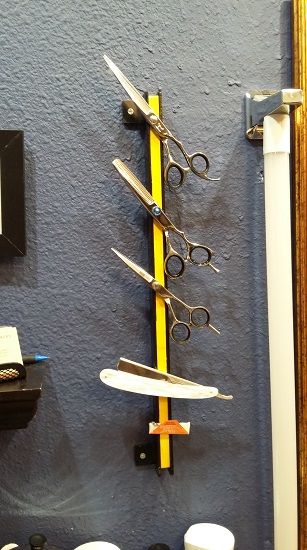 Something that makes this barbershop so unique is the carefree environment these barbers are able to work in. When Diana ordered the towel warmers for Spruce, the first thing everyone thought was "these are to plain!" So with that, they decorated each towel warmer with stickers from collections each have composed over the years. I thought that was a very cool idea, which made me realize why I didn't see the towel warmers during my first visit –because they were almost camouflaged!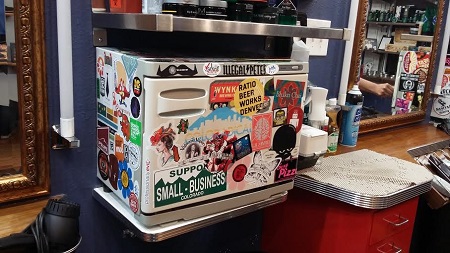 Taylor was raving about the new price board that would be up during the Spruce Grand Opening and "OH MY" was it worth raving about! This price board is unlike any other I've ever encountered in my 24 years of shopping. The board is so technically advanced that it actually displays the wait times. This is such an inventive creation, considering the first thing people ask when wanting a haircut is, "How long is the wait."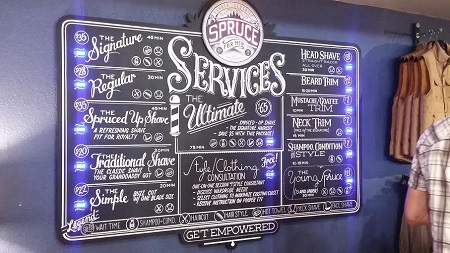 Another really cool concept Taylor incorporated into Spruce was for the main outside Spruce sign to light up in multi-colors whenever someone books an appointment. It was really neat to see the sign at night, it seemed to light up the whole street.
Spruce barbershop carries a wide variety of hair and beard needs for men. You can find most of their products by name in my last article at www.firstclassfashionista.com/archives/71947, but while I was at the Grand Opening I found a brand new product that just came into the shop. It's called Reuzel. This line carries different holds of pomade from light to strong. This is something very impressive to a barber like myself, due to most brands carrying pomade only have one and usually it only comes in one strength. All the barbers at Spruce were raging about this new product and I must say Reuzel has an abundant amount of smells too.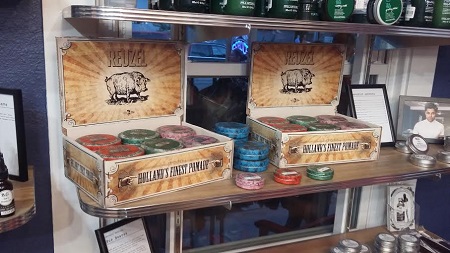 One last, but very important detail, in the Spruce barbershop are the signs in the bathrooms. They are very creative and fun at the same time. I made an example of myself while in the lab, just to show off the Spruce's unique since of humor they embrace throughout their business.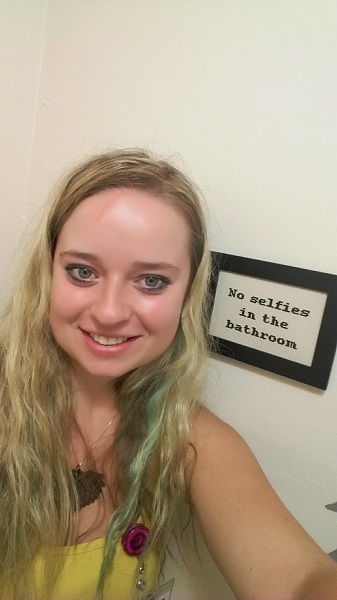 I want to send a huge thank you to the entire Spruce family and congratulate them on their wild success. We at First Class Fashionista are proud to be a part of your exquisite Grand Opening and would love to help out during future events!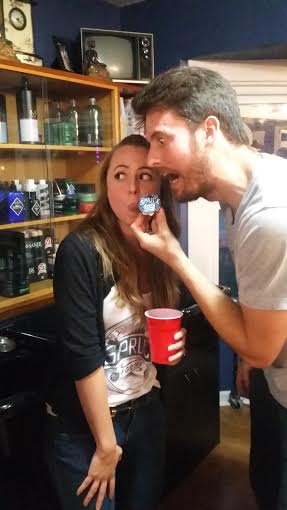 If you are interested in scheduling a personal style or grooming appointment at this wonderful new barbershop visit: www.spruce.me.
As always, thank you for reading and being a Supporter and Follower of FCF!