Recently I have been hearing complaints about this remaining trend of high-waisted pants on women. First of all, my boyfriend admitted to me that he doesn't think this style is appealing or sexy on women and he prefers low-waisted pants on women; like the kind Mariah Carey wore in the 90s.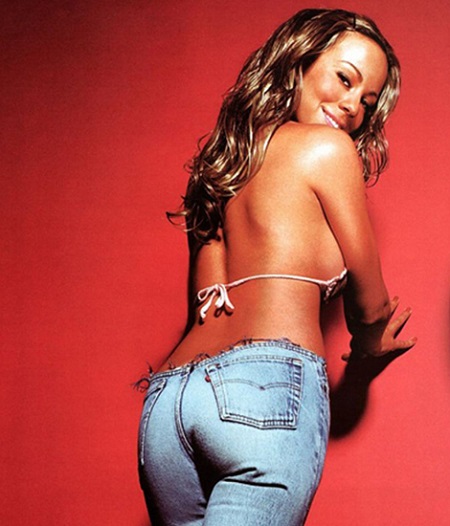 Another recent complaint I ran into was from one of my co-workers. She had just come into work after walking through the mall looking for pants and all she could find were high-waisted styles. After some fine research, I have come to find what men really think of this trend and how women should really wear high-waisted pants.
According to a source, men are saying this is one of the worst trends for women. Here is what some real men have said about this trend.
"It looks like she decided to keep pulling up her shorts." –Andy 31

"Very rarely have I seen a girl in high-waisted shorts and been into it at all. For the most part, I think they make girls look like misshapen science experiments." –Aaron 25

"It's the worst trend I've ever seen. The idea to actually make your behind look 'worse' is beyond my sense of knowledge. Do ANY guys like this trend?" -Nick 36

"They completely cover the rear and stomach –the things girls work so hard to shape…or to hide with high-waisted shorts they pulled out of my mom's attic. What happened to 2002 and the glory days when Christina Aguilera got dirty rocking her 'tight hip-huggers,'? -Nick 33

"If a girl is tall and has long legs she can totally rock high-waisted shorts, but when short girls with short torsos wear them they look like a baby in a diaper." -Brandon 32
So—No matter what these guys say it will not change what I wear as a fashionista and neither should it affect you and your style. What we can do with this knowledge is to learn how to wear these pants with great fashion sense.
Now the reason I like high waisted pants is they have a vintage look and feel to them. They also hide love handles, smooth out the belly and you never have to worry about pulling them up and hiding a plumber's crack. Maybe all these men are seeing women who do not know how to wear high waisted pants the correct way…Well, let me tell you how to rock this awesome trend and get head turns from the men.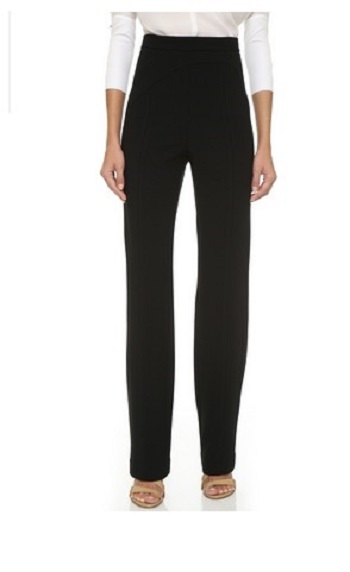 Tamara Mellon High Waist Pants available on our designer shopping site.
DO pair them with a tucked-in top.
Wearing high-waist pants is going to draw attention to your natural waist, so you do not want to cover it up with a long shirt. The nice thing about this trend is that you can tuck in a loose or tight fitting top. After tucking in your shirt or buttoning your pants over it, raise your arms over your head. This will create a natural pulled out look.
DON'T wear them with an overly blousy top.
If you fall into this malfunction, it will create too much volume for the allover look. The high-waisted pants already have enough volume and coverage, but when you pair them with an overly blousy top you might look like a balloon!
DO wear high-waisted pants with crop tops.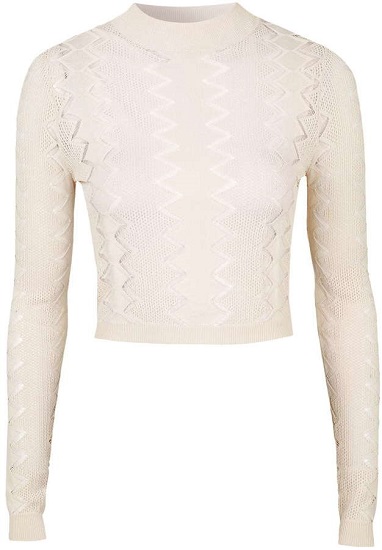 Topshop Zig-zag stitch crop top available on our FCF designer shopping site.
Crop tops and high-waisted pants are best friends in the fashion world; they were made for each other. When you wear a crop top you will be able to show a little skin since most of your stomach is covered by the pants.
DON'T wear bras or crop tops that are too revealing.
When you mix showing too much skin on top and showing no skin at all on the bottom, it can result in a too revealing look. You want to have an equal amount of coverage and bare skin, which complement each other.
DO complete the look with a long jacket.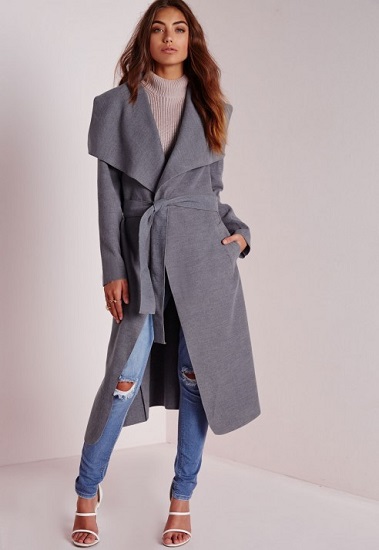 Missguided Belted Waterfall Coat Grey available on our FCF designer shopping site.
With the high-waisted pants and the longer jackets, you are creating a balancing proportion. Each horizontal line on the body is at a different height and that is why it is pleasing to the eye. With this in mind, you do not want to wear short, bulky jackets because the length of a shorter jacket is too close to the waist line defined by the high-waisted pants.
High waisted pants look amazing when worn in a flared style, similar to the 70's retro look. With this style you do not want it to be extremely flared like palazzo pants or bell bottoms.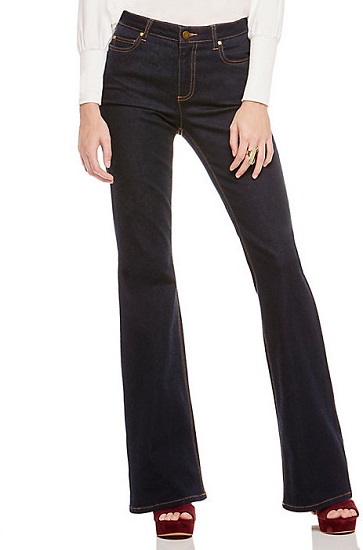 Two by Vince Camuto High Waisted Flare jean available on our FCF designer shopping site.
DO wear pants that fit you!
This is easy, if you don't feel comfortable, can't breathe or if they are sagging and falling off of you…9 times out of 10 this means they are not your size. This includes the hemline. If you are stepping on the hem, or if you look like you're waiting for a flood…THEY DO NOT FIT YOU! Specific styles such as high-waisted pants only look flattering if they are worn in your exact size. In addition to wearing pants that fit you, with the high-waisted pants try to keep the waist line at the natural waist. If it is too high you will start looking like a martini glass, instead of an hourglass.
Since this is a style that covers a majority of the body, try not to buy your pants in shiny fabrics. With this style, and in a shiny fabric, it can put a spotlight on any unflattering areas of the body. This was considered Jessica Simpson's fashion don't moment.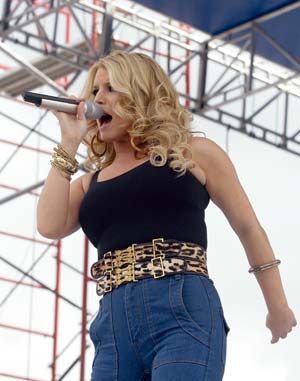 DON'T wear large, bulky or bulging embellishments.
Stray away from wide cuffs, extremely flared bottoms, tops with peplum flares, large prints and, worst of all, harem-cut pant legs. This "don't" includes accessories like belts, which are too wide, such as the one Jessica Simpson wore during her 2009 performance, making everyone call her pants "mom jeans".
High-waisted pants look great paired with wedges and heels.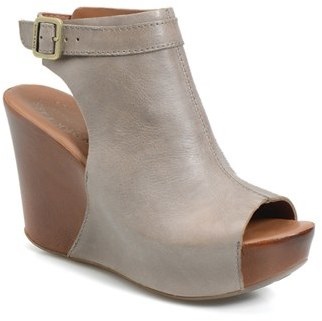 Kork-Ease 'Berit' Wedge Sandal available on our FCF designer shopping site.
In my opinion I love the high-waisted look, it's professional, it elongates my legs, flattens my belly and I actually feel like I have better posture when wearing them. Let's keep this trend alive and say good reddens to the muffin tops because, let's face it, wearing those hip-hugging jeans is what created the muffin top anyway.
I hope this article has helped you in how to wear this trendy look. As always, thank you for reading!