Time is running out for Halloween! As a hobbyist costumer, you would think that I would be all set with my Halloween costume. Not. Since I do costumes all year 'round, Halloween is a separate event for me to take it easy with the elaborate constructions, put up obnoxious decorations, and hand out fistfuls of sugar. So- if you are like me and notice that time is ticking away, here are a few easy and creative last-minute Halloween costumes to ensure that you can participate in the festivities without much stress.
Mermaid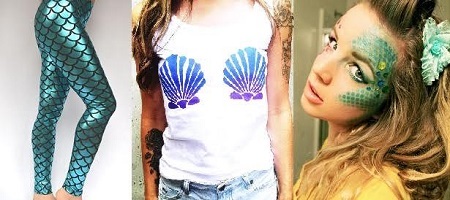 Mermaid Makeup Tutorial can be found at London Moore's makeup blog.
A few friends of mine have done variations of this one, and let me tell you there are so many great ways to pull it off and put your own spin on it! Things you will need:
Fish scale/mermaid leggings.
These beauties can be found everywhere- Forever21, Amazon, and Etsy to name a few.
Top with shells.
You can purchase them on Etsy, or be creative (and cheap ;P ) and make your own! Just get a simple tee in any style you're feeling, preferably in a skin-tone or a neutral white/black, and stencil some shell shapes over the bust area. Or, if you aren't feeling stencils, get some iron-on printer paper for clothing and print out some clipart ones to iron on!
here are a few tutorials to help you:
Making Custom Stenciled T-Shirts
Accessories.
With the two items above, it is already obvious that you are a mermaid! Now to personalize it, go and grab a wig of any color (Ariel red is the most popular, but go crazy with any color you like!). Add seashell jewelry or hairclips, or decorate your shoes. There's tons of fantastic makeup tutorials to enhance the look too. The sea's the limit.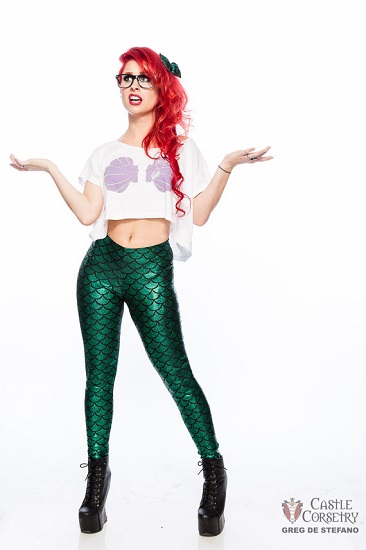 Available at Etsy.
Harry Potter Characters

There are so many different ways to dress up in the Harry Potter verse. Feel free to get creative- chances are if you have the school colors and an emblem SOMEWHERE, people are going to get it. Accessories are easy and readily available, so let your imagination go wild on this one.
House Colors:
Use a tie, use a scarf, use a sweater vest. All options are available everywhere, and you can easily find the color combinations at big-box stores like Target if the thriftstores fail you. Check out this handy chart to most effectively find your house colors: House Color Chart.
Character-Specific Accessories:
Let's face it, Harry is the easiest; a scar or big glasses will be a dead-giveaway as the series' protagonist. However, there are tons of options. Poofy, teased hair and a cat for Hermione. White-blonde slicked back hair for Draco. If you are uncertain, you can always go for a wand, a broomstick, or an owl!
Pull it Together:
Mix these with a button up shirt, a dark sweater, or a black jacket/robes. It's a great closet costume because chances are you probably already own something that will work.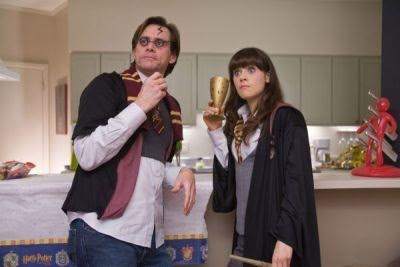 Jim Carrey and Zooey Deschanel dressed up as Harry Potter and Hermione Granger in the movie "Yes Man".
Hoodie Costumes
Using basic hoodies, found at any Wal-mart, Thrift Store, or Old Navy, arm yourself with a glue gun and some felt and customize! Use your imagination and turn your hoodie into a character and enjoy the comfort and warmth of one of fall/winter's favorite garments while indulging in Halloween fun! I'll put a few examples below, but if you can dream it, you can do it.
Shark: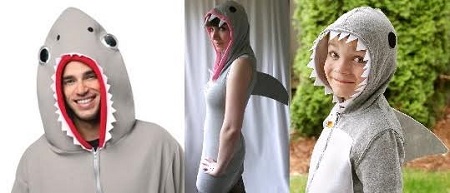 It's easier than it looks- I promise! Felt teeth can be tacked with sewing or adhesive to the inside of a hooded sweatshirt, and you can customize your 'shark eye' with any manner of shapes from cute to menacing. The fin is the most difficult part, but can easily be achieved by splitting the back of the sweatshirt or cutting a hole and inserting a stiff felt or fabric-covered piece of cardboard in. Then, just close that seam/hole back up – again, basic handstitching would be best, but fabric glue will work in a pinch. Ta-da!
Adult costume from ToyNk.com
Shark Hoodie on Smarmyclothes' Etsy: https://amelialin.wordpress.com/2012/11/08/diy-guide-how-to-make-the-best-shark-hoodie-ever/
Care Bears:

You'll just need a solid hoodie, a bit of white fabric or felt, and colors of whatever their tummy symbol is. There's about a million to choose from, so as long as you include the ears and the belly marking, it should be pretty obvious what you are! Sew, hot glue, or use fabri-tak to get everything together. Bonus points for a little cotton ball tail on the pants of your choosing!
Check out this great no-sew tutorial on See Vanessa Sew: http://seevanessacraft.com/2012/10/20-crafty-days-of-halloween-no-sew-care-bear-costumes/
Character Hoodies: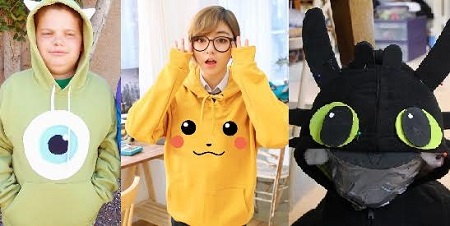 Just grab a solid colored hoodie and add ears, markings, and other embellishments to re-create your favorite characters! A few examples shown here are Mike from Monsters, Inc., Pikachu, and Toothless from How to Train Your Dragon. Again, use sewing, use glue- use your imagination! That last Toothless one is made of fun foam sheets.
Hope these costumes help you, or that they simply inspire you to use the things around you or that you already have to breeze through this holiday! Remember: have fun, be safe, and remember to enjoy it! Let us know if you come up with anything truly amazing this year for your costume, we'd love to share it.