This year, my husband and I went to St. Thomas for our anniversary getaway.
This was our second visit to the island but, this time, we had a little more time for adventure. We stayed in a private condo, got two good beach days in, a day poolside and visited the different tourist areas. We enjoyed Caribbean cuisine at Cuzzins, ate seafood at Fish Tails and had BBQ at The Smoking Rooster.
We also island hopped to St. John and St. Croix.
The trip to St. Croix was the most exciting part for us. Flying in a Cessna for the first time was a tiny bit scary. I said a prayer as the puddle jumper took off. In 25 minutes, we arrived to St. Croix and went to the casino to play craps.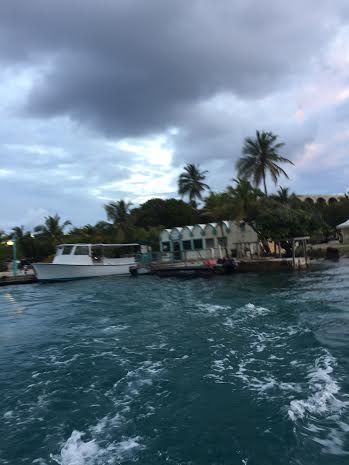 Interestingly, our hotel was on its own island. You had to ride in a dinky rowboat to cross the waters…There the water was so clear, I could see blue crabs clinging to the side of the docks. One thing though, as you can see, a storm was brewing. Luckily, we made it back to St John where it was very beautiful that morning.
Well, all good things come to an end and so it did. You really spend most of your time planning and anticipating vacation and then, the day it comes, it quickly becomes a memory to cherish. So begins the daydream about the next vacation destination. I created a new bucket-list of beaches I want to visit for Mode.com. The sponsor of this post.
Click the viewer below to check out my latest travel goals!
Check out #TravelGoals: Model's Favorite Beaches

by FCFashionista at Mode
In no particular order, these are some of the beaches or beachy destinations I've been to:
St John, US Virgin Islands
Rio de Janeiro, Brazil beaches
Jersey Shore
Coney Island
North Shore
Hanauma Bay
Waikiki Beach
Cabo
Cocoa beach
Cancun
The Hamptons
Clear Water
Monte go Bay
California
Punta Cana
Dominican Republic
Coca Cabana
Kauai
Santa Monica
Venice Beach
Laguna Beach
Huntington Beach
Santa Cruz beach
Atlantic City beach
South Beach
Fort Lauderdale
Florida beaches
Key West
Key Largo